Interview with Eyal Landesman
Last week, we posted news that Oren Lavie's music video for "Her Morning Elegance," filmed using stop-motion by photographer Eyal Landesman, was nominated for a Grammy Award. Though the video did not win the award, Landesman has already garnered several photo accolades as a commercial and documentary-style photographer. Landesman is based in Israel, but his work has also been shown internationally, including exhibitions in Boston and Budapest. His print stills for "Her Morning Elegance" are on display at Space F2/Bergamot Station in Santa Monica, California, and are available for purchase at the HME Gallery site.
---
PetaPixel: Can you tell us about yourself, what you do, and your background?
Eyal Landesman: I was born in Haifa, Israel in the year 1970. My professional career started in 1993 as a photojournalist for various magazines in Israel and a number of international press agencies. Today I specialize in dance and theater photography.
PP: Your website portfolio reflects a strong awareness of the human body, motion, and dance. Was it natural to shift your style of capturing that motion and converting it into a stop-motion music video?
EL: I was drawn always to the exploration of the borders between imagination, illusion and documentary work through photography. Throughout my career I investigated these borders by a variety of technological and cultural platforms, starting at the theatre, both in front and behind the curtains. Later, by expanding my interest in a search of the borders of conventional photography both in time and space in images created with the use of diverse technologies and presentation forms, e.g. zooming and projection of the captured image, using public or darkened spaces or using Stop motion technology.
PP: What was the shooting process like?
EL: The clip was made a year ago in my studio located in Tel-Aviv, Israel. The video was made using simple technology. We used Tungsten light and a gobo mask for the windows. It took us around 48 hours to shoot the video; we worked on it almost non-stop… I used the Canon 5D camera, only a month later did the Canon Mark 2 arrived to Israel (I did it without using live view).
PP: What did you find most challenging while making the music video?
EL: All my life as a still photographer I try to catch one moment (mostly in 1/1000 sec). in stop motion the challenge is to think about 2096 photos together one after the other, in 3.2 min.
PP: I'd imagine there would be so many elements to think about: music, motion, image composition, and so forth. How did you manage to blend all those elements together so seamlessly?
EL: We work together, directors, animation, and of course  Oren Lavie the musician, and together we created it.
PP: Congratulations again on your Grammy nomination. Were you expecting such a mainstream response to the video?
EL: I was not expecting such an amount of viewers. I was more surprised by the 10 million hits on YouTube, than the Grammy nomination.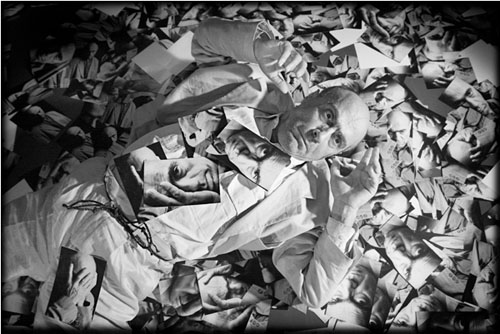 ---
Image credits: Photographs by Eyal Landesman.