Obama Photo Used Illegally on Billboard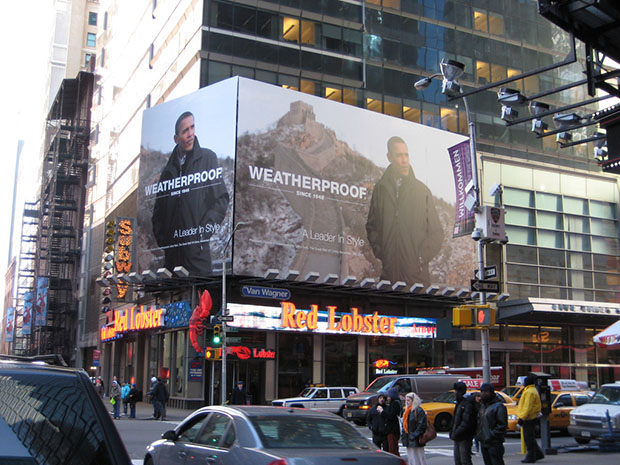 We're on a roll with controversial advertisements today. New York garment company Weatherproof has gotten the attention of the White House after illegally using a photograph of President Obama's visit to the Great Wall of China on a billboard in New York City (41st St. and 7th Ave.)

While Weatherproof did pay the licensing fees to use the image from the The Associated Press, they didn't ask for permission from the White House, which has a pretty strict policy of not allowing the President's image to be used for commercial purposes.
It all started when the company's president Freddie Stollmack recognized the coat in the photo, and had it confirmed by examining a high resolution version. After having an advertisement containing the image rejected by a few of NYC's top newspapers, the company installed the billboard advertisement two days ago.
Since then, the White House has in fact contacted the company about the ad, and the company has agreed to take the ad down but — get this — in two weeks. In the end, Weatherproof is likely the big winner, having succeeded in generating a buzz with this publicity stunt.
---
Image credit: Photograph by Brechtbug and used with permission.