PetaPixel Photography Gift Guide 2009
The holiday season is upon us! In celebration of the season, we've compiled our first holiday gift guide! Each year, we'll feature 20 a number of awesome photo gifts, ranging from functional to fun. Whether you're searching for a stocking stuffer or affordable gear for your favorite photographer, we hope our guide comes in handy. We've arranged our gift ideas from cheapest to most expensive. Enjoy!
Vinyl Pockets Shower Curtain – $10+
Personalize this shower curtain with photos!

Bed Bath & Beyond – Urban Outfitters
LOL Disposable Camera – $12

This single-use 35mm is sure to bring some laughter and fun to your holidays. Adds a different frame to each photo taken. Better hurry though, since only 4000 were made.
Urban Outfitters
Melannco Photo Game Board Chess/Checkers – $15
Frame photos of your favorite mates under this 2-in-1 chess and checkerboard.
Bon-Ton
PHOTO:BOX book – $20
Give the gift of inspiration! PHOTO:BOX, a collection compiled by Roberto Koch, includes 250 images from 200 brilliant international photographers, including Ansel Adams, Richard Avedon, David LaChapelle, Annie Leibovitz, and more. A great coffee table addition.
Amazon
Hole-On Ex Pinhole Camera – $20
Take and make it at home: just add glue, a ruler, and a pencil.
Giant Robot Store
Bokeh Masters Kit – $25
See light in all new ways with this amazing Bokeh Masters Kit, which includes several different bokeh discs and allows you to cut your own.
Bokeh Masters Kit
Media Street eMotion Digital Photo Frame Watch – $28
Dick Tracy would be envious of this watch, which can display around 75 jpeg images.
Adorama
Keyboard Shortcut Skins for Macs – $30/laptop, $40/desktop
A cheat sheet for the visual editor, this keyboard companion skin includes shortcuts for Photoshop, Aperture (2.0), Final Cut Pro/Express, and more.
Photojojo
Polaroid PoGo Instant Mobile Printer – $35
Print your digital photos instantly, on the go!
Amazon
Russian Book Spy Camera – $35
This nifty spy cam makes for a great conversation piece, especially if your name is Bond, James Bond.
UncommonGoods
Photo Lollipops – $40
These oddball lollipops are a bit silly, but a sweet, personal gift.
ilovephotogifts
Lomography Diana F+ Medium Format Camera – $50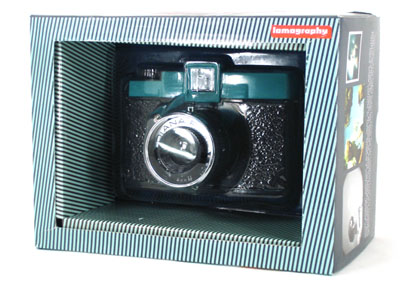 Filled with nostalgic longing for the gritty look of retro color film? Look no further, Diana's back!
Giant Robot Store
BlackRapid RS-4 Strap – $54
For the active photographer, the BlackRapid line is quite the sight for sore backs. With its ergonomic and functional design, BlackRapid camera straps stand out from the crowd.
Outdoor Photo Gear
Swiss Gear DIANA Bag for Digital SLR Cameras – $60
Fashion and function meet in this photographer's handbag.
Best Buy
Diana Lens + Adapter – $60
This Diana lens kit is probably the best new lens out on the market. Granted, it's made of plastic, but it's a great way to turn your DSLR into a high-tech lomography machine.
Photojojo
Photo Mobile Stand – $60
Regular picture frames are boring. Spice up photo presentation with this nifty photo stand.
UncommonGoods
Fisher Price Kid Tough Digital Camera – $65
Who knows, maybe your tot can get his or her first freelance gig a lot sooner.
Amazon
Gorillapod 6-Pack Combo – $90
Grab a Gorillapod pack to share with the whole family!
Joby
Fujifilm Instax Instant Camera and Film- $105
Polaroid may have phased out its line of instant cameras, but Fujifilm carries on the torch with this modern Instax model.
Photojojo
Aputure Gigtube Live View LCD Viewfinder – $190

Aputure's innovative remote trigger is the first and only of its kind to feature live view and instant photo display.
Amazon
---
From PetaPixel, we wish you all warm, safe, and happy holidays!