Current Trends in Photography
Google Trends is an interesting service that can provide glimpses into how popular certain things are at any given time among the general public.
I thought it would be interesting to search for some photography related keywords to see what's rising and falling in popularity. A lot of the following results probably correspond to what you've already observed from looking around at friends, family, and the people around you.
First off, the popularity of DSLR cameras seems to be exploding, at least with the people I know (especially at church). Everyone seems to be getting a DSLR rather than a point-and-shoot these days. Here's what Google trends tell us about the search volume of the keyword "dslr":
In this case, Google definitely confirms what I've been observing. The search volume of "dslr" this year is about four times as large as four years ago. This is even more significant given the fact that the "camera" keyword seems to be falling rather than rising.
Another keyword with a lot of momentum is "photoblog":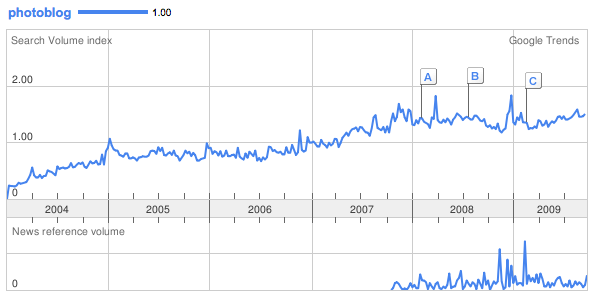 Seems like the term is getting more popular, and that more and more people are starting photoblogs to share their photographs. Notice how, unlike "dslr", the graph doesn't really start until around 2003 or 2004. This seems to be about when the term "photoblog" began to become mainstream.
Something else that the "photoblog" keyword reveals is how popular photoblogging is in Poland. This probably isn't common knowledge, but I also discovered this independently a while ago while working on Photoblog.com. Photoblogging service photoblog.pl is among the 50 most popular websites in Poland, and photoblog.com also has a significant number of Polish users.
Let's move on to some more interesting photo related trends…
How about the battle between Canon and Nikon?
Seems like Canon is the clear leader in terms of popularity (sometime we've known, right?), but also that Nikon is slowly closing the gap… at least in terms of search volume.
Other manufacturers are a little more difficult to compare since they're not as focused on photography equipment.
What about photo sharing? Here's a comparison between some of the more popular services:

Not surprisingly, Flickr is the 800lb gorilla in this space (though it's losing a little weight). SmugMug is relatively tiny, though this is probably because it's an exclusively paid service, while a large portion of Flickr's members use it for free.
Webshots seems to be fading away, while upstart Twitter service Twitpic has burst onto the scene in the past year.
Facebook is obviously the largest photo-sharing service in the world, but including it in the graph makes every other service appear as lines on the x-axis.
Those are some current trends in the world of photography. If you do some searches of your own and find other interesting photo-related trends, please leave a comment sharing what you find with us! Maybe I'll append your results to the post.