Interview with Jan von Holleben
Jan von Holleben is an award winning German photographer whose work is widely published in magazines and books. View his recent project "Dreams of Flying" here or his website here.
---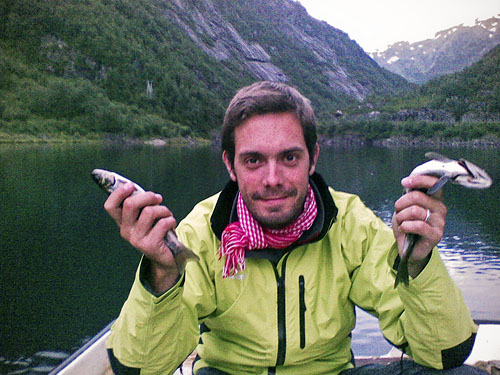 PetaPixel: Could you tell me about yourself and what you do?
Jan von Holleben: I am a photographer, and I take photographs. More than that I am a visual communicator instead of an illustrator. I developed a strategy on how to tackle problems and ideas, and those activities are always resolved in an image.
This said, I don't take pictures for people or fashion or cars or weddings or animals. I play with them and I play photography with them.
PP: Where are you located?
JVH: In Berlin and sometimes in London where I lived the last 7 years and still have a little workplace!
PP: How did you first get into photography?
JVH: My dad is a trained photographer and works as the DOP (Director of Photography) at a TV station. I was always amazed by all the tricks he did with photography and how he bent reality with very simple and standard tricks of the lens… (and those tricks he just did in his training learning the trade) still for me as a kiddo very impressive. I started when I was 13 to take up a camera and start shooting.
It all started there and then with my friends on an everyday, anywhere basis.
PP: How would you describe and categorize your photography?
JVH: Difficult. In German there is a word for it that is called 'Autoren Fotograf'. Which means that the photographer is like an author, telling a story from his point of view. Easiest is always to say that I am an artsy fartsy artist with a camera as I get away with things very easily then (you should see what we do sometimes with people and places… and that's just funny and people don't take you serious and wonder what you do – and then you tell them you are an artist and all is good)
I really have difficulties with a category, which makes my daily life not too easy either, because people need categories to give me a job. and they don't know how to work with me.. so I have to put a lot of effort into educating people how I work and how we can work together!
I don't see myself as a pure artist. I think I am a pure photographer, which pulls me out of any photography categories and makes me just deal with one thing: PHOTOGRAPHY.
PP: How did you get the idea for your "Dreams of Flying" series of photographs?
JVH: It happened on a day when I was working on a commission for a Paris gallery and publisher.
The commission was to produce and shoot a photograph per hour for 24 hours in a row. (no preproduction, no preplanning, just improvising.)
I had a friend along who wrote about my day and she had a dog with her. On our journey, we drove 200km that day to change locations from each hour to hour, we passed by my house for lunch and my neighbors kids came over (as they did a lot when they were younger – and they would always ask to play photography with me). I took the moment and combined the kid with the dog and wanted to make the kiddo ride the dog.
We tried various options, but it was obvious the dog was not strong enough to carry the weight of the child. Suddenly, I had the idea to put them onto the ground,and it worked. I was very lucky that the dog laid still for 5 seconds so I was able to catch two frames and hey there we go! My first image for Dreams of Flying was born!
It took another 2 years to make this picture and many that followed on numerous weekends with the neighboring kids playing photography to complete a first set for the series!
PP: Is the series complete, or is it still a work in progress?
JVH: It's complete. Sometimes I still take the odd one, but generally I moved on to new adventures — also with the neighboring kids. We just finished another great project together, which departs from DOF but is still in the same idea — just more sophisticated. A bit more complex, as the kids have grown along with my understanding of photography!
PP: What was your first camera?
JVH: A flashy red RICO. Very simple and easy. Just flash on and off and an option for a distant landscape shot or a near portrait. I went through a phase when I tested all sorts of cameras and got very excited with large format cameras, and many studio flashes on location. Today I am back with my snapshot, flash on or off, and a fixed 28mm lens. Nothing else.
PP: Do you shoot in film or digital?
JVH: When I do my own projects I use only that snapshot film camera. On commercial or editorial quick jobs I am happy to go digital. Am slowly discovering it for my own means, meaning comprehending what digital does to an image and its content. Once I have mastered it completely I will use digital in my work too.
It's an exciting area and a very complex theoretical thing, digital, and it changes the way we read images and the way we take images.
PP: What is the award or achievement you're most proud of?
JVH: I feel that I am in a position to work on any project I like, and with any people I like. That's my greatest achievement! Having the awards and the publishers and the magazines and galleries adds to that and just makes my work feasible and doable and convincing.
But having STEIDL Publishers on my side is quite extraordinary and still not real for me, but hey, I will understand that as soon as I have my first few books published with them.
PP: How often do you take photographs these days?
JVH: On average one day a week, so that would be 50 full days a year. That sounds about right!
Sometimes it's 2-3 days in a row, and sometimes just a few hours in a day. I am very quick with shooting as I put a lot of energy into planning my shoots!
PP: What advice would you have for an aspiring photographer looking to get where you are now?
JVH: Shoot, shoot, shoot, while always knowing why!
Always being aware of what that picture one just shot means, and if it means enough then continue.
PP: Is there anything you wish you had know when you first started out in your profession?
JVH: That it takes years, even for the fittest and best.
PP: Could you explain how a professional photographer in your type of work makes a living? What are your main sources of income?
JVH: It is through editorial work (when I sell my own projects or ideas to magazines) or through the odd commercial commission through my agent. My kind of photographer doesn't get that many jobs in today's photographic industry because I don't fit into a box. However, sometimes there comes a great project and then its also great money.
PP: Have you had any formal education in photography, or are you entirely self-taught?
JVH: I assisted a commercial still life photographer for 3 years where I feel I learned all the technicalities about photography that I ever needed to comprehend, and then I went to Uni in the UK and enrolled for a course on theory and history of photography and wrote a big thesis for graduation.
PP: Who are some of your favorite photographers, both historical and contemporary?
JVH: So, so many — and not really important to me anymore, as I would rather think in photographs than in photographers. The best photographers have also produced some great shit in the last years!
But that's OK. All it does is it just changes perspective and puts me in a different critical position. To photography and to myself.
PP: Who is one person you would pick to be interviewed by PetaPixel?
JVH: Gerhard Steidl.
PP: Any final words of wisdom you would like to leave with PetaPixel readers?
JVH: Have fun with your camera and please, please, please take that very seriously!