Interview with Joseph Holmes of joe's nyc
Joseph O. Holmes is the photographer behind joe's nyc, an award winning photoblog that won "Best Photojournalism" at the 2005 Photobloggies.
---
PetaPixel: Could you tell me a little about yourself?
Joseph Holmes: I grew up in a little manufacturing town in rural Pennsylvania, a kind of Mayberry RFD, where my father had a long career as an engineer in the town's factory and my grandfather was the town's Episcopal priest. It was a idyllic childhood; I hung out on farms and swam in creeks, and I was a Boy Scout. But I left for college and eventually lived in cities like Washington DC, Philadelphia, and New York, and I discovered that I really thrived in urban environments. I've now live in Brooklyn, NY, for going on 25 years and New York City is in my blood. My wife and I have two teenage children.
At times I've been a Legal Aid Criminal Appeals attorney in New York City, a prize-winning (if unproduced) screenwriter, and a published writer of short stories. For a short time I was adjunct faculty at NYU's School of Continuing and Professional Studies, teaching digital photography. I also make a cameo appearance in Gogol Bordello's "American Wedding" video.
PP: How did you first get into photography?
JH: My father was an avid photographer and he had a Leica M3 and a Rolleiflex SLR when I was young. When I was old enough to want to use his cameras, he sold the Leica and bought a Miranda Sensorex SLR with a built-in light meter, which he knew would be easier to learn and use, and then he taught me how to develop film and use our home darkroom. Once I started printing my own photos, I was completely hooked (though it's now been probably more than 30 years since I've done any darkroom work).
PP: Are your children interested in photography as well?
JH: My son sometimes takes my wife's trusty FM2 on tour with his band, and scans the negatives. And my daughter is interested in photography from the other end of the lens — she's seriously into fashion and makeup and modeling and so we often do a fashion shoot at home in an improvised studio, as she models her latest creations and makeup. You can see some of the results on my Flickr pages.
PP: What is your goal in photography?
JH: My goal is to continue to explore and learn. Photography isn't a journey with a final destination, it's a life-long process of discovery. That sounds corny, but it's important: photography is infinitely deep, and becoming a photographer never ends. I'm a beginner, and that's something I embrace, not rush away from.
PP: What was your first camera?
JH: Once I was headed off to college, I left the Miranda home for the rest of the family and I bought myself a used Yashica 35mm rangefinder with 50mm lens and built-in light meter; I found I really liked rangefinder focusing. I was still shooting exclusively Tri-X pan 400 ASA film. A few years later I bought my first Nikon, a brand new FM and 50mm lens, continuing to shoot B&W. I was intrigued by color film, but I found I wasn't yet ready to wrap my mind around that extra dimension, so I continued to shoot B&W for many years.
PP: What equipment do you use now?
JH: In 2003 I discovered digital photography with a point and shoot camera, and when Nikon came out with the D70 — the first really affordable digital SLR — I jumped on it. I've since worked my way up through the D80. D200, D300, and now shoot exclusively with the Nikon D700. I love the latest Nikon lenses, and I often carry the 17-35mm f/2.8 and the 24-70mm f/2.8. My favorite primes are the Nikon 50mm f/1.4D and the 85mm f/1.8. I have a few other lenses that don't leave the house as often, like the heavy 70-200mm f/2.8.
Moving up to the D700 was wonderful, not just because it's got incredibly low noise at high-ISOs, but also because the full-frame sensor means I'm back on familiar ground, where a 50mm lens is really a 50mm lens. My eyes still think in those 35mm film terms.
PP: What do you do for a living, and how do you fund your photography?
JH: In the last couple years I've turned to photography full time. People might be familiar with my more visible work: on my Web sites and at 20×200, as well as in galleries (I'm represented by Jen Bekman in Manhattan and wallspace in Seattle, and I also have an upcoming 2-person show in Pittsburgh). But I also I do event photography for some regular clients, random freelance work, and image licensing (look for two Random House book covers coming out this fall).
PP: How does one become represented by a gallery?
JH: I can't tell you how it works for most people. In my case, I had a new project in the fall of 2005 that really excited me (the amnh series ), so I entered Jen Bekman's Hey, Hot Shot competition, partly because one of the prizes is representation by Jen. I had entered before without any luck, but this time around the amnh series won one of the slots in the Hey, Hot Shot show.
Though I wasn't ultimately picked for representation, I was really encouraged by Jen's reaction to my work, and we got along really well. So about a year later, I submitted images from my new Workspace project. Not only did I win another slot, but at the end of the year Jen selected me as one of four photographers to be represented, and I've been working with Jen and her fantastic crew ever since. You can see some of my prints on Jen's 20×200 project.
I'm sure there's a lesson in persistence there. You can't let rejection stop you from continuing to create and show your work. No matter how long you've been working, there's always another rejection around the corner; it's just part of the landscape.
I became represented by Crista Dix's wallspace gallery in Seattle in a similar way. In the fall of 2006 I submitted images from my amnh series to wallspace's annual "In a New Direction" show, and I was selected. Crista contacted me after the show came down and offered to represent me. My solo show at wallspace last October, "Under | Exposed," included prints from three of my projects: Workspace, CBGB, and amnh.
PP: Where do you buy your gear from?
JH: I jump on the train and head into Manhattan to buy my cameras and lenses at either B&H Photo or Adorama. I find both of those stores reliable. I occasionally pick up something used on eBay or one of the photography forums, but I prefer new equipment since I count on the warranties.
PP: What's on your wishlist?
JH: I had a fisheye lens, the Nikon 10.5mm f/2.8, for my DX Nikons, but I sold it because it doesn't work on my full-frame D700. Though I didn't use it often, there were times when nothing else would do. I miss it. Another lens I sold was the incredible Nikon 28mm f/1.4. This legendary lens is long out of production and selling it allowed me to afford the D700, but I'd love to have a super-fast wide prime like that again. I'm hoping Nikon comes out with a replacement. Other than those, I'm very happy with my one camera and my three or four favorite lenses.
PP: Would you recommend a film or a digital camera for one's first camera? Why?
JH: I recommend film for at least the first year or two.
Digital is wonderful, and I very seldom shoot film these days, but if you start out with film, you learn a much more deliberate and intentional way of making photos. With film, you're forced to work much more thoughtfully and you develop good habits — you can't depend on continuous shooting mode, for example, to catch the right moment. If you've got only 24 or 36 shots in a roll, you're going to slow down to make each shot count; you're going to learn not only which shots to take, but which ones to pass up. And ideally you'll be ordering prints from each roll, so that you're confronted with exactly how you've framed and exposed each image; with digital, importing shots right into your editing software, you'll fall into the trap of easy cropping and correcting, and you'll never deal with bad shooting habits. A wise person once said, Shoot as if Photoshop didn't exist.
Digital is very seductive because, when you're ready for it, it's incredibly liberating. Digital photography released a whole side of my abilities that I'd kept in check when I was paying for each and every shutter click. But as much as I love digital, I'm very glad I spent decades shooting film. I never crop images, for example, and I credit my years of shooting film for teaching me how to frame.
I have a lot of friends who made the backward switch from digital to film, and they get all excited, becoming converts, proselytizing the Word of Film to the deluded digital masses. Film Rules, Digital Sucks. But 95% of them started out with digital, only switching to film later. Of course they're enthralled — they're discovering a much more contemplative way of capturing an image, and they're just now going through the very important lessons that film forces on you. What I very seldom see is that kind of proselytizing from photographers who grew up shooting film. When I made the switch to digital, I brought all those lessons with me.
PP: Can you describe your workflow?
JH: Unless I'm working on a short deadline for a client who requires jpegs, I only shoot only in RAW.
I dump the images from my compact flash card directly into Apple's Aperture, and spend a few minutes deleting the obvious mistakes, key-wording them, and star-ranking them.
Aperture is the final repository and catalog for all my original RAW files. My Aperture catalog currently holds about 97,000 image files. After I add new images, I back up the Aperture vault to a second, internal hard drive; I also back up the vault to an offsite hard drive at least once a week.
Next I export the images I want to continue to work with and open them in DxO Tools for some automatic correction. I use only two of DxO's tools: I find the app is excellent at correcting lens distortion and chromatic aberration; I can do a better job in Photoshop with everything else.
From there, I bring the image files into Photoshop CS4 (passing through Adobe Camera Raw for a little white balance tweak). I occasionally do a lot of work in Photoshop, but most of the time all that's needed is a little contrast and saturation bump (in adjustment layers). Then, if the image is headed for my photoblog, I use a Photoshop Action to flatten and resize to 950 pixels wide or high, use Unsharp Mask to sharpen for the Web, and then save as a jpeg file with an sRGB color profile. If I want to preserve an image for later printing at large sizes, I'll save the full-size image with all its layers in Photoshop format so that I can always go back and do more (or less) work on it. I print images up to 17″ x 25″ on my Epson 3800 inkjet printer, usually on Museo Silver Rag paper.
PP: What is it like to shoot on the streets of New York City? How is it similar and different to other places you've been to?
JH: It's hard to compare New York to other cities, since it takes a lot of time to really know a city. But New York is more than enough for me — it has an infinite number of unique neighborhoods, each one its own small town. I've been shooting in Manhattan and Brooklyn for years, now, and I've barely scratched the surface.
What I seek out — in New York or anywhere — are streets that reveal the people who live and work and play there. In New York, people's lives and work are right there in your face — in the storefronts, in the machine shops and bakeries that roll open their back doors in the warm weather, in the hand-painted signs and facades, in the small industries glimpsed through windows, in the groups of people who pull up chairs on the sidewalk to hold court or barbecue. Many of the older cities in the US seem to share this — Philadelphia, Baltimore, San Francisco — though I haven't spent enough time to know how they compare.
In Paris, on the other hand, street life feels very controlled, expression feels suppressed, at least in the neighborhoods I've visited. The architecture is beautiful, but it doesn't reveal the lives of the people who live there. I find it difficult to make interesting photos in Paris.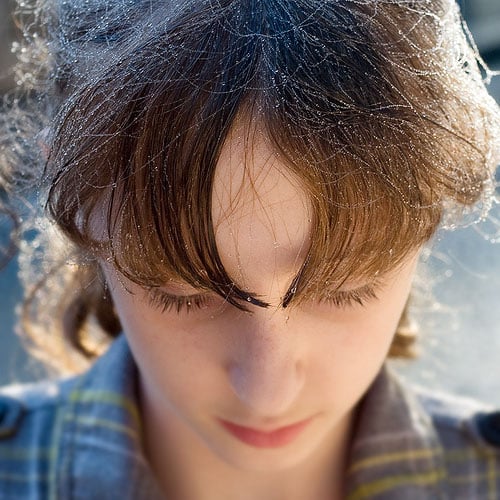 PP: Do you have any personal tricks for doing street photography?
JH: I don't do much classic or traditional street photography any more. At a certain point I felt I had said everything I wanted to say in that vein and had nothing new to contribute. These days I'm more interested in urban landscapes or microscapes.
But when I was really into street photography, my techniques changed month by month; I explored new ideas all the time.
For a while I set myself a goal of shooting strangers as close as possible, using wider and wider lenses, even a fisheye for a while, and moving in really tight. A wide angle lens gives you no choice but to get close, and the result is an image that moves the viewer right into someone's intimate, personal space. A telephoto lens, on the other hand, broadcasts a chilly distance; it feels safe, uninvolved.
My philosophy was to treat street photography cinematically. I believe that we're all accustomed to the way movies are shot, by an invisible camera intimately observing the action or conversation. My goal was to duplicate that feeling, shooting strangers as if they were actors in my movie, as if my camera were invisible. I occasionally succeeded, and when it worked, it was very effective.
PP: Are there any memorable or awkward experiences you've had while shooting strangers?
JH: Only a couple awkward moments.
Inspired by Martin Parr, I once decided to try using a flash with my street photography, and I headed down to the site of the World Trade Center, where I thought I'd capture the men who (illegally) sell souvenir exploitation booklets with titles like "Tragedy!" For some reason it didn't occur to me that those guys are a little sensitive about being photographed, and I was followed for a couple blocks by a man who harangued me in an accent I couldn't place. That was the end of my flash experiment.
PP: How often do you shoot? Can you describe your shooting methodology?
JH: To feed my daily photoblog, joe's nyc, I always carry a camera, and I shoot almost every day. You know how it goes — the day I leave my camera home is the day I stumble across the once-in-a-lifetime sight. Some of my favorite images and most popular prints came about because I happened to have my camera with me. So I carry it everywhere. I feel naked without it.
But for specific projects like my Workspace series, of course it's a much more deliberate process. All the Workspace shots are carefully planned, and involve getting to know the workspace owner, repeat visits, and finally bringing my camera and tripod and accessories to make the images. I sometimes go back to reshoot a space, and I've gone back to add portraits for some of the spaces.
One thing I've discovered recently is how important it is to get to know a lens intimately. Whenever I buy a new lens, I'm infatuated with it — I use it all the time, and it becomes my All! Time! Favorite! But it turns out that's a very important stage. After using a lens all day every day for weeks, I get to know exactly what to expect from it. I know how it's going to frame, I know its characteristics, and I know what it's not going to do.
It came home to me one day when I spotted a scene I thought would make a good shot. But as I lifted my camera, I realized that I actually had a different lens mounted on my camera than I thought. And suddenly, the scene in front of me changed; my vision zoomed to frame the world differently. It was almost a physical reaction. That was when I realized how intensely I envision what my lens sees. It's kind of creepy, actually.
PP: What advice do you have for aspiring photographers who are looking to improve their work?
JH: It's really important to get out to see other photographers' prints — see good photographers showing real prints hanging on walls, not images on Flickr or photoblogs or in magazine. This is important on so many levels.
I'll never forget the day I walked through a Tucson exhibition of classic prints by some of the great 20th century New York photographers, and it jumped out at me that these people were not afraid of shadows. These great photographers used deep, featureless shadows as critical elements of composition. At that moment I realized how Photoshop has led us to believe that we need to pull detail from every shadow. (And let's not even talk about HDR.) Looking at those prints altered the way I process and print my own images, and even the way I shoot.
But it's not just educational — looking at prints is nourishing, replenishing. It's energizing. I come away from a good show with an irresistible urge to go out and shoot. And seeing good photos makes me happy.
Finally, it's important to see prints by good photographers you don't like. It took me quite a while to appreciate Lee Friedlander, for example. After seeing his prints time and again, something finally snapped into place for me. His strange and wonderful book "Cherry Blossom Time in Japan," for example, is a deep well of inspiration. Friedlander didn't break the rules; it's as if he was born without them.
PP: Were there any specific things you learned that caused huge leaps in the quality of your photography?
JH: I was once invited to watch the Macy's Thanksgiving Parade from the enormous windows of Jazz at Lincoln Center, fives stories above Columbus Circle, and I thought I'd take the most amazing photos. But after an hour up there, I couldn't get a single interesting shot. It just wasn't happening. I finally gave up, put away my camera, and sat down, only to look up and see what I'd been missing the whole time: across the room against the windows was a row of silhouettes apparently looking out over the late autumn leaves of Central Park. The scene had nothing whatsoever to do with a parade. And so I got out my camera and took what became one of my favorite shots.
I've never forgotten the lesson I learned that day: It's not about what it's about. That is, I thought it was about the parade. It wasn't. I have to remind myself that I'm not a photojournalist — I have no obligation to document a scene or an event. My job is to look around for an image that will make me happy. Sometimes I come home with a wonderful picture that's 180 degrees from what I thought I'd be shooting. Sometimes I come home with a corny or sentimental image that only I love. Sometimes I come home empty handed. It doesn't matter — it's not about what it's about.
PP: Who are some photographers whose work you follow online?
JH: Most of my favorite photographers retired their photoblogs, so I can no longer follow folks like Eliot Shepard, Raul Gutierrez, and Keith Kin Yan (though all still post some shots on Flickr). Of those still posting to a photoblog, I keep an eye on my friends Bob and Alison in Toronto, New Yorker Jake, Rion in London, and Kathleen in rural Pennsylvania, among others.
PP: Who is one person you would like to see interviewed on PetaPixel?
JH: You've already talked to so many of my favorites, so you've made the choice easy: I'd like to hear what Bob of No Traces has to say.
PP: Anything else you'd like to leave PetaPixel readers with?
JH: It's too easy to say no; life gets very interesting when your default answer is yes. My son Julian, a musician, sets a great example for that philosophy. It keeps him and his band moving into more and more interesting things, because Julian is always ready to say, Why not? Let's do it.
I've accepted requests to shoot all sorts of things in the last few years, including some very routine jobs — events, installations, art reproduction, posed head shots. And no matter how simple or boring or elementary the task appeared to be, I've always taken something away and become a better photographer in ways I didn't predict.
Each image comes from all the images that came before, and informs all the images to come.