Unsplash: What is It and How Does It Work?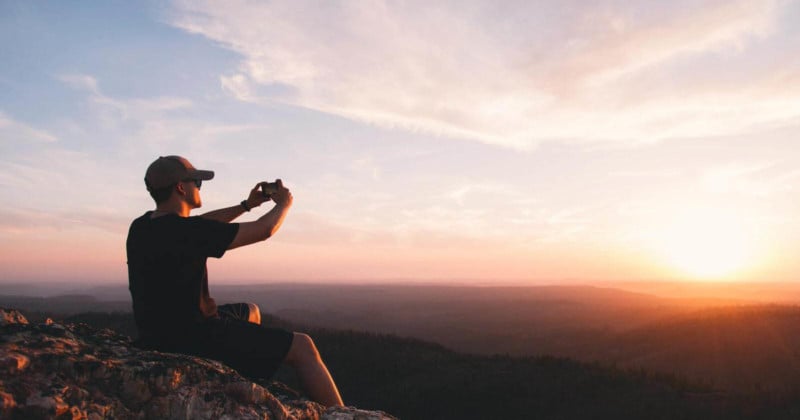 If you work with stock photos, you might already be aware of Unsplash, one of the largest and most popular sources of free online images. For those of you who are unfamiliar with the service, this explainer will walk you through what exactly Unsplash is and how it works.

Table of Contents
What is Unsplash and Who Uses It?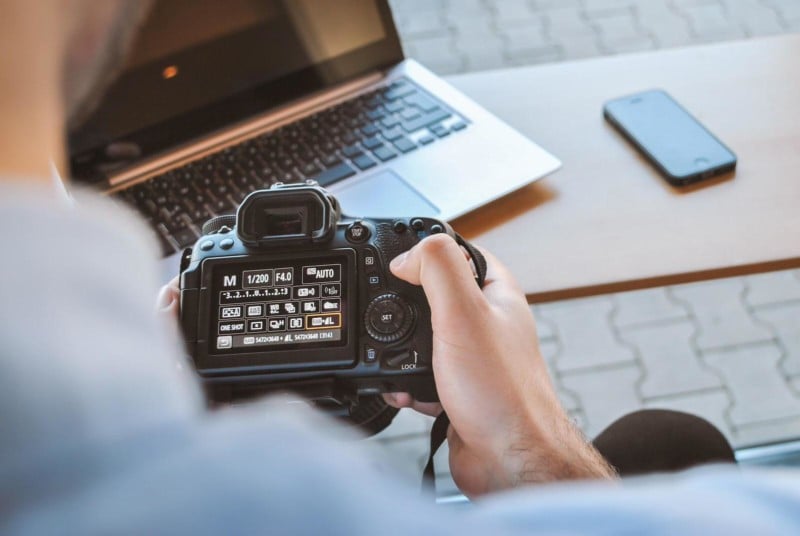 Founded in May 2013, Unsplash offers free pictures and images to the public that are uploaded by photographers from locations around the world, making this platform a powerful way to share your photography with a wide audience. While this provides an opportunity to get your photos into the public eye, Unsplash generally doesn't pay photographers when their pictures or generated images are downloaded and used — most photographers agree to allow their photos to be used for free without permission (or attribution) for both commercial and non-commercial purposes.
For the end-user, it's a great resource with millions of free images. This vast library of photos is easy to search, browse, download, and use for free, in most cases, even if it's used to make money from using the images. Of course, personal use is also possible and Unsplash images can be used for social media and personal blogs.
Is Unsplash Really Free?
Most pictures and images that are shown on the Unsplash website really are free, within certain limits. Unlike many other online photography sources, Unsplash allows both commercial and personal use. There is no need to request permission before using images that have the standard Unsplash license.
Meanwhile, bloggers, social media creators, and news media get the benefit of a vast source of valuable images for free. This might sound like a problem for traditional stock photography websites. In truth, Unsplash is now owned by one of the largest and most respected sources of licensable stock photography, Getty Images, and getting paid for stock images is still a viable business model.
How Much do Unsplash+ Photographers Earn?
Unsplash downloads are free on the main website, but there is a member section called Unsplash+ where photographers can earn money for their work. Traditional stock image websites have multiple pay rates with complicated royalty systems that offer variable percentages based on a complex system that ranks the price according to the type and complexity of the photograph, along with other intangibles. It can be difficult to understand if you haven't gone through the process before,
The description of the pay scale for Unsplash+ is greatly simplified, stating, "Rates for photos will range, on average, between $5 – $30 an image." This is a one-time payment for each accepted photograph and there is no potential for future income from a royalty even if your photographs prove to be very popular.
Do I Need Releases from Models and Brands?
Given the free-to-use nature of photographs downloaded from Unsplash, you could mistakenly assume that there isn't any need to worry about releases. That isn't necessarily true. Unsplash requires photographers to agree that they have all necessary permissions and signed releases to authorize the free use of the images they upload to Unsplash.
This isn't policed by Unsplash, however. For large and important projects, it's best to ask for more details before using a photograph downloaded from Unsplash in high-profile, finished work. Unsplash states in a help article that the end-user is solely responsible to ensure there is no infringement of rights for a particular use, Unsplash goes on to advise that you ask people and brands for permission if you are uncertain that your usage is legal, adding a little uncertainty for both photographers and users.
Unsplash+ has a stricter policy about releases. Photographers that plan on uploading photos to the Unsplash+ library should collect signed releases for people that are prominent and get permission from featured brands.
How Can Unsplash Photos Be Used?
As one of the most popular sources of free stock images, contributors to Unsplash could be concerned about giving too much away. Unsplash requests but doesn't require attribution when using a photograph or image. While that's more convenient for the user, it means a viral post featuring a unique photo might result in little exposure for the photographer beyond the Unsplash website and services that use the API to show the Unsplash catalog.
Unsplash images can be used "as is" as stock images for commercial and non-commercial websites. Selling these images online or offline is not allowed unless significant changes or additions have been made. You cannot print an Unsplash image on paper or any other material and sell it without permission from the photographer.
It's good form to give attribution for any picture used unless it's in the public domain, the rights for the image have been legally obtained, or it's your own work, even if sharing the photographer's name isn't required.
What You Can't Do With Unsplash Photos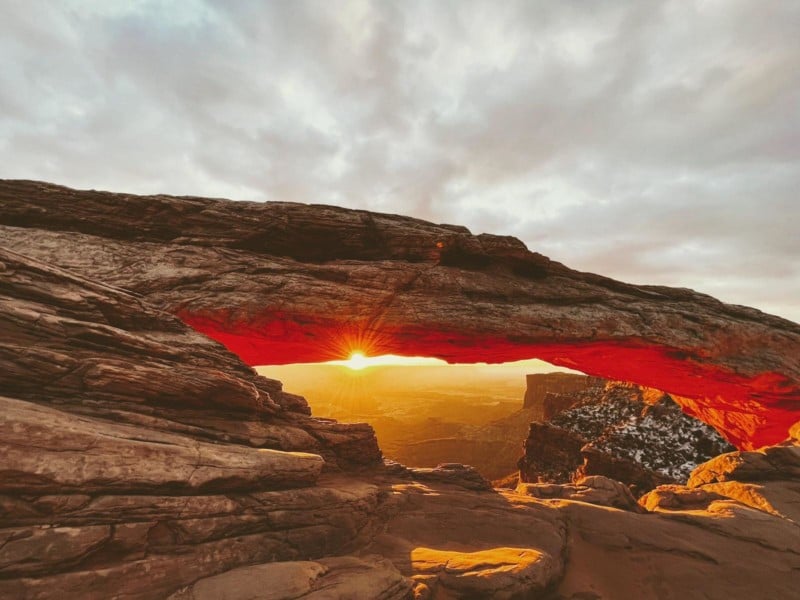 Unsplash seems quite open and free, allowing almost any online use of downloaded images but there are still rules that need to be followed. Photos cannot be sold without making significant modifications. That means you can't download a rare and beautiful photograph, upload it to your website and sell it without getting permission first. Some indeterminate amount of effort has to be made to add value to the photograph before it can be claimed as your own. If you want to print or otherwise use an Unsplash image directly to sell with minimal changes, you'll need to contact the photographer to get permission or to set up a licensing arrangement.
What counts as "significant modifications" isn't well-defined and that opens up a world of possibilities … and confusion for artists and entrepreneurs. Unsplash terms of service indicate that "simple retouches, resizing, or other minimal changes" are not sufficient to allow reuse.
Unsplash retains control of its image catalog and republishing without authorization is not allowed. An application programming interface is available that allows a feed of the catalog to be used while allowing Unsplash to control the rate of data and potentially monetize the content.
Unsplash Submission Guidelines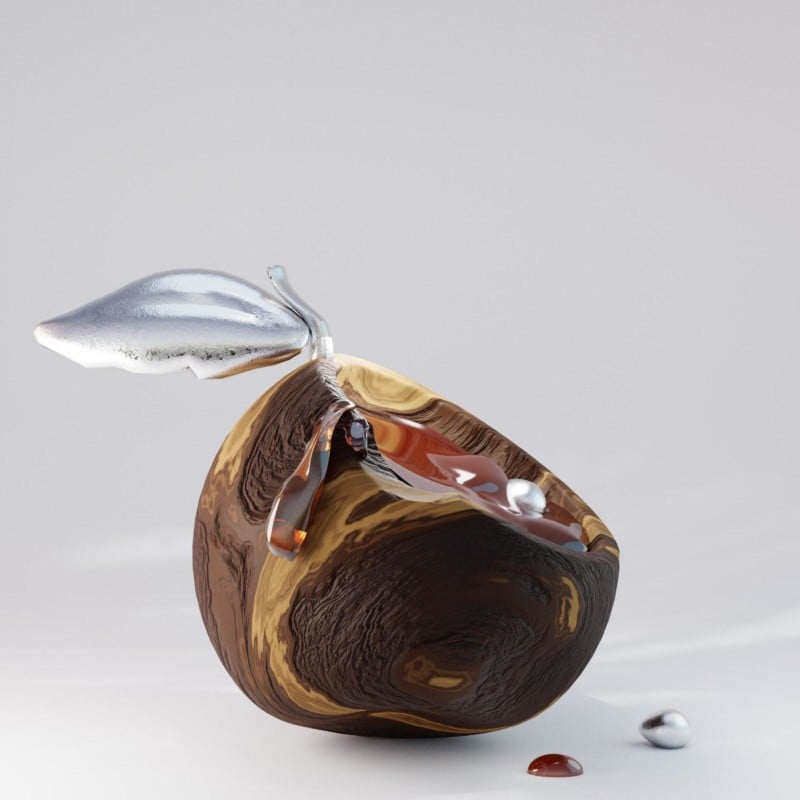 Unsplash only accepts photographs that are originals. That means composites, collages, and other remixes that are made of one or more pictures are not allowed. Photos should have a minimum resolution of 5 megapixels, measuring at least 2,500 by 2,000 pixels.
In addition to the relatively easy resolution requirement, the basic standards state that pictures must be clear of excess noise. Unsplash submission guidelines warn against submitting photos that were taken with water or dust on the lens. Selfies and shots "taken on extreme angles" are also discouraged.
Over-edited photos will not be accepted. For example, heavy vignetting, sharpening, and saturation of pictures are not recommended when uploading to Unsplash. Adding borders, text, graphics, or watermarks is also unacceptable. Photographs that include nudity, violence, or hatred are not allowed.
A recent change in Unsplash's policy allows uploading 3D computer graphics renders, but screenshots, composite art, and AI-generated art are not allowed.
How to Use Unsplash
As an end-user, photographs hosted by Unsplash are easy to download and incorporate into your project, whether for commercial or personal use. From the Unsplash website, you can browse and search for pictures that you like, then select one and click the Download button at the upper right to get the image.
A drop-down menu appears if you select the down arrow to the right, providing a choice of the size to download. After any download, a popup window appears, suggesting that you give attribution to the photographer or post on social media to say thank you. Links and text are supplied below to make this step simple as well.
Since Unsplash has partnerships with several photo editing apps and various online services, photographs that have been uploaded to the Unsplash library can be accessed from within those apps and websites with relative ease. Just look for the stock image library and find Unsplash to browse and search the catalog. Select any image to add it to your current project.
How to Upload to Unsplash
Before you can upload content to Unsplash, you need to create an Unsplash account and log in. Afterward, clicking the Submit a photo button that appears to the left of your profile photo will open the Unsplash upload window.
Click Browse to open a file browser and select the photos you want to upload, or drag and drop images into the Unsplash upload window to submit pictures to be reviewed. Up to 10 images can be sent at a time. Not every image is accepted and there is a summary of the photo guidelines within the upload window to remind you of some of the restrictions.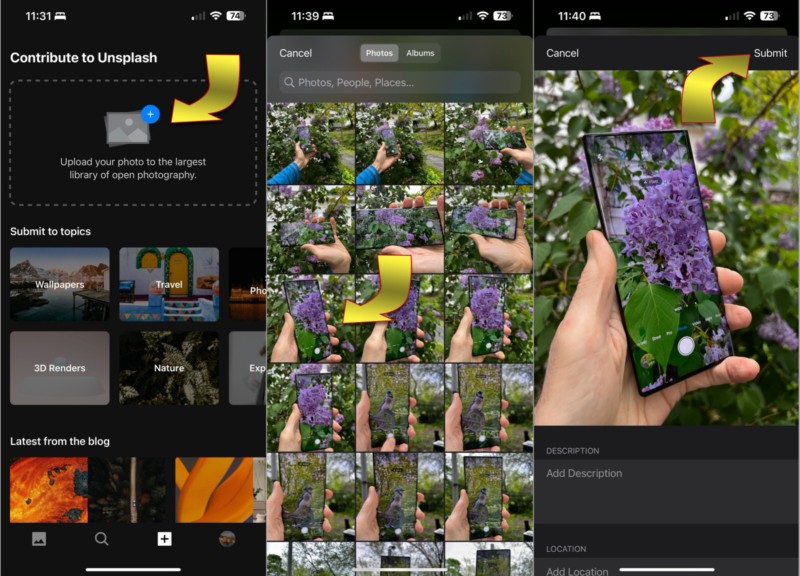 You can also upload directly from your iPhone or Android phone by using the Unsplash mobile app. A plus symbol appears in the top navigation bar, and tapping this button opens a window to select photos to upload.
When you're first getting started with Unsplash, you're limited to only 10 uploads per week. This restriction will automatically lift once you start getting more views and downloads. Unsplash doesn't share the specific numbers required to unlock unlimited uploads. Unsplash warns that uploading 10 photos in one week that violate guidelines will return your account to a 10-upload limit.
If you want to upload a large photo library to Unsplash, the limit of 10 images at a time will be quite time-consuming. In that case, Unsplash recommends contacting support@unsplash.com for help.
How Does Unsplash Make Money?
You can download and use photographs from Unsplash for free, but that doesn't mean the company is a non-profit organization. Unsplash is now owned by Getty Images, one of the best-known sources for stock images that can be licensed for various uses.
Unsplash doesn't directly profit from the pictures that photographers upload. Instead, it monetizes the traffic that comes to its website with advertising and charges for high-volume use of its Application Programming Interface (API) that supplies images to apps and online services.
Why Unsplash is Controversial Among Photographers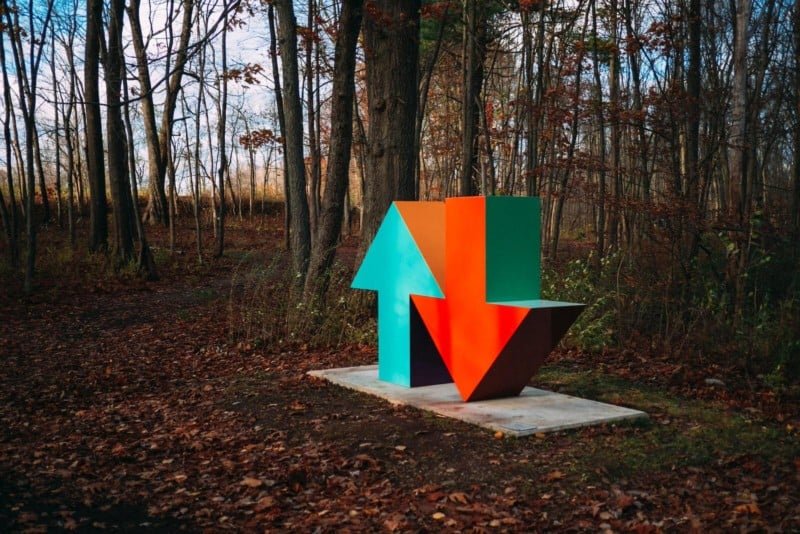 While Unsplash is clearly a very popular service for people and businesses that need stock images, it has proven to be controversial among photographers. One of the biggest complaints is the lack of a requirement for attribution. Photographers are identified on the Unsplash website, of course, but might not be given credit when their images are used on other websites.
Another concern is about Unsplash earning money from its platform which only has value because of the work of contributors. Since photographers that upload pictures to Unsplash might never receive compensation for their photos, the arrangement is seen by some as unfair.
Many photographers blame Unsplash and similar services for devaluing photography and contributing to the destruction of the stock photography market for photographers who make a living from it. By undercutting stock and microstock services by offering free photos, Unsplash has drastically reduced both demand for paid stock photos and the earnings of the photographers behind them.
On the other hand, the terms of service and policies governing Unsplash are not hidden, and photographers are free to submit their photos to traditional stock image services that pay royalties. The tradeoffs are fairly easy to understand. The bar is higher for services that charge for stock photos and the chances for exposure are reduced.
If you are interested in exploring Unsplash, it's easy to upload a limited selection of pictures to get a feel for how much interest that generates. Another approach is uploading photos that are sitting idle in your library and that you are unlikely to use. Providing these pictures for others might lead to unexpected benefits or garner the attention of paying clients.
The History of Unsplash
According to the company blog, Unsplash began with just ten photos hosted on Dropbox in May of 2013. Alejandro Escamilla's pictures of a Macbook Air, iPad, and iPhone in use at a coffee shop started the ball rolling. Founder Mikael Chor created a Tumblr blog that served as the company website in the early days. In the first year, the number of pictures grew to 365 images that were downloaded an incredible 10 million times.
Over the next several years, Unsplash leveraged its unique idea of making photographs free to develop a massive following. Unsplash also formed partnerships with the most popular photo editing apps and online services to make photographs that are uploaded to Unsplash easy to use without interrupting the creative flow or opening a new tab for an image search. By incorporating Unsplash directly into third-party solutions, its growth continued to accelerate rapidly. In less than a decade, the library has grown to millions, supplied by the work of hundreds of thousands of photographers.
Unsplash was acquired by the stock photo agency Getty Images in March 2021 for an undisclosed amount.
Unsplash's statistics page indicates that by the end of 2022, Unsplash has received over 900 billion views, served more than 5 billion image downloads, and includes the work of over 300,000 contributors. Third-party apps and services have made more than 158 billion requests for images and Unsplash supplies data to over 300,000 developers.
Who Should Use Unsplash?
Unsplash is now an extremely popular resource for anyone that needs stock images, and there is clearly a huge demand for high-quality photographs for free. When using Unsplash images, it's important to remember that there is no guarantee that model releases and brand permission have been secured, and it's still the responsibility of the end user to verify the legality. That's why there is still a place for traditional stock image suppliers.
For photographers, Unsplash is a venue to showcase their work to a massive global audience. While there is no payment for online usage and no requirement for attribution, a striking photograph might catch the eye of an agency or yield other opportunities. Unsplash+ is also an interesting option that provides easy submission with clearly understood terms, although financial rewards are limited to a one-time payment.
Unsplash isn't the answer for all stock photo needs but offers an interesting alternative that has clearly found a solid foothold amid the ongoing growth of the internet, blogs, news websites, and social media.
---
Image credits: Header photo by Jordan McQueen via Unsplash