Flying with Film: How to Handle X-ray Checkpoints as a Photographer
My wife and kids have standardized joking about how long it takes dad to get through airport and other security checks when traveling and visiting museums. No, I'm not a supervillain with an evil laugh, I'm just a film photographer!

If you don't know what I'm referring to – unprocessed photographic film is sensitive to X-rays. So, anywhere that X-rays are used to verify the contents of one's belongings, film photographers should take pause.
Recently my family flew from Washington D.C. to Paris, France. I thought it might be useful to share our experiences getting through X-ray points with other traveling film photographers.
Table of Contents
Your Mileage May Vary
Before starting our own photography business, I worked in marketing and routinely flew to numerous cities in the United States to take television production stills and photograph business events. I've found that TSA agents in all major US airports have been super friendly and accommodating to film photographers. So thanks guys, it's much appreciated!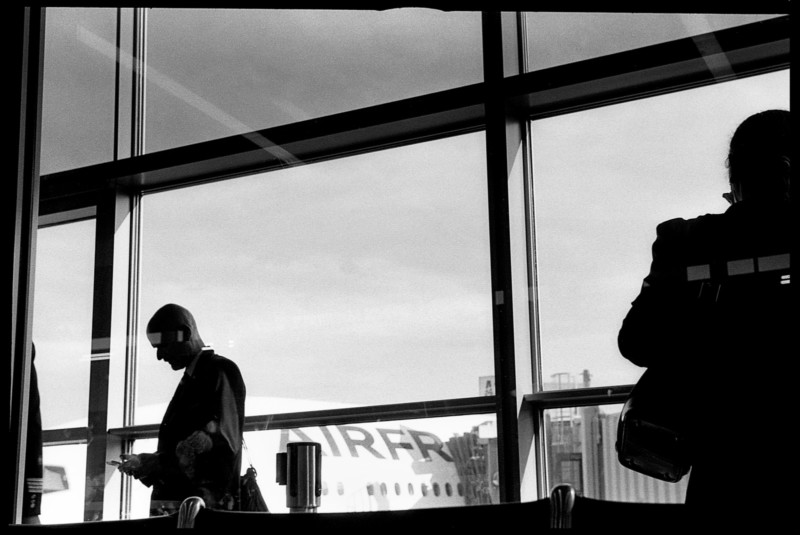 As I understand it though, things aren't always so easy traveling internationally. I had no problems in Sydney, Australia, but London Heathrow is notorious in the film community for refusing hand checks. And twice, I've had issues getting my film through security at Punta Cana International. In both cases, my wife and I were there for weddings and in both cases, I was denied a hand check when leaving the country. For critical, paid work, this is stressful.
So when we decided to go to France, one of my main concerns was the potential use of Computed Tomography, or CT scanners, at both Charles de Gaulle and Dulles. I haven't flown out of the country since COVID and have read that CT scanners are starting to see wider use. So I wondered if they'd been implemented at either of these airports.
CT vs Traditional X-ray Machines
CT scanners are a newer type of X-ray machine that produces three-dimensional images of the items being X-rayed. The X-ray emitting head and detector rotate around the object in CT scanners. Objects seem to be exposed to a greater amount of X-rays due to the thoroughness of CT scanners, which caused Kodak to warn that they can destroy film of any ISO in a single pass. Though ironic, this is probably good news for film photographers because it removes any ambiguity as to rather or not one should get their film hand-checked.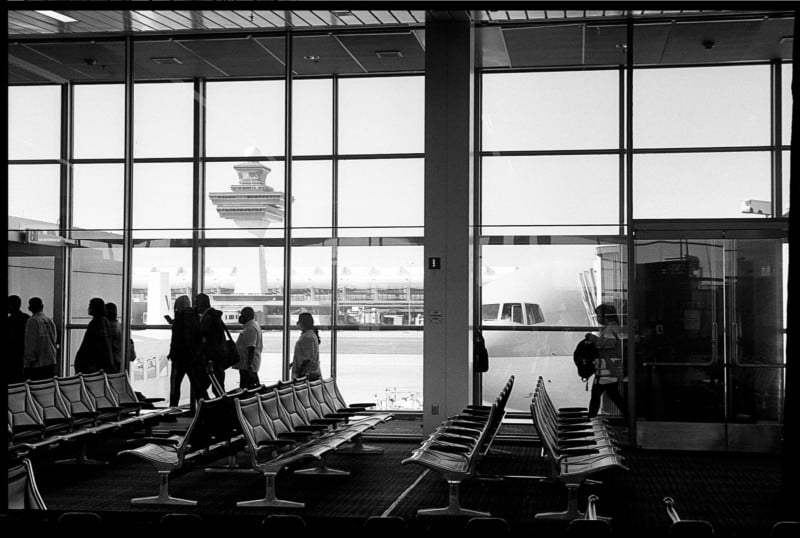 With conventional, two-dimensional X-ray machines, the guideline is that anything rated at 800 ISO or under is safe to be scanned. The problem that I have with this is that one cannot always be certain how many times their film might be X-rayed before it can be processed. Sure, your 100 ISO Kodak Ektar will probably show no appreciable degradation from a couple of quick conventional X-ray scans. But what if you're push processing your Tri-X to 1600 and you're asked to put it through several times?
Similar to light and the Exposure Triangle, the amount of damage that X-rays can do to film is dependent not only on the ISO of the film but also on how strong the X-ray dose is, how long, and how many times it's exposed. Without knowing hard numbers on each of these variables, it's impossible to accurately predict how a roll of film might be affected by being X-rayed.
It turns out that, at least at the terminals I used, CT scanners were not in place at either Dulles or Charles de Gaulle. This meant that I'd have to be prepared for an agent to refuse hand checks. (To be clear, agents operating a CT scanner might also refuse hand checks but as I understand it, this is much less likely.)
This was just a family vacation so I didn't anticipate doing much low-light photography like I shoot at weddings. So I left my TMAX P3200 and Delta 3200 films at home to avoid concerns about getting these more sensitive films through security. I narrowed myself down to Kodak TMAX 100 and Kodak Tri-X 400 for 35mm negative film. I planned to rate and push-process the Tri-X to 1600 in some cases. I also brought some Fuji Instax Mini, which is an 800-speed integral instant film.
Always Request a Hand Check
My strategy has always been to get all my film hand-checked at every security point that I can. No matter the ISO of the film. No matter how I'm rating it. No matter how I'm processing it. It's important though, to keep in mind that if some film must get zapped for whatever reason, not to panic. One short dose from a conventional machine is unlikely to do any harm to most films. And as I found out in Punta Cana, even my 3200 films that I push processed to EI 6400 were only very slightly fogged by being X-rayed once and produced perfectly acceptable images. My lower speed color and b&w negative film, from 100 to 1600, turned out fine.
Security will do what they need to do and it's important to respect that. The idea is to minimize scans as best as possible, but conversely to accept it if one is totally unavoidable.
I try to arrive at security check points with empty cameras but if there's any unexposed film still left in them, I'll either finish shooting the roll or just stop wherever I'm at and unload it. There's no reason to risk previously taken images to save a few frames. I try to keep all of my film together and organized while passing through checkpoints. This way, nothing is scanned by accident and loaded cameras are not opened for inspection and photos ruined that way either.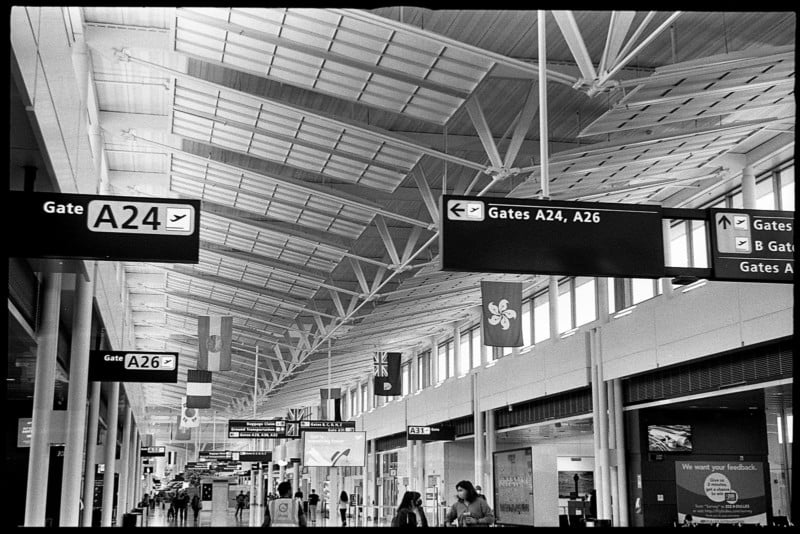 When we got close to the conveyor belt in the security line at Dulles, I held up my clear Ziploc bags filled with forty rolls of 35mm and 10 packs of Instax. "Can I get a hand check please?"
Without any questions, a TSA agent stepped up and took all of my film safely past the X-ray scanners while I continued through the line. Once I was out of the metal detector and the rest of my carry-on baggage made it through the X-ray machine, I caught up with the agents who were already hand-checking my film.
The agents at Dulles were very quick and methodical with hand checks, which I greatly appreciated. This is not always the case though. At other airports, I've had to wait considerable periods for staff to locate an agent familiar with hand checking and for them to single-handedly test each of my numerous rolls of film. That's why it's important to plan on arriving early to security if you're traveling with film.
The two agents at Dulles clearly knew what they were doing and they were respectful too. My daughter and I watched as they removed my film very carefully from the bags and counted it. They used little plastic wands with disposable sterile cotton swabs on the ends to wipe down the exteriors of about five rolls of 35mm or three packs of instant film at a time. Next, they put the swab into a device that can detect materials used to make explosives. If the device finds something, all the film that was wiped down in that batch needs to be put through the X-ray scanner. If it tests negative, the agent disposes of the first test swab and installs another new one on the wand. They return the tested film to the Ziploc bag and then rinse and repeat until everything has been checked to be safe.
So Dulles was a success!
Security Checks at Tourist Hotspots
Specifically to accommodate my anachronistic photography, we booked a straight flight without layovers so as to avoid any additional security checks. So airport-wise, I'd only have to contend with the departing trip from Charles de Gaulle at the conclusion of our vacation. But I wasn't fully rid of X-rays. We planned to visit the Palace of Versailles, Disneyland Paris, and the Louvre – all of which required passage through security checkpoints.
In the past, the only place where my film was ruined by X-rays was at the Holocaust Memorial Museum in D.C. It was 100% my fault though. I honestly just wasn't thinking when I let my camera bag go through the scanner there because it wasn't a planned trip. Most of my negatives from that day were too fogged to produce usable images. At museums and similar, in my personal experience, security is a bit more lax about dealing with us film Luddites but there is still a threat of damage as I learned the hard way.
Our tour guide at the Palace of Versailles kindly relayed my concerns to security and I thought I was all set. However, when my camera bag was passed from one officer to another, the second officer wanted me to remove all my film and X-ray the bag. This isn't an uncommon or unreasonable request, but I didn't have my Ziploc bags and of course, both my Leica cameras were loaded. After years of letting my film roll around freely in my bags, I now keep it packed neatly in plastic cases made for that purpose. It wasn't difficult to hand the film cases and my cameras over to security and allow my bag to pass under the machine, confident that no film was forgotten inside. So in this case, it really paid to have an organized camera bag.
Next was Disneyland Paris. Security was super friendly there as one would expect. They just did a visual inspection of my camera bag and sent me on my way. For these situations, it's good not to have a lot of random stuff crammed into one's bag so they don't have to go through all of it.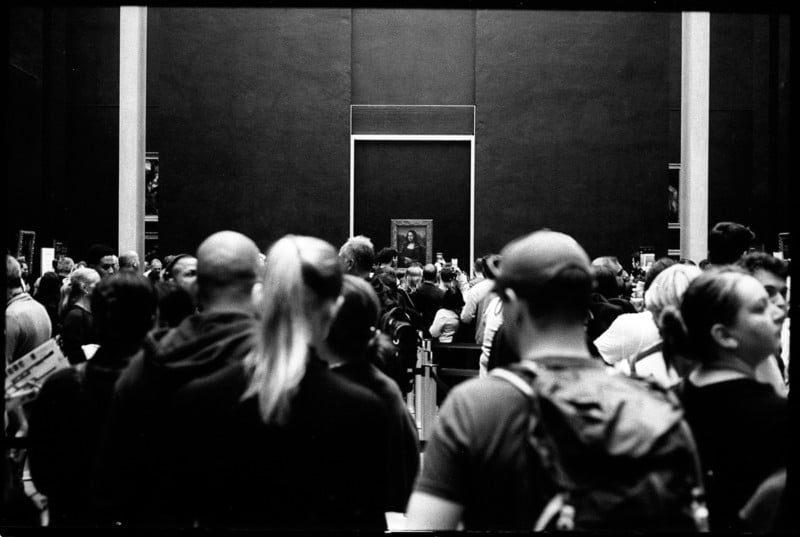 The longest security line we had to wait in was for the Louvre. They did the same thing as Versailles – I had to remove all my film and cameras, then let the bag go through the X-ray machine. But the line gave me time to prepare my bag and cameras for it!
Our trip was coming to a close and I'd managed to get all forty rolls of 35mm and ten packs of Instax through four security checkpoints without incident! Could I make it through Charles de Gaulle Airport and have a complete, 100% X-ray-free trip?
Don't forget, if there is a long enough delay, cancelation, or you just plain miss your flight, you could potentially need to leave the airport and pass through security a second time. It's certainly happened to me before. Situations like that are precisely why it's critical to minimize X-raying.
Additionally, photographer Imran Nuri concluded that film that has been exposed but not processed is more adversely affected by X-rays than film that has not yet been exposed. Therefore, the security checks on the way back from a trip are even more critical than any before.
False Positives with Security Swabs
In the security line at Charles de Gaulle, I emptied all the film from my bag and cameras, held up my clear plastic Ziplocs as usual, and asked for a hand check. Because I'm terrible at French, I referred security to the Do Not X-Ray labels from Kodak inside my Ziploc bags.
The agent insisted that anything under 800 ISO is safe. Some photographers will tell you to throw a roll or two of 3200 in your bag in order to justify hand-checking the rest. But I've heard of instances where security responded by hand checking only the film that is marked above 800 but still required X-raying the remainder. So I informed the agent that I would be push-processing my film passed 800 ISO. I've given this response time and again and found that few people are willing to entertain any more back-and-forth after it. The agent kindly waived all of my 35mm (exposed and unexposed) through for hand checks.
But for some reason, she refused hand checks on my unexposed Fuji Instax Mini film packs. My daughter, who keenly followed my experiences at each check, was surprised when I accepted this compromise with perhaps my most gracious "merci" of the trip. So long as my 35mm was going to be safe, I didn't care if a few unspent packs of Instax risked damage.
The hand check at Charles de Gaulle Airport was not as thorough or fast as the one at Dulles despite removing the Instax from the equation. Instead of swabbing the film in increments of five, as the two agents at Dulles did, the single agent at Charles de Gaulle used just two disposable swabs total; one for each of my two bags of film. And she not only wiped down my film but also the printed Kodak Do Not X-Ray labels that I kept in the bags as well as the interior of the bags themselves. This wider sweeping procedure raised my anxiety as I watched. If either swab tested positive, at least half of my film would need to be X-rayed.
Since I wasn't shooting off fireworks before entering the airport, you might think I didn't have anything to worry about. But I got a false positive once at Dulles. As the agent explained, "it just happens sometimes." In that instance, security only X-rayed ten rolls because they were wiping my film in small batches.
Fortunately, all my film tested negative at Charles de Gaulle. That was a relief!
In researching this article, I learned that the specific materials that these tests detect are nitrates and glycerin, which can be found in everyday household products. Hand soap is probably the most common item that might be on one's hands and consequently passed onto your film. This might generate a false positive. I will certainly take this into consideration the next time that I fly.
But for this trip from Washington D.C. to Paris, France, that's zero X-rays for all my 35mm and one X-ray for my Instax. Pretty close to perfect!
A List of Airports by Hand-Check Reputation
Below is a list of how various international airports have reacted to my and other film shooters' requests to hand checks. (Thank you, Joey Pasco, Justin Tay, and Don Dank!) This information is of course subject to change based on our politeness and current security practices, but it may provide a point of reference.
Airports that have accommodated hand checks: Amsterdam (Schiphol), Atlanta (Hartsfield–Jackson), Australia (Sydney), Baltimore (BWI), Boston (Logan), Budapest (Ferenc Liszt), Cancun (CUN), Chicago (O'Hare), Denver (DIA), Houston (George Bush, IAH), Keflavik (KEF), Los Angeles (LAX), Malaysia (KLIA), Miami (MIA), Milan (Malpensa), Munich (Franz Josef Strauß), Paris (Charles De Gaulle), Puerto Vallarta (IATA), Santiago (SCL), Singapore (Changi), Selangor (KLIA), Tampa (TPA), Thailand (Don Mueang CNX), Vietnam (Noi Bai), Washington DC (Dulles).
Airports that have rejected hand checks in some or all cases: Dubai (DXB), London (Heathrow) Mauritius (SSR), Punta Cana (PUJ), Rome (Fiumicino or Leonardo da Vinci).
All My Film Survived Unscathed
Following the eight-hour flight and requisite airport adventures, I enjoyed a much-needed nap at home and then I processed close to 30 rolls of 35mm the following day, in my kitchen. Of course, having not been exposed to any X-rays, all my negatives came out beautifully. I also shot a full, ten-shot pack of that X-rayed Instax – just to see if I might expect any issues using the remaining packs. Every shot processed just fine.
So I hope that my family vacation provides a useful real-world account of how to travel with photographic film. Some may find it acceptable to just let their film get X-rayed, conceal it in lead bags or give up and just shoot digital! But I firmly believe that we can simply communicate respectfully with security in order to enjoy analog vacation photos.
I've had great luck bringing useable photographs back home and I am happy to thank each and every security officer who's helped make that possible, both on this trip and every other one.
---
About the author: Johnny Martyr is an East Coast film photographer. The opinions expressed in this article are solely those of the author. After an adventurous 20-year photographic journey, he now shoots exclusively on B&W 35mm film that he painstakingly hand-processes and digitizes. Choosing to work with only a select few clients per annum, Martyr's uncommonly personalized process ensures unsurpassed quality as well as stylish, natural & timeless imagery that will endure for decades. You can find more of his work on his website, Flickr, Facebook, and Instagram.