Best Photo Paper for Inkjet Printers in 2023
Photographic printing was once a widespread and vital art form in itself. While there were (and are) various techniques for producing prints from film, the most common in the film era was the use of light-sensitive paper and an enlarger — the paper would be exposed to a film negative or positive transparency (slide film) via the enlarger in a darkroom, or a digital exposure unit such a minilab machine, which you used to find in just about every drugstore.
With the combination of digital photography and the internet, particularly social media, printing photos has fallen by the wayside. Most people I know my age don't even have a regular printer! Yet, producing beautiful fine art photographic prints yourself is easier (and cheaper) than ever before, thanks to the advent of affordable inkjet printers and a plethora of fine art papers.
Many yearn for cameras with more megapixels, better low-light capabilities, and higher dynamic range. Yet, most of these images will never be seen outside a large computer screen at best or a tiny smartphone screen via a heavily compressed JPEG at worst. And the reality is that even a fifteen-year-old, 12-megapixel Nikon D700 is more than sufficient for such viewing conditions.
Printing, like photography itself, is an art and one that requires years of trial and error to master. But when make your first large print on your own photo printer, you'll never want to stop.
What We're Looking For
Like any "best" list, all of these choices are highly subjective — there are easily viable options for each category from at least half a dozen great companies.
Naturally, we're looking for the highest quality papers that make our images come alive, our colors radiate, our tonality pop.
I've broken the list down into a few pretty obvious categories, such as glossy and matte, as well as some less obvious ones. You can't go wrong with any of these options — just decide what type of paper, particularly texture, you're looking for, and give one a shot. I've also included an alternative option for each category.
Also, while there are inkjet printers capable of printing extremely wide, most people who own a photo printer probably own one that prints 17 inches wide or less. Therefore, I didn't get into papers offered on wider rolls — all of these options are available as sheets in various sizes, with 17×22" generally being the largest, though some companies like Moab offer sheets up to 24×36. But this is exceedingly rare.
For those who are looking for a superb photo printer, I highly recommend the Canon PIXMA iX6820 as a budget option ($229, currently on sale for $179 at the time of writing), the Epson SureColor P700 ($829) as a mid-range option, or the Epson SureColor P900 ($1,249) as a higher-tier option. The first two will print up to 13×19", while the P900 can do up to 17" wide and offers the ability to use roll media with an add-on accessory. I have the predecessor of the P900, the Epson P800, and it is an excellent printer — the P900 is very similar but has several welcome design changes.
At a Glance
Best General Purpose Inkjet Photo Paper: Breathing Color Vibrance Luster
When it comes to "general purpose" photo paper, I am looking at a few key elements: price, quality, and range of applications. For example, if you're going to pick one paper for all your photos, you probably don't want a very glossy option, nor do you likely want a textured or matte paper either.
Lustre papers are a fantastic middle ground — think of them as a sort of "semi-gloss." They work exceptionally well for color and black and white, suiting various genres and purposes.
Breathing Color, based in Austin, Texas, produces and supplies high-quality photographic and fine art papers, canvases, varnishes, laminates, framing supplies, and even inkjet printable metal.
The Breathing Color Vibrance Luster is a resin-coated, cotton-blend photographic paper featuring a luster texture and silky, satin finish that isn't overwhelmingly reflective but still gives images a lovely punch. At 255 gsm, it's a moderate-weight paper — not too light, but not super heavy.
Excellent for both color and monochrome production, along with a very appealing price tag — fifty sheets of 13×19" come in at only $65.49 — this is a great all-around option to have on hand.
Alternative Option: Red River UltraPro Satin 68lb
Best Glossy Inkjet Photo Paper: Moab Juniper Baryta Rag 305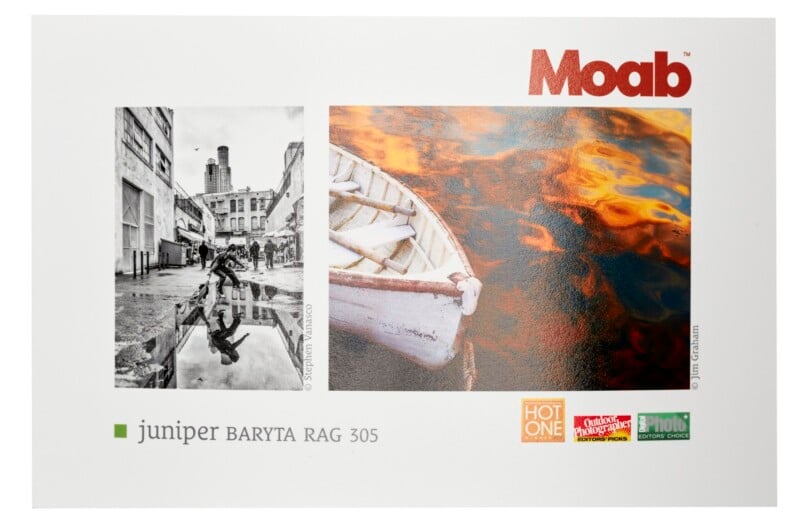 Glossy inkjet paper is an attractive choice for many prints. It's especially great when you desire high-resolving power, as glossy papers are composed of very fine fibers, so details remain crisp and vivid. In addition, glossy papers usually have a vibrance and pop that lends itself very well to color photography, and the smooth, uniform surface is desired by many. The most significant disadvantage is that glossy papers reflect light and glare much more than muted satin or matte textures. Smudges, dust, and other imperfections are also magnified. But there are plenty of reasons to love a nice glossy photo finish.
Moab Paper produces some of the finest inkjet photo paper in the world. Part of Legion Paper, which also owns Rising Museum Board, was founded in Moah, Utah, which serves as the gateway to Arches National Park.
Moab's Juniper Baryta Rag 305 is a 100% cotton, true baryta fiber paper offering a thick 305 gsm cotton-fiber base weight with an excellent density that provides rich, beautiful highlights, natural whites, and exceptional shadow detail. Colors are crisp and beautifully saturated. The paper is coated with a "state-of-the-art technology" that "embraces the unique charm of silver halide" to mimic traditional darkroom FB-type papers. It's minimally textured, like any glossy photo paper, but handles reflections exceedingly well — it almost rides the line between glossy and semi-gloss in that way. Moab papers are among my favorites, and the Juniper Baryta Rag 305 is my go-to when I want a smoother, poppier print.
Additionally, the company is also very environmentally friendly; a member of Rocky Mountain Power's Blue Sky program, it has converted all of its offices to wind energy, while the mills use various alternative methods, including agro-waste materials, to generate electricity. Juniper Baryta Rag 305 is made entirely from cotton, sourced from the liners (byproducts) of textile production, repurposing what would otherwise end up in the trash.
Alternative Option: Hahnemühle Photo Rag Baryta 315 High Gloss
Best Lustre/Satin Inkjet Photo Paper: Canson Infinity Platine Fibre Rag 310gsm
Canson, a French manufacturer headquartered in Annonay, is one of the world's oldest producers of fine art papers. The company's official origins date back to 1577 when a cereal mill on the river Deûme in the Beaujolais region was transformed into a paper mill under the name Montgolfier. The Canson name itself first appeared in 1801, and the company became Canson-Montgolfier in 1807. Innovations include the introduction of architectural tracing paper in 1809, suction boxes in 1824, and a wax-based product that allowed long sheets to be dipped into a gelatine bath in 1827. Today, the company employs over four hundred people worldwide, with locations in Europe, North and South America, and Australia. Its products include fine art papers for printmaking, oil, watercolor, pastel, and acrylic — and products for schools and architecture — some of which are sold under the brand name Arches.
Canson is perhaps my single favorite of all paper manufacturers. There isn't a single paper I've used from them that I didn't like, and several that blew me away. Canson Infinity Platine Fibre Rag Satin is one of those that fit in the latter category. As someone who's not a huge fan of super glossy papers but still sometimes wants a little bit of luster, this is the paper I immediately turn to.
Infinity Platine Fibre Rag combines the 100% cotton platinum paper that Canson marketed to the platinum and Platine photographic market and a new microporous coating that allowed it to bring the darkroom paper to the digital printing market. According to Canson, the paper provides "the aesthetic and feel of the original F-Type Baryta Fibre Paper" and offers true whites despite the lack of optical brightening agents. With an extremely high D-max, a CIE whiteness of 89.12, 310 gsm weight, and a smooth, satin finish, this is one of the best papers on the market.
Reflections are handled gracefully as they diffuse into a lovely gradient across the page, colors pop off the page better than most other papers I've used, and tonality is excellent.
This one definitely does not disappoint.
Alternative Option: Hahnemühle Photo Rag Paper (188 / 308 / 500 gsm)
Best Matte Inkjet Photo Paper: Canson Infinity Rag Photographique Matte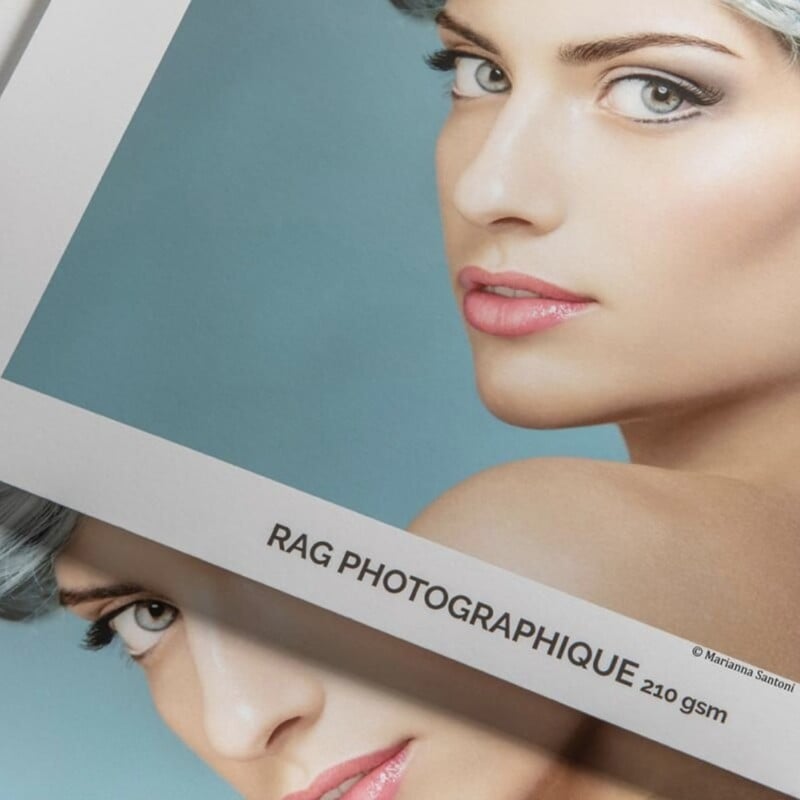 Many matte papers I've used, especially cheaper options, feel like printing on cardstock from your local Hobby Lobby. While there are a lot of glossy and satin/luster options that I have loved, I can't say the same about matte papers. Some are very close but fail to get all the way there with a bit of a washed-out look, lack of fine detail, or too much warmth in the paper (though some people like this).
But then I tried Canson Infinity Rag Photographique Matte paper, which produces photos with rich highlights, deep blacks, stunning contrast, and a wonderful, smooth texture that doesn't overwhelm the look of the print and still exhibits finer details with excellent clarity. Color reproduction is equally impressive, with bold and saturated colors. A lot of this is thanks to the paper's extremely high Dmax — one of the highest on the market.
Infinity Rag Photographique is offered in both 210 gsm and 310 gsm weights. Canson also produces Infinity Rag Photographique II, a double-sided version of the same paper for those who would benefit from that.
Alternative option: Moab Entrada Rag Bright 300 / Entrada Rag Bright 190
Best Metallic Inkjet Photo Paper: Moab Slickrock Metallic Pearl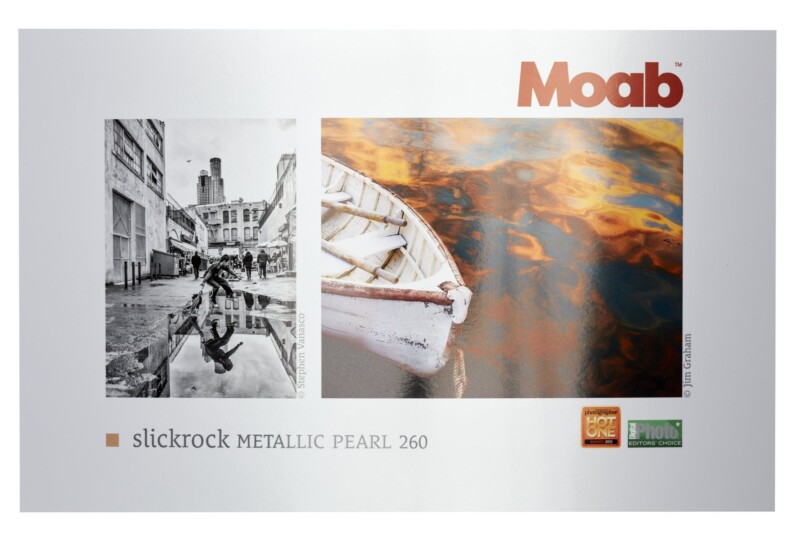 Getting a photo printed on metal is a wonderful experience but virtually impossible to do at home on an inkjet printer (short of Breathing Color Allure, an inkjet printable metal). But there's another option: metallic paper.
Moab Slickrock Metallic Pearl 260 features a metallic finish, providing a very unique 3D quality to any print. The paper works wonderfully for both black and white and color photos with deep blacks, bright white highlights, and, in the case of color photography, vibrant and poppy colors.
I highly recommend trying out metallic paper — they're a ton of fun to use, and the image quality can rival some actual metal prints.
Alternative: Hahnemühle Photo Rag Metallic Paper
Best Inkjet Photo Paper for Wide Aspect Ratio Prints: Red River Big Bend Baryta 310

Most sheets of photo paper come in a relatively small variety of sizes: 8×10, 8.5×11, 11×14, 11×17, 13×19, and 17×22 are the most common, at least in the United States. Most of these lend themselves quite well to a vast majority of photographs which often have somewhere near 4:3 or 3:2 aspect ratios. But what about wider aspect ratios, like panoramic photos? The only options are to fit the image to these available sizes, and thus with much unused white space, or to move up to roll media, which isn't an option with every printer.
Red River Paper is one of the few producers of high-quality photo paper that offers some alternative options. The company, based out of Dallas, is new compared to others on this list, founded in 1997. But don't take that as a commentary on its products' quality — they're both incredible and affordable.
Red River Paper offers some unique sizes perfect for wider-aspect ratio photographs and printers up to 17 inches in width: 9×13, 17×25, 8.5×25, and 13×38 are the most common wider sizes in its catalog. The latter two represent approximately a 2.9:1 aspect ratio, which is highly unusual to find from any other companies in sheet form.
My favorite general-purpose paper from the Texas-based company is the Red River Big Bend Baryta 310 — a smooth satin finish paper with a neutral white tone and a 100% baryta layer. However, the company's entire catalog is worth perusing, depending on whether you want a glossy, satin luster, metallic, matte, or other paper type. Most, if not all, of them, are offered in these wider sizes.
Alternative Option: Red River Palo Duro SoftGloss Rag 315
Best Textured Photo Paper: Hahnemühle William Turner
Like Canson, Hahnemühle is both one of the finest producers of fine art media in the world and one of the oldest. Its origins date back to 1584 in Relliehausen, Germany, when a paper mill was constructed along a river in the Weser Uplands of Lower Saxony. The company is still headquartered in the Relliehausen district of Dassel, Germany.
Hahnemühle is one of the first paper manufacturers to engage in environmental initiatives — they began producing exclusively vegan paper as far back as 1965, and the paper mill is powered entirely by a combination of water, solar, and wind energy. Furthermore, they have an entire line of products — the "Natural Line" — made from raw materials under the Green Rooster initiative. These include Hahnemühle Bamboo, Sugar Cane, Hemp, and Agave papers.
But one of my favorites of the company is a slightly more unique product.
There are matte papers, and then there are papers like Hahnemühle William Turner. A mould-made watercolor paper featuring a felt-like structure without optical brighteners, the paper is ideal for fine art applications. Offered in 310 gsm and 190 gsm variants, as well as an option with hand-torn deckle edges, Hahnemühle William Turner is one of the most unique papers on the market.
Alternative: Hahnemühle German Etching
---
Image credits: Header photo licensed via Depositphotos.