Kodak Ektar H35N Half Frame Camera Review: More Sharpness, More Fun
Lately, it seems like everyone wants to save money on film while still having fun shooting it. So, on the heels of the wildly successful 72-photos-per-roll, Kodak Ektar H35, Hong Kong camera maker, RETO, just released an upgraded version of their smash hit half frame point-and-shoot, the H35N.

I
reviewed the first iteration of this camera
last July. The copy that I tested was one that I personally purchased and I continue to use and enjoy. The new H35N that I'm talking about now was kindly given to me by RETO to review. I think these cameras can be perfect gateways to
learning film photography
or even fun glovebox cameras for more experienced photographers.
Below, I'll go over the thoughtful little upgrades that the Kodak Ektar H35N brings to the table. Throughout, I'll provide sample images that I shot on Kodak TMAX 100 35mm film and processed in Kodak HC110 developer with only mild editing. Be sure to stick around for my final verdict on this economical and fun new film camera.
Aspherical Glass Lens
The number one thing that experienced film photographers complain about with plastic cameras is the plastic lenses. In my opinion, RETO did a fair job of addressing this in the original H35 by giving the 22mm f9.5 lens, not one but two acrylic elements. I could really see an edge in sharpness compared to other "plastic fantastics." When shooting the H35 at close to middle distances in bright light, I got acceptably sharp photos. The H35 lens does exhibit considerable glow on highlights and rainbow lens flares though. So Reto listened to its customers and furnished the H35N with a slightly faster 22mm f8 two-element lens. What's really exciting about this is that one of the two elements is now made of optical grade glass, the acrylic one is aspherical, and both lenses are UV coated. These upgrades definitely tame the highlight glow and made a sharp lens, even sharper thanks to greater contrast. Every bit of resolution is important with such a small film format, even for a toy camera.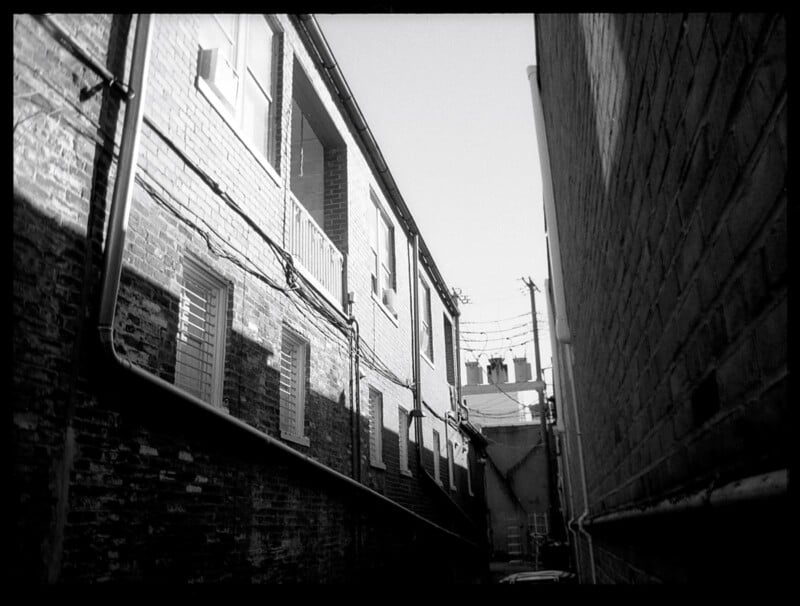 Shutter Options
The first H35 had only one shutter speed; 1/100th. But the new Kodak Ektar H35N takes a cue from a legendary plastic fantastic, the Holga 120N, by adding a bulb shutter and a tripod socket. This will allow photographers to explore slow shutter images for subjects like fireworks, light trails, or even astrophotography.
There are a couple of cool "side effects" of the bulb shutter feature too. You can now use the Kodak Ektar H35N to take slow flash sync photos because opening the bulb shutter fires the flash, and you can continue to hold the shutter open as long as you like. Additionally, double exposures can be taken in bulb mode. Because the shutter does not need to be charged in order to release it in bulb mode, you can open and close the shutter for as long and as many times as you want, without advancing the film.
The only caveat is that, unlike the Holga, the Kodak H35N requires a remote shutter release to use bulb mode, which makes using it less on the fly. To me, the H35N is the kind of camera I want to keep in my pocket for use when I don't want to carry or cannot carry additional items. So I don't expect bulb to see much use from me. I wondered if I could screw a soft release button into the H35N and make it easier to use, but neither of the buttons I had worked. Depending on what you want to shoot though, this arrangement may be fine.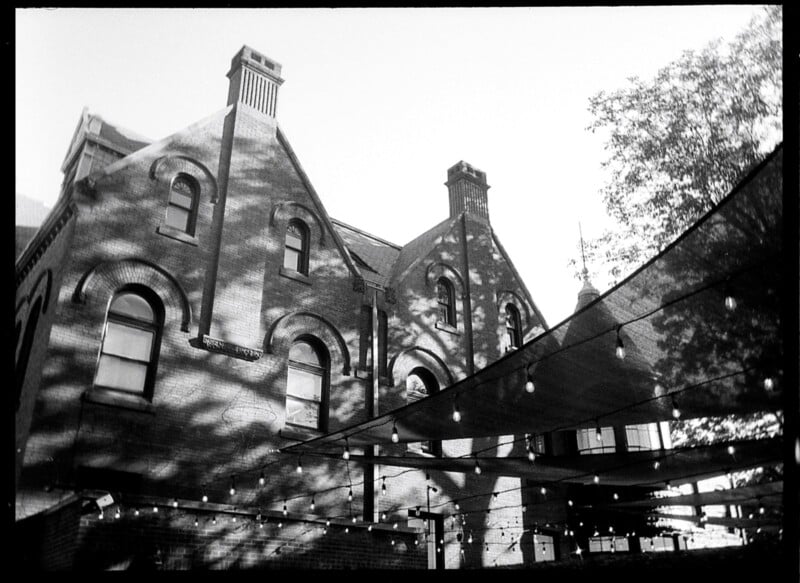 Functional Refinements
Besides the lens and shutter, there were three functional refinements to the Kodak Ektar H35N.
The built-in flash unit of the H35N has been improved. In the previous model, the flash would remain active even after it was turned off. It would fire on the next exposure when it was not desired. RETO fixed this quirk and I tested the H35N many times to be certain. Now, when you turn off the flash, it will not fire unexpectedly. I should point out, however, that the haptics of the H35's flash switch were one of the things I enjoyed most about the camera. The ring around the lens rotates with a gratifying click. Despite the control looking identical on the H35N, the ring switch on the copy that I received is very hard to rotate.
Another point of contention on the H35 was the film rewind crank. Functionally, there was nothing wrong with it per se. But because it must be pulled up and almost out of the body to allow film cassettes to be slid in and out of the film chamber, it felt loose and delicate to many users. The new H35N crank does not have to be pulled up to insert or remove film. The small tabs that grab the film reel are now spring-loaded. It feels sturdier now and will make loading and unloading that much faster and easier, not only than the H35 but also the contemporaneously released AgfaPhoto Half Frame and finicky Diana Mini half frame.
Finally, the practical refinement that I looked forward to the most was the viewfinder. It was my only real criticism of the first model. Reto had simply repurposed a full-frame viewfinder and added some strange mesh mats to either side of it to make it show the half-frame dimensions. Edges of that finder were indecisive and blurry. But the new H35N features its own, dedicated half-frame viewfinder window that is easier to use and just looks proper.
I should mention, however, that even though the focal length of both the H35 and H35N is 22mm, RETO's viewfinder in both cameras is closer to the 30mm viewfinder my 1960s Agfa Optima Parat half frame camera. So with the H35N, account for a slightly wider image on film. I would have liked to see the dedicated, vertical viewfinder to be more accurate to the lens, but after all, this is a toy camera and a little imprecision is part of the fun. Right?
Cosmetic Refinements
There are three main cosmetic upgrades to the H35N. Two, I really love, and one that I'm not really that into.
Personally, I enjoyed the H35's simple, textured ABS faux leather front panel and the available colors. I chose a classic black H35 when I bought mine last year, but I would have been equally happy with any of the other colors they offer on that model. On the other hand, I don't really like ANY of the available color options for the H35N.
For the H35N, Reto seems to have tried to cater to the critics who complain about the lack of metal on this class of camera by adding another sheet of aluminum to the front of it that they call a "CD-like metallic surface." But personally, despite the diverse array of color options for this aluminum panel, I really don't really like any of them, or the fact that they make the camera very reflective. The more adolescent color choices even feature an unnecessary "star filter" label and oversized, redundant, and confusing "N+" on them. What is the "+" for?
I hate to put so much weight on cosmetics, but with a camera like this, a grown man can feel a bit silly carrying one. The original H35 was a dead ringer for the original Kodak Instamatics of the 1960's so I don't feel that it looks out-of-place for an adult or a kid to carry. Whereas the H35N is very shiny and garish, like a toy. I think they wanted to harness some 1990's energy from the "CD-like" appearance but for me, it just didn't work.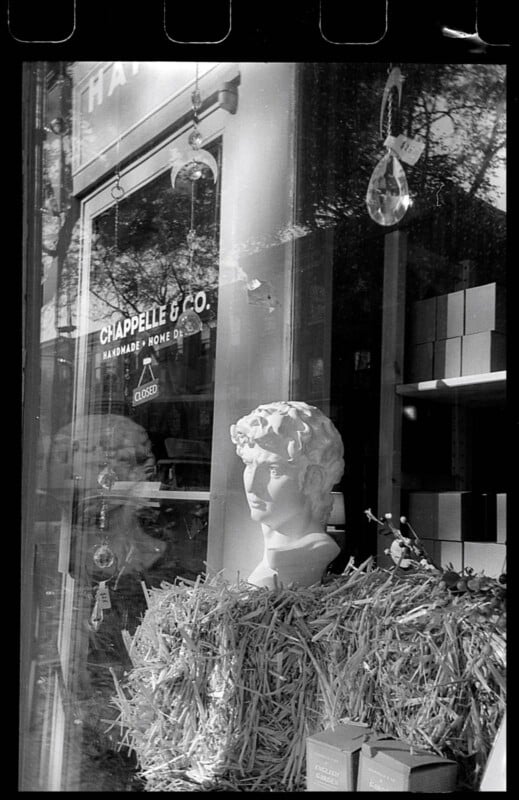 There are two cosmetic refinements that offset the panel and they are more functional though. The H35N features lens name/information to the ring around the taking lens of the camera: "Kodak Aspherical Lens – f = 22mm." It's admittedly a small thing but it is nice to be able to remind oneself of the focal length, like a "real" camera. I also just think adding the lens name/info exhibits some more pride in the product.
The other cosmetic refinement is the provided wrist strap. Both cameras come with a simple, black drawstring bag with the Kodak emblem inked on in white. But RETO also included a very useful little wrist strap with both models. The wrist strap for the H35 is a large and embarrassing affair with giant plastic hardware and a wide ribbon-like strap. I felt like I was attaching a boogie board to my arm, not a camera! The new H35N wrist-strap is comprised of a classier thin but strong grey "rope" material and much smaller but as effective, black plastic hardware for adjusting the tightness of the strap.
Again, I hate to emphasize cosmetics, but that old strap made me feel pretty adolescent so I just returned it to the box. But I am actually using the new one.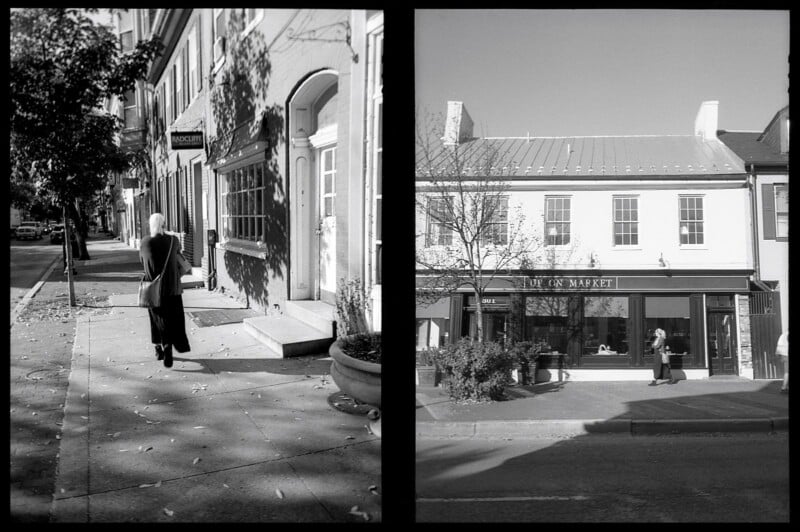 A Fun New Feature
Technical mumbo jumbo and cosmetics opinions aside, the new Kodak Ektar H35N also brings a totally new feature to the table that has absolutely no tie-in to the previous model or seems to address any concerns that I've heard about it.
RETO shows us that the H35N can still just be about fun, with a built-in star filter. A simple lever beside the lens deploys a small, etched plastic filter that will turn points of light into disco-esque four-point stars. This feature of course is aimed squarely at the younger shooters who are less concerned with resolution improvements brought by the coated glass and aspherical lens elements. The plastic filter, in fact, is clearly at odds with the optical improvements and welcomes back the highlight glow that this new lens addressed. As you can see in the diptych below, the addition of the star filter on the right robs some contrast and resolution. One could view this as a stark conflict of the philosophy behind the Kodak Ektar H35N, or just a simple reminder that one ought not take their photography too seriously!
The Cost
The Kodak Ektar H35 is still available in any color option for $49.99 directly from Kodak. The Kodak Ektar H35N is also available now, in any color option for just $64.99.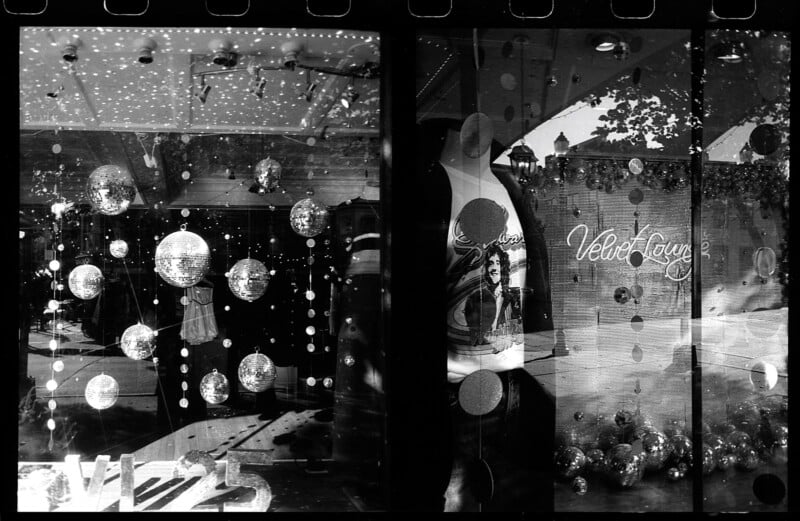 The Verdict?
If you read my article about the H35, you know I think that the first camera was a home run. So I was expecting a grand slam with the H35N. Regretfully, I have to admit that the H35N turned out to be a fly ball for me.
The new features make a lot of sense by themselves but feel somewhat at odds when paired together in one camera. Where the original H35 was clearly designed as a simple, pocketable, and affordable way to enjoy film photography, the H35N feels less clearly defined.
I would have loved to see an H35N with no cosmetic changes, only the upgraded lens, improved loading, corrected flash, and a nicer wrist strap. Maybe a second aperture setting instead of the star filter. A more accurate viewfinder would have been nice. And if RETO really wanted to boost sales, a mount on the lens for color, effects, and close-up filters. Those could have been sold as an optional extra kit, allowing more flexibility and a second product to upsell.
However, as is, the Kodak Ektar H35N competes more strongly with Lomography's offerings and many photographers will opt for the H35N for the higher-quality lens alone. Of course, if flash and long exposures appeal to you, the H35N is a better choice over its predecessor. The is H35N easier to load and more simple to use than comparable, often finicky, zone-focus Lomography cameras.
Many film photographers argue that vintage, higher quality half-frame cameras can be purchased used for about the same price as a new Kodak Ektar H35 or H35N, so it doesn't make sense to buy these new cameras. But as the owner of two vintage half-frame cameras, I can attest to how common it is for vintage cameras to require some sort of maintenance and how difficult it is to find anyone who can do it properly.
I think experienced photographers will find it liberating to throw a Kodak Ektar H35N in their glovebox, backpack, or jacket pocket and snap film photos more casually like they might with their cell phone. The H35N is also a great tool to teach our kids about film because they get so many photos compared to the cost and quality of Instax or normal 35mm. Whatever your interest, I hope you'll check out the Kodak Ektar H35 or H35N for yourself!
---
About the author: Johnny Martyr is an East Coast film photographer. The opinions expressed in this article are solely those of the author. After an adventurous 20-year photographic journey, he now shoots exclusively on B&W 35mm film that he painstakingly hand-processes and digitizes. Choosing to work with only a select few clients per annum, Martyr's uncommonly personalized process ensures unsurpassed quality as well as stylish, natural & timeless imagery that will endure for decades. You can find more of his work on his website, Flickr, Facebook, and Instagram.
---
Image credits: Header photo by Eastman Kodak Company / RETO Production Ltd