This is What the 'Ring of Fire' Eclipse Looked Like From Space
Last weekend, the Moon aligned with the Sun and Earth to produce what is known as an annular solar eclipse. Colloquially referred to as a "ring of fire" eclipse, the effects were beautiful from Earth and, as a photo shows, eerie from space.
For viewers looking up from select locations in North America, the Sun appeared reduced to a thin ring around the dark circle that is the Moon, hence the "ring of fire" name. The results were incredibly beautiful for those who positioned themselves to photograph it.
From space, the view was quite different. Shared courtesy of NASA's DSCOVR EPIC (Earth Polychromatic Imaging Camera imager aboard Deep Space Climate Observatory — a joint NASA, NOAA, and U.S. Air Force satellite) team, a dark splotch can be seen over the United States, caused by the shadow of the Moon.
The EPIC imager's sensor is able to provide frequent views of Earth from its position at what is called Lagrange Point 1, a gravitationally stable point between the Sun and Earth about 1.5 million kilometers from Earth, NASA explains.
The view above was captured at 16:58 Universal Time (11:58 AM Central Daylight Time) which shows the shadow — otherwise known as the umbra — from the Moon as it falls across the coast of Texas, near Corpus Christi.
"While the annular eclipse was partially visible across the entire United States, Mexico, and countries in Central and South America, the path of annularity — where the largest area of the Sun was covered by the Moon from the observers' point of view — was the best place to view it," NASA says.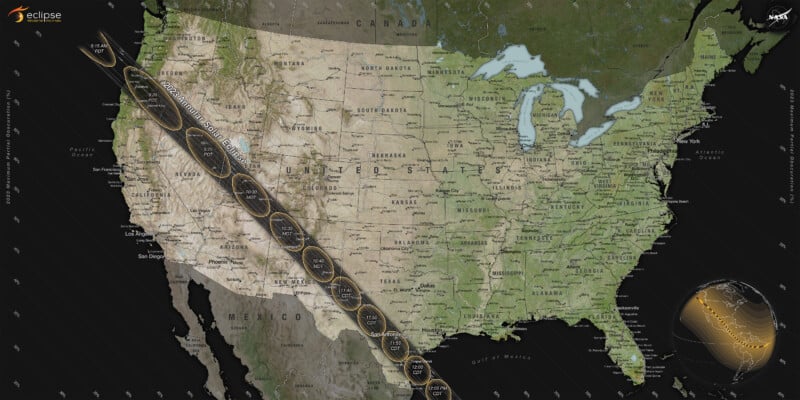 The above map was developed by NASA's Scientific Visualization Studio and shows the path the annular eclipse took across the western and central United States. This map shows the length of time that the annularity lasted — the closer to the center of the solar eclipse path, the longer it was visible.
Another map produced by The Planetary Society and The Eclipse Company shows a similar path.
While this is the last annular eclipse to cross over North America until June 21, 2039, a total solar eclipse will take place next year, and the path of that event can also be seen on the Eclipse Company website. That eclipse will darken the skies from Texas to Maine on April 8, 2024.
---
Image credits: NASA image by the DSCOVR EPIC team. NASA Scientific Visualization Studio map by Michala Garrison.