This Map Lets You Easily Find the Best Spots to See the 2024 Solar Eclipse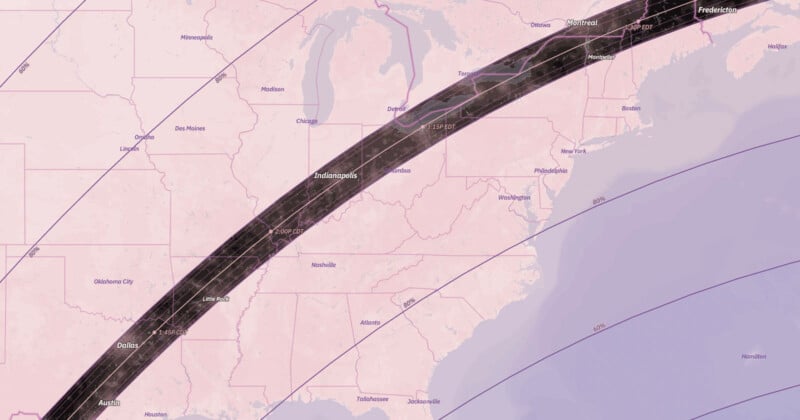 On April 8, 2024, a total solar eclipse will be visible for a large portion of the United States. A new map created by The Planetary Society and The Eclipse Company will help photographers select the best location from which to see it.
This upcoming eclipse is highly-anticipated not only because of its viewable location but also because it will be the last to cross over North America for 20 years. Totality will be visible from as far south as Texas up through the northeast.
As exciting as that will be, it's not alone: another will appear this month over the western half of the United States, and although it won't feature totality, it is still an exciting celestial event.
In order to help would-be viewers and photographers, a new pair of maps created by The Planetary Society and The Eclipse Company can show the best spots to view each event.
"After seeing the 2017 eclipse, I was shocked to discover how many people lived near the path of totality but didn't make the extra effort to experience it fully," Jesse Tomlinson, co-founder of The Eclipse Company says. "We designed this tool specifically to inspire folks to get in the path — it is a transformative experience not to be missed."
Designed to be easy to use, the map does more than pinpoint specific locations. Differing from other maps, this new map is the only to integrate details about cloud cover, light pollution, eclipse duration, and eclipse phenomena alongside information about viewing locations from local parks and events, as well as lodging options.
"Having this all in one place makes for an interactive map that is highly empathetic to people trying to find an optimal viewing location in the path of totality," The Planetary Society says. "The map also includes educational information from The Planetary Society to ensure enthusiasts feel informed and inspired as they prepare for the event."
The two organizations partnered to create the free resource from a shared desire to help as many people as possible experience the upcoming solar eclipses, especially considering the 2024 eclipse is the last to appear for a long time and will showcase totality.
"This is where one will experience the most 'phenomena' of an eclipse: the Sun's corona will be viewable, Baily's beads will appear along the Moon's limb, confused insects will start making their twilight noises, and more. The map shows which phenomena can be found in each location," the two organizations explain.
"This will be the first time preparing for an eclipse for a lot of people," Planetary Society CEO Bill Nye says, "Working with The Eclipse Company, we're able to give the public a tool to help make their eclipse experience extraordinary."
The October 2023 map and the April 2024 map are both free and can be found on The Eclipse Company Website