New Nat Geo Docuseries Features Seven Leading Photographers
National Geographic has revealed the seven iconic photographers featured in the upcoming documentary series Photographer, created by Academy and Emmy Award-winning filmmakers E. Chai Vasarhelyi and Jimmy Chin.
The six-episode docuseries focuses on photographers across many industries, including conservation, wildlife, fashion, and more. Photographer pairs leading documentary filmmakers with photographers, taking the viewer on adventures worldwide. Each episode will follow specific photographers as they work to create images that will stand the test of time and convey powerful visual stories.
Series creators Vasarhelyi and Chin will direct the series' pilot episode, centered on two of the world's most prolific and influential ocean photographers, Paul Nicklen and Cristina Mittermeier.
Nicklen and Mittermeier are at the forefront of ocean conservation, and the duo works to raise awareness of the many issues plaguing the world's oceans, along with the non-profit organization SeaLegacy. Vasarhelyi and Chin will follow the pair of photographers to the Bahamas as they document damage caused by oil drilling and document recently discovered seagrass beds.
Another episode will follow science photographer Anand Varma, who dreamed of becoming a scientist like his father. However, while studying marine biology at Berkeley, Varma left school to pursue an opportunity as a camera assistant and has never looked back. Enthusiastic about "all things 'icky,'" Varma combines his lifelong passion for science and his love of art. He is currently working on a series about metamorphosis.
Krystle Wright, an adventure photographer, is the subject of another of Photographer's episodes. Wright has spent the past decade-plus traveling the world to photograph some of the most incredible extreme sports stunts. Sidelined for the past two years due to a medical emergency, Wright is back in the field, now chasing tornadoes in the American Southwest and grappling with balancing the high-adrenaline life of an adventure photographer with her creative appetites.
Veteran conflict photographer Muhammed Muheisen has won two Pulitzer Prizes and is the founder and chairman of the Dutch nonprofit organization Everyday Refugees Foundation. Muheisen, born and raised among conflict in the Middle East, no longer heads out into the frontlines of war. He now uses his photography to give a voice to refugee children. Muheisen's episode will follow him through his journey from photojournalism to photographic activism.
"My entire life, I've chased after magic and wonder to find the masterpiece in every moment," says versatile portrait photographer Dan Winters. "It's been a 40-year search for me, but it's come with a cost." Winters is celebrated for iconic and unusual celebrity portraits, scientific work, street photography, and illustrations. He has more than a hundred national and international awards. Helped throughout his career by his wife and manager, Kathryn, Winters now wonders precisely what price he paid on a personal level to achieve astounding professional success. In a profession where a photographer like Winters must travel the world to capture award-winning moments, he reflects on important moments he might have missed back home.
Fashion photographer Campbell Addy uses his unique background and experiences to create highly sought-after photography. "I pull from iconography that I inhabit. I'm queer. I'm Black. I'm religious, from England; all of the things I often have shunned, I'm putting together for the first time," says Addy. He recently photographed Meghan Markle, Megan Tee Stallion, Lizzo, and Naomi Campbell, to name just a few of the enormous names he's shot. His image-making talents landed him on Forbes' 30 Under 30 list, which has been a tremendous career benefit but has also led Addy to worry about how popularity may negatively affect his creativity. His episode will focus on how he recently switched agencies and has renewed his focus on expressing his vision.
"The diverse range of photographers at the heart of this series each have different focuses in their work, but the throughline across all of them remains: to inspire a deeper connection to the world and to ignite curiosity through striking images," says Tom McDonald, EVP, Global Factual and Unscripted Content, National Geographic. "That's the goal of what we do at National Geographic — to spark that wonder and curiosity — and we're looking forward to bringing the daring, creative spirits of each of these photographers to viewers around the world."
The seven featured photographers were selected for their varied personal and professional identities. Hailing from all over the world, including the Middle East, Mexico, Australia, Canada, the United States, the United Kingdom, and Ghana, the photographers may all seem very different at first glance, and they undoubtedly produce exceptionally disparate bodies of work, but a common throughline that connects them all is their passionate advocacy for telling stories through photography, which has been a considerable focus for National Geographic in the past 135 years.
While National Geographic often focuses on the result — the images that talented photographers create — Photographer flips the script and looks at the people behind the camera, the talented photographers who make the work that inspires and educates readers and viewers.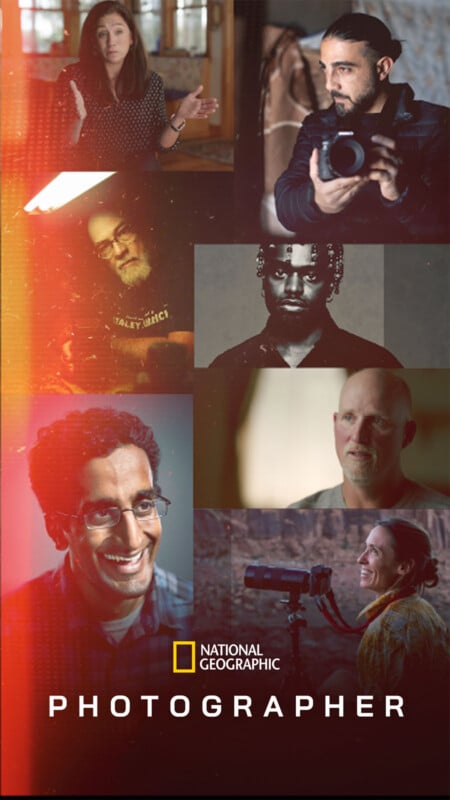 Created by Little Monster Films, National Geographic tells PetaPixel that the final cast of photographers was chosen through a collaborative effort. Many subjects are Nat Geo photographers, so the brand's themes will be interwoven throughout the documentary series.
Photographer was first announced in February 2021, so the development and production process has been long. However, the extended wait will end in early spring 2024 when Photographer makes its debut. It is extraordinary for photographers and the typical viewer to get an in-depth, behind-the-scenes look at the people who have dedicated their lives to capturing and creating powerful imagery.