Rare and Valuable JFK Assassination Photos Found in Garage Go to Auction
A series of photographs discovered in a garage that capture John F. Kennedy's assassination are being auctioned off.
The set includes the only professional photo taken of the moment JFK was shot in his limousine while riding through Dallas, Texas taken by AP photographer Ike Altgens.
The man who found the high-quality black-and-white photos discovered them while clearing his family's garage after his father died.
He believes the binder full of photos belonged to his mother who was a devoted supporter of Kennedy and also worked for Sigma Delta Chi: a journalist organization now called the Society of Professional Journalists. The photos were part of a collection submitted to the awards for consideration in 1963.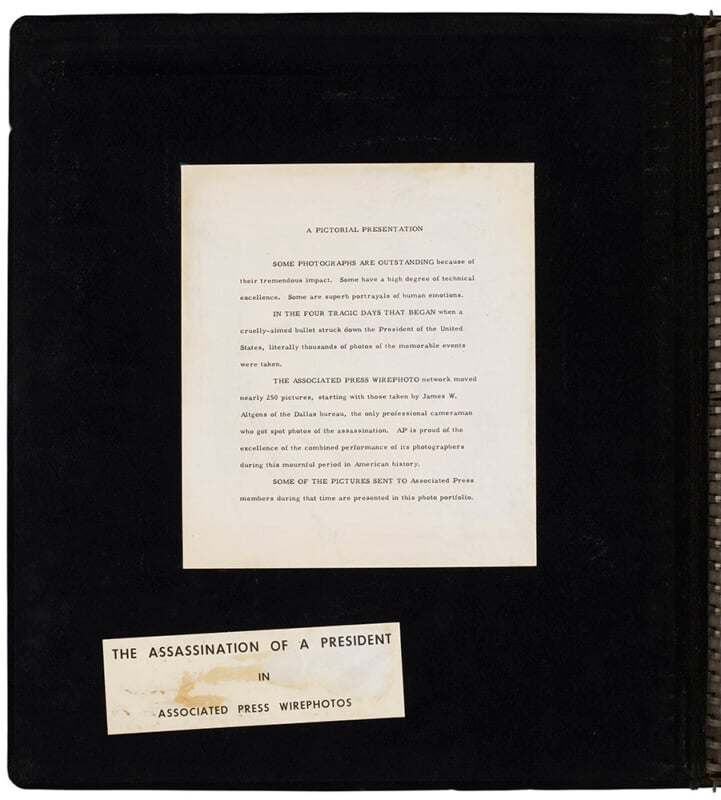 Among the photos was a typewritten document that reads: "A pictorial presentation" and describes how the photos chronicle "four tragic days that began when a cruelly-aimed bullet struck down the President of the United States."
The pristine photos were printed from the original negatives and are "the real deal", according to the man who found them.
"That's when I knew that this was something special," the man, who wishes to remain anonymous, tells the Chicago Sun-Times.
The man reached out to Christie's auction house where they are now listed on its website and are expected to fetch between $10,000 and $15,000.
"I frankly found it to be a fascinating time capsule of a very tragic period in American history. And it's a fascinating photographic record," Peter Klarnet, senior specialist of Americana with Christie's, tells the Sun-Times.
"I've never seen an archive like this. And the fact that it's submitted by the Associated Press, the best work they did on this, I think is a pretty compelling narrative."
Klarnet adds that because they are "contemporary prints" from the original negatives they will be of particular interest to collectors.
The set also includes a photo of Secret Service agent Clint Hill standing on the bumper of the limousine as Jacqueline Kennedy scrambles in the back seat. As well as photos of Kennedy's assassin Lee Harvey Oswald being shot and killed by Dallas nightclub owner Jack Ruby.
The online auction can be found on the Christie's website here.
---
Image credits: Courtesy of Christie's
---
Update 10/13: One of the captions said John and Jackie seen "moments before the assassination." It appears the photo was taken earlier than that.