These Are the Best Panoramic Photos of 2023
The winners of the 14th annual Epson International Pano Awards have been announced. The overall winner, featured above, is Spanish photographer José D. Riquelme.
"After a dozen visits to Iceland, exploring its majestic lands, during a rest stop, I decided to change my perspective and launch my drone. To my amazement, I captured this incredible image. From above, lines form a bridge extending from left to right, while on the ground, abstract shapes emerge from the flowing river water originating from the glacier," Riquelme explains of his overall winning image, The Bridge.
Riquelme is a passionate landscape and night photographer from Murcia, Spain. Despite an extensive graphic design and printing background, Riquelme has only been photographing for eight years. During his first two years, he used his smartphone to capture photos, focusing on finding interesting compositions in traditionally unphotogenic locations.
The Epson International Pano Awards showcase the best work of panoramic photographers worldwide and is the largest global competition for panoramic images.
"2023 has again proven to be a truly inspiring year for Pano Awards entries. They are all excellent in terms of quality and creativity. Epson is proud to support and sponsor these awards as they connect photographers of all levels and from all walks of life through their passion," says Craig Heckenberg, Epson Australia MD.
This year's competition received 4,414 entries from 1,104 professional and amateur photographers from 102 countries. This is an overall increase in entries compared to last year.
RAW Planet Award
Singaporean photographer Teo Chin Long has won this year's RAW Planet Award for the image Yellow Net 1.
"This lovely photo was taken in Vietnam. It is a huge net set up with a motor which when activated, will raise the nets and catch any fish trapped in it. I was happy to be here to document this scene during the golden dusk hours. The light was gentle and could interplay with the yellow of the nets for a great composition," Long says of their winning image.
Epson Digital Art Prize
American photographer Swee Choo Oh won the Epson Digital Art Prize for her photo of Gehry's iconic Walt Disney Concert Hall in Los Angeles.
Built Environment
Cao Ky Nhan from Vietnam finished as the Open category runner-up and won the Built Environment category for a fascinating image of moving ducks.
"I have a significant amount of experience in photographing duck flocks, so I understand their behavior well. With the photo Vortex of Ducks, I took the shot around 5 PM in the evening. At that time, the light was still quite strong and had a beautiful golden hue. When it's feeding time, the duck herder brings food and calls out to them, and thousands of ducks will quickly rush towards the herder, running around him. To capture their movement, I used a drone and added a neutral density (ND) filter to the camera. My intention was to slow down the shutter speed. In this way, with a single static image, I was able to capture the swirling motion of the ducks. At that moment, their movement resembled a vortex," says Nhan.
Amateur Photographer of the Year and Nature/Landscape Winner
Merche Llobera from Spain won the Amateur and Nature/Landscape categories for a trio of underwater panorama images, Jack Fish Art, All You can Eat, and Spirits of the Sea.
In Jack Fish Art, a school of jacks form what looks like an underwater tornado in the waters of Cabo Pulmo National Marine Park in Mexico.
In All You can Eat, a cormorant swims between different schools of fish, darting from one potential dinner to the next. The image was captured in Swanee Reef.
"Here a pod of common dolphins is captured in motion as they swim swiftly towards the camera. Their intelligent eyes were fixed on me, displaying a curious and playful expression. It is clear that these dolphins were not very used to seeing humans in their underwater world, as they appear to be fascinated and intrigued by the encounter," Llobera says of Sprits of the Sea.
Amateur Runner-Up and Built Environment Winner
Hung Chang Lin from Taiwan captured this breathtaking image in Perú. "This was my first time to Perú. Everything was mysterious to me. I know that Machu Picchu is a very popular tourist spot in the world. In order to take pictures of the real Inca civilization with nobody there, I set off from the foot of the mountain before dawn and I took an incredible amount of time to reach the ticket gate," says Lin. "As I entered Machu Picchu, the sky was still filled with dark clouds, and there was a gentle drizzle in the air. However, when I finally discovered my ideal spot, the sun pierced through the clouds, causing the Incan buildings to appear as if they were floating on the clouds. In that moment, I felt so touched."
The Curator's Award
On an autumn photography trip to Slovenia, Polish photographer Krzysztof Browko captured this incredible image of the St. Thomas church appearing to emerge from a bed of mist and fog.
More Winners
"2023 represents a diverse collection of images, demonstrating new boundaries being pushed — such as Merche Llobera's striking underwater panoramas. Also notable is the strong performance of entrants from Southeast Asia and Europe this year, mirrored in the entry statistics with an increase in new entrants from those regions in particular," says competition curator David Evans. "It's always exciting to see the competition evolve year-on-year, and without doubt 2023 is no exception."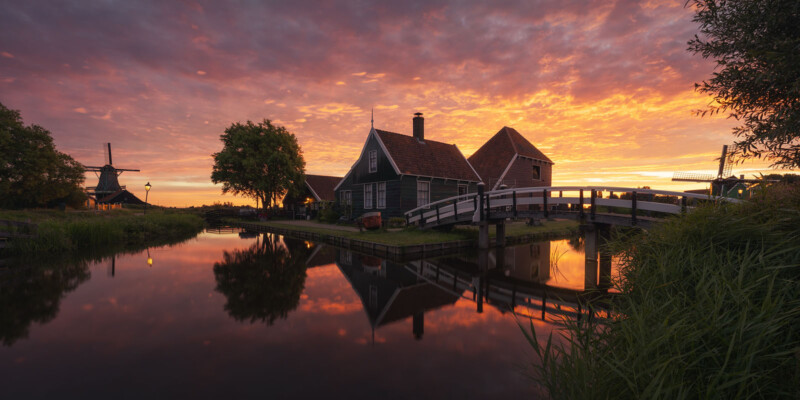 Photographers competed for a total prize pool worth over $40,000, including $14,000 in cash. The first-place Open Award winner, José D. Riquelme, received $3,000 in cash, an Epson SureColor P-7070 printer, and a trophy. Specific special awards, including the RAW Planet award, Epson Digital Art Prize, and The Curator's Award, included large cash prizes up to $2,000.
There are many more brilliant panoramas to see, including the top 50 images from each category. All image galleries are available on the Epson International Pano Awards website.
---
Update: An earlier version of this article said that Krzysztof Browko's award-winning image, "Church," was captured in Estonia. It was captured in Slovenia.
---
Image credits: All images courtesy of the Epson International Pano Awards 2023. The individual photographers are credited in the image captions.