Premier League to Test Video Game-Inspired Camera Angle This Weekend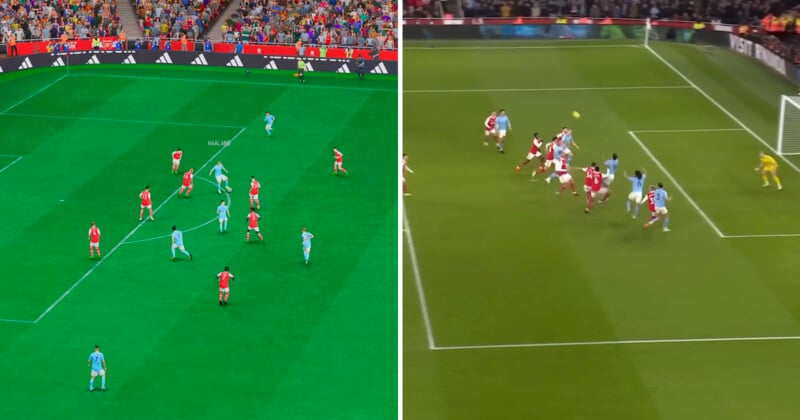 Thanks to significantly better camera technology, sports broadcasts have radically transformed in the past decade. However, even as the cameras improve, they remain primarily in the same locations. That is about to change.
The Athletic reports that British broadcaster Sky Sports and the Premier League will trial a new camera angle this weekend during the Arsenal versus Manchester City match.
Called "Game Mode," the camera angle resembles the typical perspective in soccer video games, like EA Sports FC 24, the latest entry in the long-running "FIFA" series. The name changed because EA Sports did not renew its licensing agreement with FIFA.
"The aim is to give the viewer a greater appreciation of space as well as showing player runs and ball movement across the pitch from a different perspective," writes Nnamdi Onyeagwara for The Athletic.
"Game Mode" is poised to deliver a higher, more zoomed-out perspective than the standard view, a luxury afforded by the fact that the average viewer has a higher-resolution, larger display than they used to. With greater visual fidelity on offer, a television angle that shows more of the field at any given time, even if players appear smaller, should still be accessible for viewers to enjoy.
"The Premier League is always looking for ways to enhance the broadcast experience for fans around the world," says Rachel Nightingale, the head of media operations and innovations for the Premier League. "During this period of testing with Sky Sports and Arsenal, we hope 'Game Mode' will provide a new and exciting way to enjoy the action at home."
"We're very excited to see what 'Game Mode' can bring to the overall viewing experience for fans and believe it has great potential when it comes to in-game innovation," adds Sky Sports director of production Phil Marshall.
While "Game Mode" is breaking new ground for the Premier League, it is not the first time the "railcam" technology has been used during a match at Arsenal's London home, Emirates Stadium. "Game Mode" was used as part of the Women's Super League match between Arsenal and Liverpool broadcast on October 1.
If the second test this weekend proves successful and popular among Premier League viewers, the camera could be used in all future Premier League games at Emirates Stadium. For this weekend's test run, the Game Mode feed will be aired live on Sky Sports Football on Sunday, replacing the usual "camera 1" feed. Standard coverage will be simulcast for Sky Sports Premier League viewers, as usual.