Photographer Reuben Wu Showcases the Power of iPhone 15 Pro Max
Apple has recently commissioned multidisciplinary artist and National Geographic photographer Reuben Wu to showcase the Cupertino giant's newest flagship smartphone, the iPhone 15 Pro Max.
Wu has celebrated the launch of the iPhone 15 family of handhelds with a six-image series, "The Inner Landscape," which shows breathtaking landscapes with carefully composed artificial light.
While similar in spirit and general aesthetic to some of Wu's prior work, the artist says that "The Inner Landscape" is "…more intimate than epic, more ambiguous than explicit, making up a body of work that feels cohesive through its sense of connection and psychological space."
Wu tells PetaPixel that compared to his work in the famous "Lux Noctis" series, "The Inner Landscape" feels much closer to the viewer. While some scenes in "Lux Noctis" are distant, vast, and expansive, the subjects of "The Inner Landscape" are nearer and more diminutive.
The photographer says that by physically being within the space of his subject, rather than shooting it from afar, the connection between Wu and the scene is more robust, which he hopes also translates to the viewer.
"'The Inner Landscape' is more intimate, where I am much closer or in the midst of the subject matter. The scene feels so intimate it feels almost like part of my mind. Working in low light and with artificial light intensifies the mood of unreality," Wu tells PetaPixel.
"This concept was most felt in the image entitled 'Ultra Vivid,' which was captured inside a very narrow slot canyon. It was monsoon season in Utah, and my assistant Zac and I had to squeeze through an extremely narrow ravine. But that made the experience extra special and full of connection with the place," Wu adds.
His new series does more than offer beautiful photos; it also highlights the photographic capabilities of the iPhone 15 Pro Max.
"The iPhone 15 Pro can shoot ProRAW up to 48 megapixels, which gives me a RAW DNG file that I can work with to create the final images," Wu explains, adding that he also uses the phone's Night Mode, which allows him to shoot exposures up to 30 seconds long on a tripod. "I get the same ecstatic feeling from getting the shot on an iPhone camera as I do on a bigger mirrorless or DSLR system."
For "The Inner Landscape" and other series that Wu has shot with iPhone, such as his wonder "Shot on iPhone" series for last year's iPhone 14 Pro, he uses the phone's native camera app. "It has by far the most intuitive UI, not least because I use it every day," Wu explains.
"I'm interested in getting the most out of the camera using the same app that every iPhone user uses, and rather than slowly learn how to use more complicated third-party apps, I can create my artistic vision quickly and instinctively and in the moment."
Even when not shooting commissioned work for Apple, Wu often works with an iPhone. "I've been using the iPhone as part of my photography tool kit for many years," he explains to PetaPixel. He uses his iPhone as a scouting and navigational tool in the field and says it is crucial to his work.
"The iPhone 15 Pro is the best camera available for its size, and while it can't replace bigger dedicated systems, it can create images which still push my own artistic vision and display them at gallery quality and sizes, and I was shocked how good the prints were."
Wu's new images have been printed at up to 60 inches large and installed in New York City, and shown on giant screens at Apple Champs-Elysees in Paris. Wu also recently had the chance to share his photos with Apple's CEO Tim Cook. "I was very excited to walk Tim Cook through my show and demonstrate what the iPhone 15 Pro Max is capable of," Wu explains.
World-renowned photographers Stephen Wilkes and Reuben Wu show us creativity is limitless with iPhone 15 Pro Max. Their vivid photos display breathtaking views from the beauty of summer in Rhode Island to the other-worldly deserts of Utah. Thank you for showing me your work. 🙏🏻 pic.twitter.com/6kYnln7HYF

— Tim Cook (@tim_cook) September 22, 2023
While a smartphone like the 48-megapixel iPhone 15 or iPhone 15 Pro can make large prints, they are also significantly easier to use than dedicated camera systems, which still offer performance advantages and more flexibility than smartphones.
"My workflow was not all that different; if anything, it was simpler. I lock the camera on a tripod and capture changing natural light and different angles of artificial light, shooting in ProRAW using the 24mm 1x lens (which offers the highest resolution of all three lenses)," Wu says of shooting "The Inner Landscape."
"When the iPhone is on a tripod, it can actually do a 30-second exposure, so I am able to capture very long exposures and manually bias my exposure up or down. With the iPhone, I don't have to think as much about settings because the camera is smart enough to do things with the images, processing and combining visual information into one photo, and this all happens in the background while I keep shooting," he continues.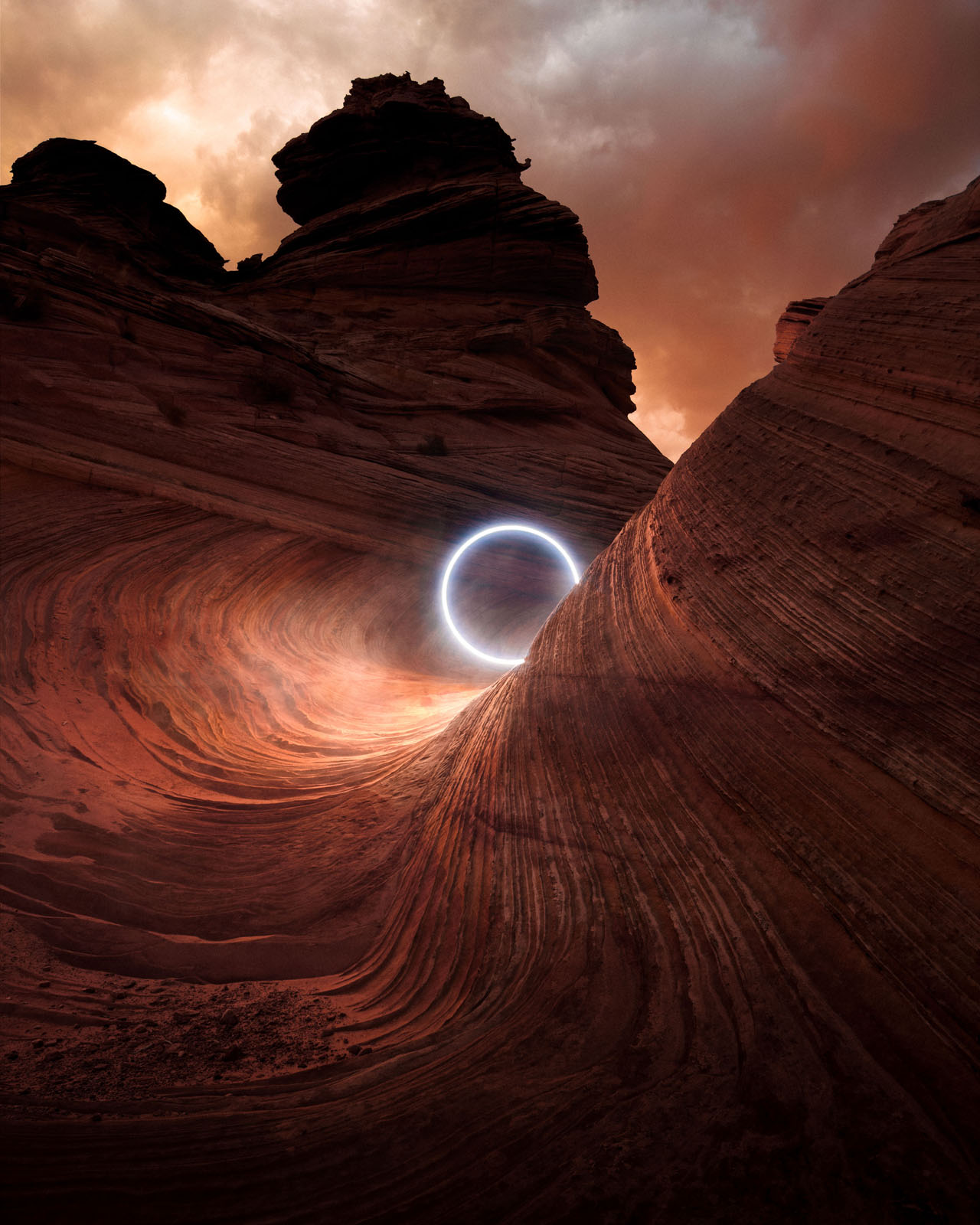 The ease with which artists like Wu, an extremely talented photographer with a vast background of technical knowledge for working with complex camera systems, can create artwork using a device like an iPhone points toward something significant: the democratization of digital photography.
"I think the younger generation of creators looking to buy their first camera will more likely want an iPhone over a dedicated camera," Wu says. "This is because the iPhone is a hybrid device that combines an amazing camera and software, as well as the platform for engaging on apps like TikTok, Instagram, and Twitter."
"Social media and content creation are essentially the same thing now, and the iPhone is a much more powerful tool from this perspective, as a door to the digital space we all connect through as humans."
While an iPhone may not excel at capturing all the same sorts of images as dedicated camera systems, thanks mainly to the different lens design possibilities afforded to engineers working on large-sensor camera systems, an iPhone is also free from the limitations of how "real" cameras capture images.
An all-in-one device sporting sophisticated, cutting-edge processing power can integrate software in ways that a mirrorless interchangeable lens camera cannot, which makes it much easier for beginner photographers or those without rich technical knowledge to capture good-looking images.
One of the iPhone's main selling points is that they are effortless to use by just about anyone, which translates to the device's native camera app. It can be as straightforward as "point and shoot" to capture beautiful photos on an iPhone, but someone like Reuben Wu can take the device so much further than that and not be left wanting.
The iPhone 15 Pro and Pro Max are not just as easy to use as any other iPhone, they also include some exciting new exclusive features, such as new 28mm and 35mm lens options and what Wu calls a truly fantastic photo editing experience thanks to iOS and the beautiful iPhone displays.
"Doing this project has demonstrated that the same camera I use to photograph my mug of coffee in the morning, or my kids at the playground, is also capable of creating gallery-sized works of art," Wu explains.
---
Image credits: An earlier version of this article incorrectly stated that the 28mm and 35mm lenses could not capture 48-megapixel images. However, like the standard 24mm main camera, the new 28mm and 35mm lenses can also shoot 48MP photos.
---
Image credits: All images © Reuben Wu, unless otherwise noted. More of Wu's photography is available on his website and Instagram, which Wu says is the best place that people can keep up to date with his work.