Photographer Captures Meteors, Milky Way Galaxy, and Bioluminescence in One Photo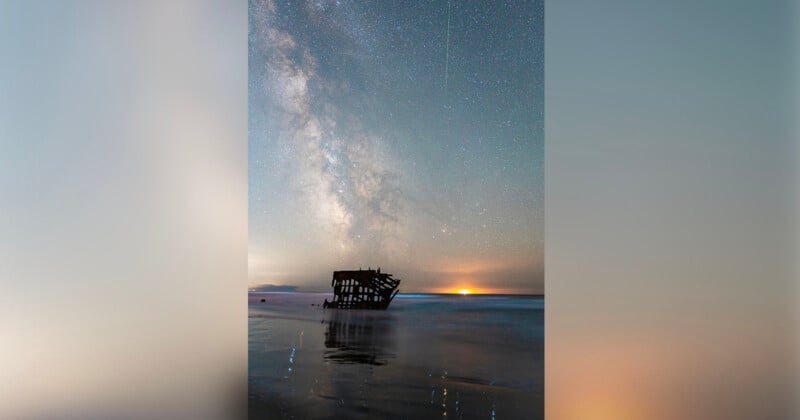 In this modern world of Photoshop and AI, it's easy to fake photos. But one photographer is keeping the philosophy of getting it right "in camera" alive and well.
Jay Shah recently captured a spectacular photo with multiple natural phenomena in it; including the Perseids meteor shower, the Milky Way Galaxy, bioluminescence in the water, a sunset on the Pacific Ocean, and just for good measure — a shipwreck.
"Capturing such a variety of subjects in a single exposure is very unique and hence extremely rewarding," Shah tells PetaPixel.
"Additionally, balancing light exposure, while minimizing star trails and noise makes such images even more interesting to capture."
Shah was recently featured in PetaPixel for his photos of bioluminescent rocks glowing off the coast of Oregon.
His most recent shot was also taken in Oregon next to the wreck of the Peter Iredale, a British ship that ran aground because of strong winds in 1906. It hit Clatsop Beach so hard that three of its masts snapped from the impact, according to the Oregon History Project.
Shah used his Sony a7 IV with a Sony FE 24mm f/1.4 G-Master lens and shot the photo late one night with the lens wide open using a 20-second exposure.

"A Perseid meteor, the Milky Way, bioluminescence, a shipwreck, the Pacific, and a ship in the distance, all captured in a single 15-second exposure," Shah writes on Instagram. "The magical bioluminescence sparkled all around our boots!"
Shah enjoys the challenge of "straight" photography, shunning composites and other forms of digital manipulation that have become commonplace in modern photography.
"I do not blend images, nor do I do composites. No shooting landscapes during blue hour and blending with tracked night skies," he says.
"I find single exposures incredibly rewarding as you really have to push the dynamic range of the equipment to its limit to get good foregrounds and night skies while managing noise. I find this challenge very motivating, and when I get it right, incredibly rewarding."
More of Shah's work be found on his Facebook, website, and Instagram.
---
Image credits: All photos by Jay Shah.