Photos of Bioluminescent Rocks Glowing Off the Coast of Oregon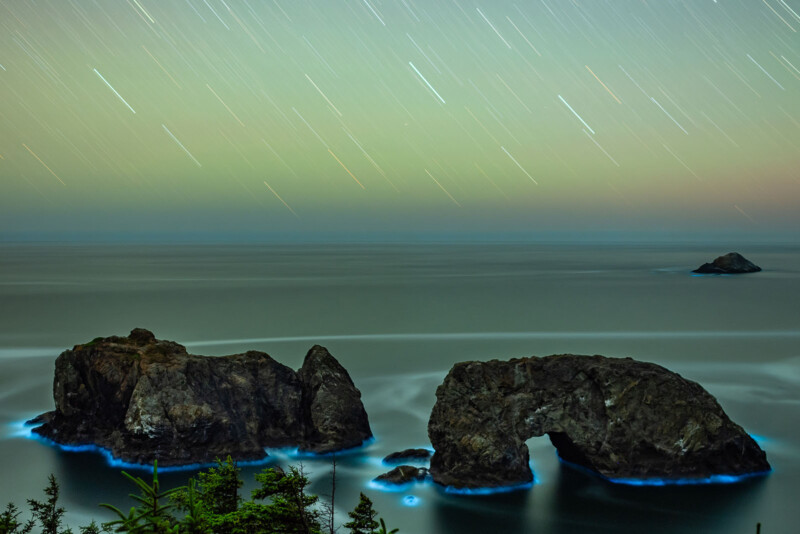 A photographer captured bioluminescent rocks glowing off the coast of Oregon as star trails dazzle in the sky above.
Jay Shah tells PetaPixel that he read about Arch Rock, just north of Brookings, having the potential for bioluminescence in the months of June and July.
Bioluminescence is due to dinoflagellates, a type of algae, having a chemical reaction in their bodies. They glow bluish in color when disturbed
"I picked the weekend of July 14 and 15 when the weather looked very clear along the southern Oregon coast and the Moon was below the horizon for most of the night," says Shah.
"I also planned to give myself at least two attempts in case the fickle marine layer suddenly materialized. It paid off pretty well. On the night of the 14th, it was very clear and the marine layer was negligible. Hence I was able to get star trails and the night sky color.
"On the night of July 15, the marine layer was intense, hence the foggy, moody vibe. In fact, five minutes after that exposure, the marine layer rolled in and visibility dropped."
Shah points out that it is not a good idea to have a camera out when there are tiny water particles in the air.
"So, in a nutshell, pick good weather, moon conditions, general timing of bioluminescence, and give yourself as many chances as you can," he adds.
No Composites
Shah says that he will only ever shoot single exposures.
"I do not blend images, nor do I do composites. No shooting landscapes during blue hour and blending with tracked night skies," he says.
"I find single exposures incredibly rewarding as you really have to push the dynamic range of the equipment to its limit to get good foregrounds and night skies while managing noise. I find this challenge very motivating, and when I get it right, incredibly rewarding."
Shah used a Nikon D850 with a Rokinon 24 mm f/1.4 lens to capture the bioluminescent rocks. His first exposure was a rather long 890 seconds.
"The star trails are due to the earth rotating during the 15-minute exposure," adds Shah.
The second image was slightly less prolonged – just 506 seconds (eight and a half minutes.)
More of Shah's work be found on his Facebook, website, and Instagram.
---
Image credits: All photos by Jay Shah.