How Skill and Luck Combined to Create Golf's Most Incredible Photo
Mark Pain is an internationally acclaimed sports photographer with multiple "Sports Photographer of the Year Awards" from the British Press Awards. He has photographed many of the world's most incredible sporting events during his decades of work, including having shot the Ryder Cup, professional golf's premier team competition.
To celebrate the 44th edition of the biennial Ryder Cup teeing off today at Marco Simone Golf and Country Club in Italy — pitting the United States squad against team Europe — it is as good a time as any to look at one of Pain's most famous photos, arguably the first golf photo ever to go viral.
In an interview with Golf Digest, Pain explains how he got the iconic image of Tiger Woods at the 38th Ryder Cup in Wales in 2010 featured at the top of this article. "I remember thinking, 'Wow, that's coming straight at me, and that's pretty nuts,' I remember looking at the back of the camera and thinking, 'That looks a bit weird.' It's by far the most famous picture I've ever taken. It's such a bizarre moment that it's real fun actually talking about it," Pain explains.
The image, which PetaPixel featured when it went viral in 2010, shows a Woods' chip shot appearing to come straight at the camera as a mass of people, the "gallery" as fans are called in golf, stand behind him, all watching the shot.
Even as camera technology improves, adding faster shooting speeds and better autofocus, a shot like Pain's is practically impossible to get in 2023. Everyone in the frame, save for a professional camera operator and some pro photographers, is watching the spectacle with the naked eye, not through a smartphone screen as they record the moment. It is a far cry from what major sporting events look like today.
And the crowd is important to Pain's image — it is the critical context that sets the scene and tells the story.
"Back in 2010, I was the chief sports photographer for the Mail on Sunday — a big British Sunday newspaper. My role as a photographer was to cover a whole variety of sports every week. I was very lucky in those days to be sent around the world doing pretty much all the big sporting events that are played," Pain says.
"Shooting the Ryder Cup is nothing like shooting golf. It's a huge event. It's not just a golf tournament, it's about personalities as well. In many ways, the golf was irrelevant to me, it's all about moments, capturing that moment of each competition on that particular day," he continues.
On the day of the famous photo, Pain was out on the course with Tiger Woods, and the weather, in typical Welsh fashion, was rainy and windy. The wind was so strong that rain coated the front of Pain's lens almost as soon as he brought it up to shoot. "It was hell," Pain says.
After not taking many shots during the round because the weather was brutal and Pain needed his cameras to survive through the end of the day, the Sun finally poked through and the rain slowed, just in time for Pain to follow Woods down the 18th and final hole.
"Tiger's coming down 18 in the Ryder Cup, so there must have been 10 photographers at least covering that particular match. He hits his shot to the left of 18. We have no real idea of where the ball has landed," Pain says, although marshals were ushering people out of the way, suggesting that Woods had found his way into the rough.
As professional sports photographers, Pain and the others move up around the spectators and often kneel so that fans can see over their heads. As is often the case, Pain had a long lens and a wide-angle lens with him.
"I put my big lens down to my side and got myself technically ready to take the picture of what was going to be happening in front of me," Pain explains. "I've now got Tiger Woods facing me with his caddy talking about the shot, and I've got a bank, literally it's like a terrace, of thousands of people. It laid itself to be a lovely wide, colorful image with lots of faces."
"I remember focusing on Tiger as he was standing over the ball, addressing the ball, and the Sun has now come out…my ISO was set, my shutter speed was set, my composition was set. I'm doing nothing technical at all. Literally just watching him with my finger over the shutter," he continues.
As Woods made his shot, sports photography magic happened.
"I thought maybe I had messed up focus-wise because the first frame I saw, the camera shows you the last frame you talk, and that was pretty much white, so I flicked back to the last image, the one everyone knows," Pain says.
"What staggers me is people's faces," Pain says, looking at his photo. "Everyone is looking as though something mad has just happened. Everyone looks like they're on a film set…You almost couldn't set this up better in terms of the composition. Every single person here, every golf fan, is watching someone play a golf shot, as opposed to filming somebody play a golf shot."
Although it looks like Pain was standing directly in front of Woods as he made his shot, he was about 45 degrees to Woods' right. However, Woods was having a rough day on the course, and his shot was shanked from the rough, coming straight to Pain, who, 999 times out of 1,000, would have been safely out of the way. That 1-in-1,000 event — getting hit by a wayward Tiger Woods golf shot — resulted in a one-in-a-million photo.
Pain was in such shock, having been hit by a golf ball that fell to his feet, and Tiger Woods and his caddy looked so angry, probably more at the bad shot than the fact that the ball had hit Pain, that Pain quickly left the area.
Looking back at Mark Pain's iconic image, PetaPixel chatted with the photographer about the picture and sports photography at large.
"The Tiger Woods picture is certainly up there as one of the best images I've ever taken," Pain tells PetaPixel. "One of the best, but certainly the luckiest."
"Great sports photography is all about capturing the moment, and I certainly have never had such a huge number of important factors come together for me in a single image," he adds.
Pain explains that the composition and light could not have been any better, even if he had complete control over everything. Beyond the fantastic light, fascinating fans in the background, and the picture-perfect moment, Pain notes that the image is made even better because it features Tiger Woods, who remains among the most famous athletes in the world and was undoubtedly the most prominent golfer in 2010.
Golf is typically one of the easier sports that Pain photographs.
"However, photographing the Ryder Cup throws up its own unique challenges. It can be a physical challenge if you're following a particular match or pairing over 18 holes. You're constantly playing catch-up as a photographer to get ahead of the players and action and to get in position in good time for your next shot."
Beyond the struggle to stay in good spots for photos, weather is also a factor. "Shooting football (soccer) or rugby etc. in the rain is fine, as you're generally shooting from a fixed position on a stool with the usual rain covers etc. However, it's a completely different challenge if you're constantly on the move in the rain on an open golf course. It can be a real nightmare, especially as you're generally carrying at least a couple of camera bodies, one with a big telephoto and another with a wider zoom. So that in itself was a real challenge in the build-up to the Tiger moment — I was literally in camera survival mode at times," Pain tells PetaPixel.
Pain's legendary shot has also taken on a cult meme status among golf fans and the internet. One of the spectators, known as "cigar guy," took on a life of his own in 2010 and still resonates with people today. Pain shared a hilarious Photoshop that someone sent on Instagram this morning.
Often, a great photo is at least partly due to luck. In this case, Pain certainly gives good fortune a lot of credit. However, make no mistake, even though he is lucky that Woods hit a lousy shot that came straight toward him — although the ball probably hurt a bit — Pain's talent and experience ensured he was not only in the right place at the right time, but that he was able to take full advantage.
Mark Pain's Amazing Photography Shows Skill, Patience, and a Rich Range of Sports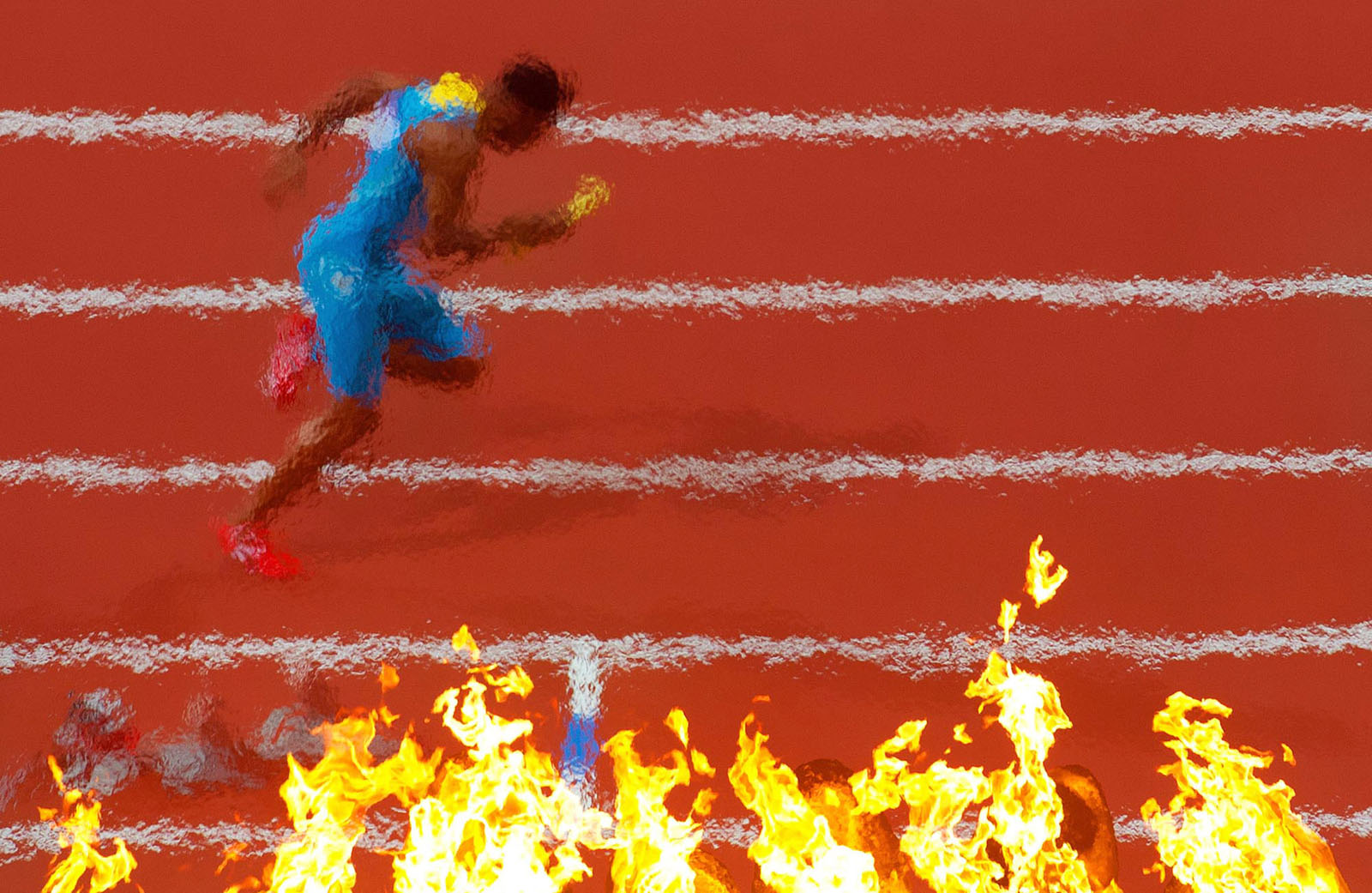 More of Pain's sports photography is available on his website and Instagram. Pain also operates the Mark Pain Sports Photography School, where photographers can learn sports photography skills directly from Pain.
---
Image credits: All images © Mark Pain.
---