The Melting Giants: A Somber Photo Series of Wandering, Doomed Icebergs
The Melting Giants project came about by happenstance. I overheard two men talking about the icebergs that come along the Newfoundland coast. That was enough to pique my interest, so off I went.
I had absolutely no idea what I would find when I arrived, other than I hoped I would see some icebergs. One of the things I don't do when going to a new location is to prepare. I don't research the area, I don't look at other photographers' images, and I never purchase a field guide. I just go, and wander, and look. 
I don't want to arrive with any preconceived ideas or expectations. I just hope that I'll see something that will inspire me, and if I'm lucky, I'll come home with something that I love. I was twice lucky because Newfoundland did inspire me, and it was a record year for icebergs.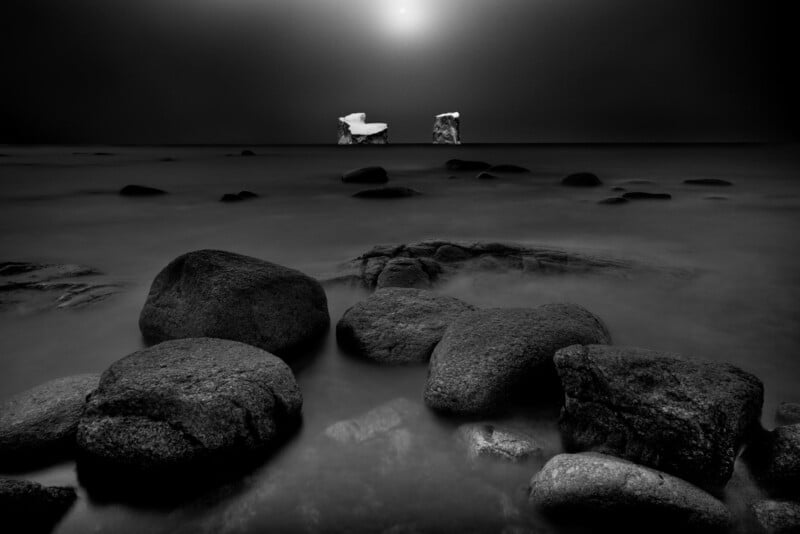 But what I saw saddened me. These magnificent creatures live a very short life. They are birthed in Greenland and spend a year wandering the seas until they come along the coast of Newfoundland. There they break into smaller pieces, run aground, rock in the surf, and melt on the shore as 30,000-year-old ice cubes. 
 
I found this to be such a sad story and envisioned dark images with extremely bright icebergs. This is in contrast to how icebergs are typically photographed – in colour with deep rich blues. I cannot describe in words what I was trying to convey with my approach, but it was how I saw them in my vision, and so the images will need to speak for themselves. 

 
One challenge I faced was that the icebergs were often moving. These images are all long exposures so it was sometimes difficult to get a 30- or 60-second exposure. My favourite image from the trip, Melting Giants No. 22, was rocking so badly in the surf that I had to photograph it with a fast shutter speed and later in Photoshop turn it into a long exposure.
I got to know the icebergs as if they were individuals. They constantly changed as they melted and split into smaller pieces. Sometimes I'd follow a particular iceberg and watch it change over a period of days. 

 
What are my favourite memories of this trip and portfolio? The isolation and the sadness I felt for these Melting Giants. And the peanut butter and raspberry jelly sandwiches that I subsisted on. 
---
The article is courtesy of ELEMENTS Magazine. ELEMENTS is the monthly magazine dedicated to the finest landscape photography, insightful editorials and fluid, clean design. Inside you will find exclusive and in-depth articles and imagery by the best landscape photographers in the world such as Charles Cramer, Edward Burtynsky, Michael Kenna, Rachael Talibart, Chuck Kimmerle, Christopher Burkett and Hans Strand, to name a few. Use the PETAPIXEL10 code for a 10% discount off the annual subscription.
---
About the author: Cole Thompson is a uniquely unqualified photographer. "I've never taken a photography class or a workshop. I don't have a degree in art. I've never worked as a photographer. I don't have gallery representation. I'm not a Canon Explorer of Light. And I only have three lenses and none of them are primes. Do I have any qualifications? Just one… my images. Nothing else matters."