Photo-Seeking Tourist Climbs 16th-Century Italian Statue, Causes Damage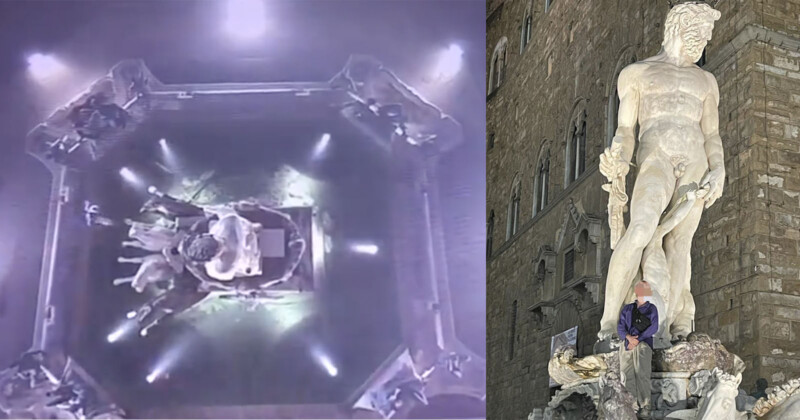 A German tourist is in hot water after climbing a 16th-century statue in Florence, Italy so he could pose for a photo.
The unnamed 22-year-old has been accused of damaging the Fountain of Neptune, commissioned in 1558 by the Florentine duke Cosim de' Medici and placed in Piazza della Signoria.
The mayor of Florence, Dario Nardella, tweeted to say that the tourist will pay a "hefty fine" after a chunk of marble was knocked off from the sea god's chariot and one of the horse's hoofs was cracked. The repair bill is estimated to be $5,370 (€5,000).
Nardella also tweeted out the CCTV footage, which shows a young man in beige pants and a blue jacket vaulting the protective barrier, scrambling up the statue, and posing as two friends below took photos, before heading back down again and over the barrier.
Questo turista ha pensato bene di salire sul Nettuno per un selfie. Per fortuna nessun danno, il sistema di allarme ha funzionato. Grazie alle telecamere del Comune è stato individuato e pagherà una multa salata. Contro il vandalismo sui beni culturali non ci sono giustificazioni pic.twitter.com/QVvBNYaygI

— Dario Nardella (@DarioNardella) September 4, 2023
The mayor shared the resulting photo of the tourist with his face pixelated and he was tracked down shortly after the photo was taken.
"This tourist has seen fit to go up to Neptune for a selfie," Nardella writes on Twitter (or X as it is now known). "Thanks to the cameras of the Municipality, he has been identified and will pay a hefty fine. There is no justification against vandalism of cultural heritage"
According to CNN, the tourist will be charged under Florence's penal code that prohibits the "destruction, dispersion, deterioration, disfigurement, soiling or illicit use of cultural or landscape assets."
"After 01:00 this morning the tourist, in Piazza della Signoria with two other friends, climbed over the fence of the Neptune Fountain and climbed onto the edge of the pool," says the city in a statement.
"With a jump he then climbed onto the horse's leg, reaching the base of the carriage and, after having some photos taken by his friends, he climbed down. During the descent he placed his foot again on the hoof, damaging it. As soon as the alarm went off, however, the young man had already managed to escape with the two others."
Italy seems to have issues with tourists and inappropriate photos. Last year, an American tourist fell into Mount Vesuvius while taking a selfie and had to be rescued.
Meanwhile, the mayor of Portofino, Italy, a picturesque town, announced a new rule that will fine tourists $300 (275 euros) who take too long taking selfies.