Museum Wins Lawsuit Over Photo of Michelangelo's David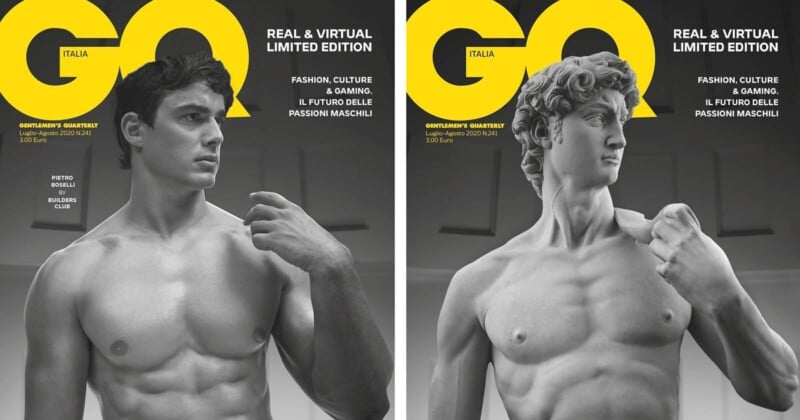 An Italian museum has won a lawsuit against a magazine publisher which used a photo of Michelangelo's sculpture David without permission — despite the 500-year-old artwork belonging in the public domain.
In August 2020, GQ Italia superimposed a photograph of 16th-century statue David's face onto an image of model Pietro Boselli for its cover.
GQ Italia created a lenticular cover whereby the photo of Boselli changed to an image of Michelangelo's David depending on the angle that the reader was viewing it from.
According to Artnet News, publishing house Edizioni Condé Nast — which owns GQ Italia — did not pay a usage fee to Galleria dell'Accademia in Florence which has exhibited the sculpture since 1873.
Although the artwork is in the public domain, Galleria dell'Accademia owns the image rights to the famed statue and sued the Edizioni Condé Nast for the usage of the photograph.
Artnet News reports that the case revolved around a section in Italy's constitution, that protects images of the nation's cultural heritage and historical memory.
A related law enables the country's public institutions, such as museums, to request concession fees for commercial reproductions of artworks of cultural heritage, regardless of their copyright status.
'Mortifying and Humiliating'
On May 15, the Court of Florence ruled in favor of the Galleria dell'Accademia in the copyright lawsuit. Edizioni Condé Nast will need to pay the museum €20,000 ($21,400) for the licensing fee and an additional fine of €30,000 ($32,150) for the way in which it altered the image of David for the magazine.
In a statement following the legal win, Galleria dell'Accademia slammed GQ Italia and claimed that the magazine had "insidiously and maliciously" juxtaposed the photograph of Michelangelo's David with that of model Boselli.
By doing so, GQ Italia was guilty of "debasing, obfuscating, mortifying, and humiliating the high symbolic and identity value of the work of art and subjugating it for advertising and editorial promotion purposes."
"I appreciate the ruling of the Court of Florence on Michelangelo's David, which recognizes the principle of an image right for cultural heritage," Italy's Minister of Culture Gennaro Sangiuliano says in a further statement.
"It must be said that the use for commercial purposes for cultural goods must be paid while it must be free for images for educational and study purposes. It is comforting that the judges think like the Ministry of Culture."
---
Update: PetaPixel updated the article to show that GQ Italia used a lenticular cover image.