Fake Photographer Foundation Allegedly Used in Michael Jordan Jersey Fraud
The name of a dead photographer is at the center of an alleged scam that saw fraudsters create a fake foundation and doctor photos to get a Michael Jordan jersey falsely authenticated.
The Tony Ranze Foundation was used to verify that basketball legend Michael Jordan wore the jersey in Games 3 and 4 of the 1996 Eastern Conference finals — boosting the value of the shirt from $27,000 to over $1 million.
Tony Ranze was a photographer who passed away in 2006. The foundation claims that Ranze was a "private" shooter at the playoff games whose photos prove that the jersey in question was actually Jordan's.
There is no Foundation
However, Tony's son Nic tells Action Network that there is no "Tony Ranze Foundation" and its website was created in 2023 — 17 years after Ranze's death.
"I was my father's executor, power of attorney, everything," says Nic. "I sat in on all meetings he had financially and legally the last couple years and often was the primary caregiver as we took him for treatments. There is absolutely no way he wouldn't have told me about [a foundation in his name]."
Photomatching
Photomatching is a technique used to confirm whether a sports collector's item was really worn in a major game. MeiGray is the leading company in this industry and it initially substantiated the claims that the jersey was really worn by Jordan after receiving photos from the Tony Ranze Foundation. But it has now rowed back on this judgment.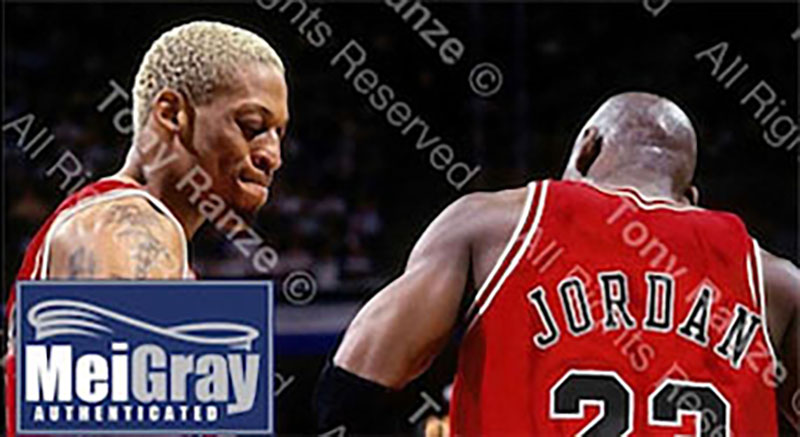 Taking to Instagram yesterday, MeiGray says it "has officially rescinded the authentication [of] the 1995-96 Chicago Bulls Michael Jordan red jersey."
"We incorrectly authenticated the jersey based on counterfeit documentation and doctored media that we initially failed to recognize as such," MeiGray continues.
"We are exploring legal options and reaching out to law enforcement, and a full and detailed report from MeiGray Authenticated is forthcoming."
Photomatching is typically done using photos viewable by the public, such as the Getty Images and AP photo libraries. When the Jordan jersey was judged to be genuine by MeiGray the "Game-Worn community" immediately cried foul, with many noting discrepancies between the photos sent in by the Tony Ranze Foundation and the press photos from that night.
The Tony Ranze Foundation website is offline as of today. Action Network reports that when it reached out to the photographer's supposed foundation a woman who calls herself "Brittany" said the photos were authentic and dated correctly "because Ranze kept clear records of all the photographs he ever took."
However, Ranze's son Nic dismissed these assertions, saying that his father didn't have an archive and was not organized.
"His only philanthropy was his damn kids," Nic adds. "Joe and Kaitlyn were in high school and his only concern was getting them to adulthood and off into life okay."
Michael Jordan memorabilia is in demand. Last week, a Type 1 photo of him playing on his debut sold for a record-breaking $175,000.