Photo of Michael Jordan in His Debut Sells for Record-Breaking $175K
A Type 1 photo taken of Michael Jordan on his NBA debut has sold for $175,000 at auction — the most expensive photo of the basketball star ever sold.
The picture taken on October 26, 1984, had seemingly humble beginnings with Chicago Sun-Times photographer Don Bierman capturing Jordan playing the Washington Bullets in his first pro game as he drives toward the basket with his tongue out. Jordan scored 16 points that night, including six rebounds and seven assists as the Bulls won 109-93.
But Bierman and everyone else in attendance that night wasn't to know that Jordan would go on to become the greatest basketball player of all time, winning the NBA championship six times with the Chicago Bulls and being inducted into the Hall of Fame.
Now, Goldin Auctions sold Bierman's photo for almost $200,000. Adding extra value to the photo is that it is a PSA Type 1 image.
What is a PSA Type 1 Image?
A PSA Type 1 photo is one that was developed from the original negative within two years of it being shot. Auctioneers believe these types of prints are undervalued and more big prices like Jordan's one are coming in the future.
"True original Type I photos are still extremely undervalued when compared to other segments of the hobby," says Henry Yee, Principal Authenticator of PSA Photo Authentication Services.
"Compare that to a six-figure Jordan debut ticket stub in which all 13,000 fans in the building received one."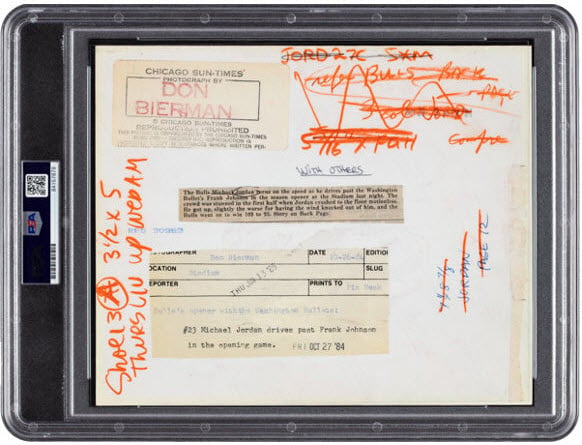 On the back of the photo is a caption cut out from the newspaper itself as well as various other editorial markings that the photo department used in their daily business.
"It was simply used for its practical purpose in the newsroom to tell a story," adds Yee.
Exciting Time for Type 1 Photos
The director of Vintage Memorabilia and Photography at Goldin Auctions, Khyber Oser, tells Sports Collectors Daily that it is a hot time for Type 1 photos right now.
"Only three Type I examples from MJ's debut game have ever surfaced publicly, and this is the best one by far. I'm excited to see what such a landmark sale means for all Type 1 photo collectors, whether you collect Michael Jordan, Muhammad Ali, or Babe Ruth," says Oser.