Nat Geo Photographer Paul Nicklen Warns of Scammers Using His Face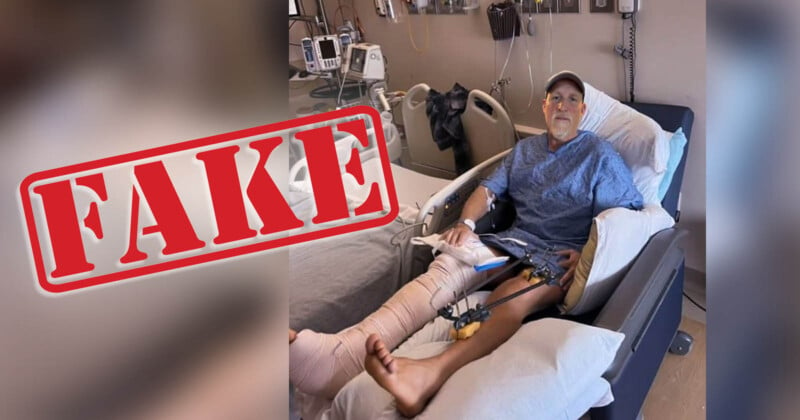 Famed natural photographer and National Geographic contributor Paul Nicklen has warned people that fraudsters are using his likeness to scam people.
Taking to Instagram where he has 7.3 million followers, Nicklen posted an uncanny photo that purports to show him in a hospital bed with injured legs.
"THIS IS FAKE!!," he writes. "This is a scam and it is being used to exploit innocent people. I am healthy and well."
Nicklen says that he is "so saddened" at the alarming reports of scammers who are attempting to steal from vulnerable people.
"People who are kind, trusting, loyal, supportive and often elderly," he says. "I don't know how many times I need to say this, but I will never write you, on Instagram or Facebook and ask you for money, or ask you to sing my praises, or to engage with me in long and romantic cyber conversations."
Posted yesterday (November 1), Nicklen says that he is "receiving five to 10 emails a day" from people asking if he had written them a romantic message in a private Instagram message.
"For those who follow my work, please know that I will never write you personally," he says. "There is only one @PaulNicklen and any other variation of that name is a scam."
He urged his followers to report and block the scam artists as soon as they contact their intended victim.
"Instagram and Facebook themselves have been too slow to take action in many cases so several people have been hurt financially by these scammers," he says.
"I love the good side of social media, and I love connecting with so many followers, but I am at the point of almost shutting everything down until Meta gets this under control.
"For those who have been hurt by the scammers, I am truly sorry. These people are cowards, and they are predators, and I wish they could all be held accountable. There is enough sadness, sickness, and devastation in the world right now that we don't have time for these distractions."
Nicklen is one of the best-known wildlife photographers in the world with a career spanning 20 years which has seen him play the role of marine biologist, fine art photographer, filmmaker, conservationist, speaker, and author.
Earlier this year, he sat down with PetaPixel to talk about lots of subjects including his favorite photos and what gear he uses.