Photo of Michael Jordan's Iconic Championship Winning Move Up For Auction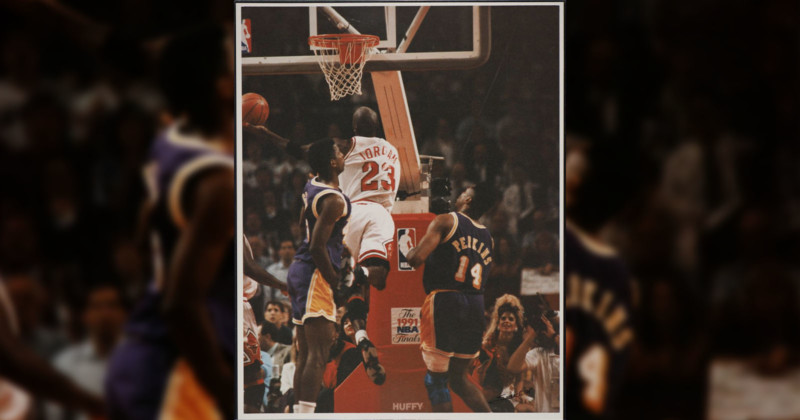 A photo of Michael Jordan hitting a famous slam dunk that led to his first-ever Championship with the Chicago Bulls is up for auction.
Photographer Carl Sissac captured the moment Jordan bedazzled his opponents with a play that simply became known as The Move.
In Game 2 of the 1991 NBA Finals, the Bulls were facing the LA Lakers and despite starting slowly, Jordan made 13 straight baskets in the second half. The most memorable of which came when the superstar jumped to dunk the ball and as he did so, switched hands mid-air to avoid a block.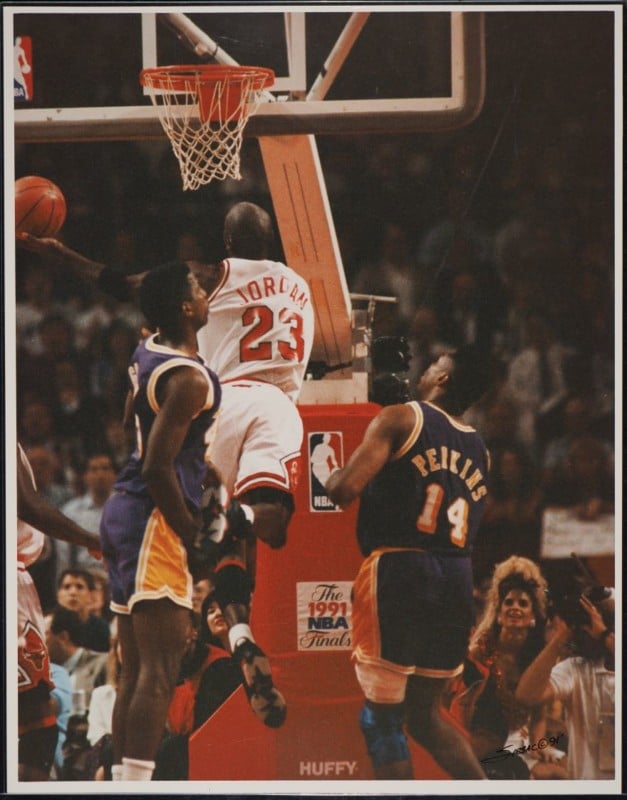 "He went fake right, went left, cocked it all the way back, and then just held it for a minute," says Earvin "Magic" Johnson, one of his opponents that day in the below video that features footage of the move.
"His tongue's hanging out, and now he's still hanging in the air. He's still hanging. I'm sitting there saying: 'no, he is not going to do this, not on us, not on me.' Yes, he is. He floated, switched hands, and then kissed it with the English."
The remarkable field goal is made all the better by commentator Marv Albert's call: "Oh! A spectacular move by Michael Jordan."
The Bulls won Game 2 by a score of 107-86. The iconic 90s side would go on to win the series in Game 5. Jordan took home the title with the Bulls and also the NBA Finals MVP Award — his first of six.
Capturing an Icon
Sissac is renowned for capturing some of the Chicago Bulls' most iconic moments from the Jordan era. This photo, which comes directly from his original film, might be his best as it captures one of Jordan's greatest moves.
This print is classified as a Type 1 photograph, establishing it as a first-generation image developed directly from the original negative. The photo measures 11×14 inches and comes stamped with photographer Carl Sissac's signature along with a letter of authenticity from the PSA.
"This is the best, if not only, original print of this moment that exists," says Nick Cepero, Manager of Memorabilia at PWCC Marketplace. "It's an incredible piece of Jordan's legacy for both NBA and photography fans alike."
The auction is held by PWCC and is currently live where the bidding is at $6,000 as of publication. The auction will end on January 19.