Nik Collection 5 Brings Major Update to Color Efex and Analog Efex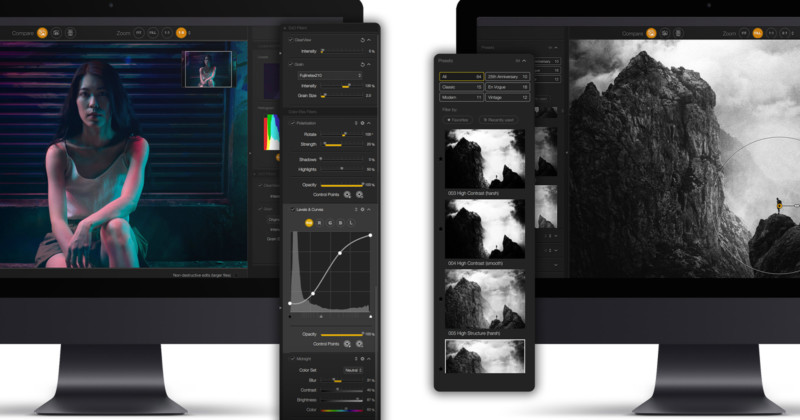 DxO has released version 5 of the Nik Collection photo editing suite of plug-ins for Adobe Photoshop and Lightroom Classic. This latest version includes major updates for Color Efex and Analog Efex, as well as improved local adjustment tools, an overall smoother user experience, 29 new film emulations, and a brand new tool to reduce haze.
This update comes just about a year after the release of Version 4 which also saw some significant improvements and changes to the suite of apps.
The eight plug-ins in Nik Collection 5 come with over 300 presets for instant results, with a further enhanced and improved U-Point technology for local adjustment controls that give users much greater control and creative power over their images. The company says the user interface of Color Efex and Analog Efex have been rebuilt from scratch to bring them up to speed with the rest of the plug-ins like Silver Efex and Viveza. These updates will give users a smoother and easier to navigate experience with more creative freedom with the improved options for saving and editing favorite settings.
Improved U Point Technology
The local adjustment technology in U-Point has been enhanced again with this update making targeted changes feel "intuitive and efficient without using masks." According to the company, the control points can now be renamed and saved as part of a preset, making them easier to manage and speeding up the users workflow. In addition to the general enhancements, there are two new color selectivity sliders for luminance and chrominance which will provide even greater control over the local adjustments made.
29 Film Emulations, 4,300 Camera/Lens Combos, and Clearview Technology
Included with this release are some massive additions to the Color Efex and Analog Efex apps that will provide users with 29 new authentic color film grains giving analog-era enthusiasts a plethora of new creative options for their images. This pairs nicely with the new additions to Nik Perpsective Efex which has added 4,300 new camera and lens combinations (20 new cameras and 60 new lenses) which can automatically correct the geometric distortions of more than 70,000 lens and camera combinations.
The new ClearView technology (borrowed from DxO PhotoLab 5, will allow for fog, mist, smoke, and haze/pollution to be intelligently reduced by using a simple slider, that will allow for the return of contrast and color to images.
Additionally, DxO PhotoLab 5 Essential is included in the updated suite of apps, giving users who shoot RAW a feature-rich editing software that contains the DxO Optics Modules and U-Point technology for Precise adjustments.
Pricing and Availability
The Nik Collection 5 is available now from the DxO website for $149 and $79 for those upgrading from the previous version. A fully functional, one-month trial version of Nik Collection 5 is available on the DxO website.