Asus is the First to Make a Reasonably-Sized QD-OLED Monitor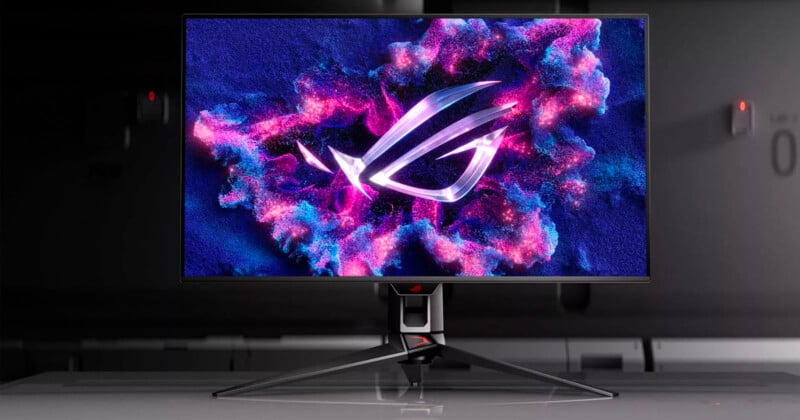 QD-OLED technology is absolutely stunning and manages to improve on the already fantastic benefits of standard OLED. Unfortunately, it has only come in either absurd ultra-wide formats or as large as living room TVs. That is about to finally change.
Asus has announced ROG Swift OLED PG32UCDM, a 32-inch, 4K, 240Hz, QD-OLED monitor that, as the company touts, hits the sweet spot of size and resolution. The strengths of this monitor lie in the QD-OLED panel, which as mentioned before, is the pinnacle of panel tech right now.
"OLED panels are one of the most popular display technologies currently on the market because of their outstanding color reproduction, instantaneous response time, and the ability to render true blacks. OLEDs are the base of basically every major camera manufacturer's electronic viewfinder and are the reason most modern mirrorless camera viewfinders look so true-to-life," PetaPixel explained earlier this year when Canon decided to get in on the market to challenge Samsung, the only manufacturer or QD-OLED panels right now.
"As explained by panel expert Simon Cohen at Digital Trends, QD-OLED is a hybrid display technology that mixes traditional OLED tech with quantum dots to produce an even better result. QD-OLED, which is a Samsung technology, was first introduced within the last two years and addressed two of the major issues with the original OLED technology: brightness and burn-in."
QD-OLED is capable of producing extremely accurate, vivid colors that absolutely blow past most of the OLED or LCD panels out there while also combining that accuracy with high levels of brightness that used to result in very low lifespans for traditional OLEDs. It wasn't long ago that buyers would have to make a choice between high brightness using LCD panels or the best contrast and color brought by OLED. Not anymore.
As good as the technology is, it was — to this point — only found either on very expensive large televisions (at least 55 inches across) or absurd ultra-wide displays that are made more for gamers than photographers and filmmakers. Asus, through the ROG brand, is changing that.
Because each pixel is individually controlled, blacks can be truly black as the display can turn each pixel on and off. Additionally, the second-generation QD-OLED technology in the ROG Swift OLED PG32UCDM supposedly adds even more color and has an optimized sub-pixel layout that promises better clarity and even brighter highlights. Asus promises this display will reach 1,000 nits of peak brightness with perfect black levels, which will make for a spectacular HDR viewing experience.
Asus says that it employed a particularly robust cooling solution into this display in order to deal with the heat that the panel puts off, which is critical for assuring the display has a long life.
"A graphene film behind the entire panel keeps it cool and comfortable. The thinnest yet strongest nanomaterial in the world, graphene has a thermal conductivity coefficient of up to 5,300 W/mk — a figure more than a hundred times greater than silver, copper, gold, or aluminum can offer. The lower operating temperatures offered by this cooling solution allow the display to produce and sustain high peak brightness levels," Asus says.
"The PG32UCDM's premium cooling tech also gives you peace of mind that your monitor will go the distance, as it helps minimize the risk of burn-in."
It will support both HDMI 2.1 and DisplayPort 1.4 with Display Stream Compression. While the company isn't saying specifically what to expect from a color perspective, QD-OLEDs already test extremely well in this regard, hitting high marks in sRGB, DCI-P3, and Adobe RGB color gamuts. There is no reason to expect this will change in the next-generation version of the technology found in this monitor.
This monitor, while designed to be quite "gamer" in aesthetics, is likely to be the best all-in-one solution for a creative professional and video game enthusiast. This kind of performance is very unlikely to come cheap though, so while Asus did not release pricing information at the time of announcement, expect it to cost at least a couple thousand dollars when it launches sometime in 2024.
---
Image credits: Asus