New AI App Charges $1.40 for 'Shockingly Accurate' Photorealistic Portraits
Miaoya is an AI portrait app that is sweeping across China charging users $1.40 to generate different style portraits.
Miaoya, which means "fabulous duck" in Chinese, harnesses artificial intelligence (AI) to generate stylized portraits of the user. Chinese users say the app's pictures are the most accurate and compelling, according to Rest of World.
To use Miaoya, users must upload at least 20 photos of themselves including one headshot with the app charging 9.9 yuan ($1.40) minimum, more for extra pictures,
Users can choose to see themselves in a business style, traditional Chinese clothing, glamorous evening dresses, and U.S. high school uniforms.
The app has proved so popular that some customers have had to wait more than 24 hours to get their results because of overloaded servers.
It was only launched on July 17 by a little-known company called Weixu Internet Technology which is reportedly a team working underneath Alibaba.
The company has not revealed what is powering the app but experts agree that it is likely to be the open-source AI image generator Stable Diffusion.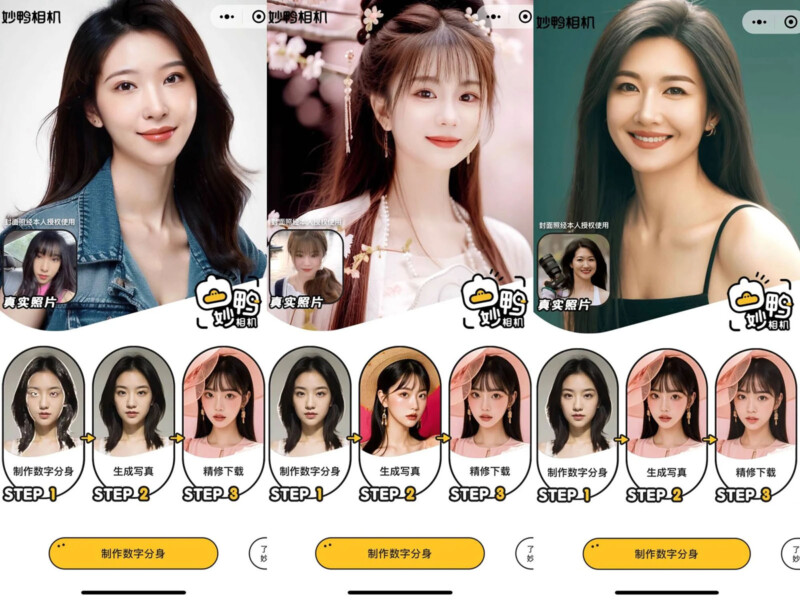 Despite its popularity, or possibly because of it, users have reportedly been taking to social media to complain about the app's slowness.
"I spent 9.9 yuan and waited for 11 hours, Miaoya's camera captured my bra bulge fat on the right arm, an asymmetric collarbone, and one high and one low double eyelid," one social media user writes in a post.
Meanwhile, 27-year-old Shanghai resident Lucy Liu wasn't happy with the Barbie-style photo the app generated for her.
"I almost don't know myself anymore. I got a sense of feeling that I'm looking at someone else," she says in comments reported by the South China Morning Post. "I like photos that are vivid and close to life. I don't need a photo that looks fake."
Other users have complained about Miaoya's privacy policy. Initially, its privacy agreement said users' content can be used "in any form, in any media or technology (now and in the future)."
However, the company later changed the wording to say that photos will only be used to create a digital image of the user.