A Look Inside Nikon's Gorgeously Designed Flagship Stores in China
While dedicated retail centers and shopping malls may be on the decline throughout much of the United States, China is experiencing a shopping mall boom, per the South China Morning Post. Nikon is capitalizing on the surge with three beautiful flagship retail stores in Shanghai, Guangzhou, and Chengdu.
The stunning stores are not just a location for Nikon to market its latest Nikon Z series mirrorless cameras and lenses, but the shops are a celebration of Nikon's rich imaging history and photography in general.
Each location showcases beautiful photographs made with Nikon equipment, museum-like displays of vintage and influential Nikon cameras and lenses, sitting areas, hands-on stations to test the latest gear, and desks and tables to chat with Nikon experts, much like shoppers see in Apple Stores.
Following the success of Nikon's Shanghai and Guangzhou stores designed by Lukstudio, the Chinese boutique designer worked again with Nikon on the most recent store in Chengdu, which opened last month inside the Chengdu International Finance Square (IFS) urban complex.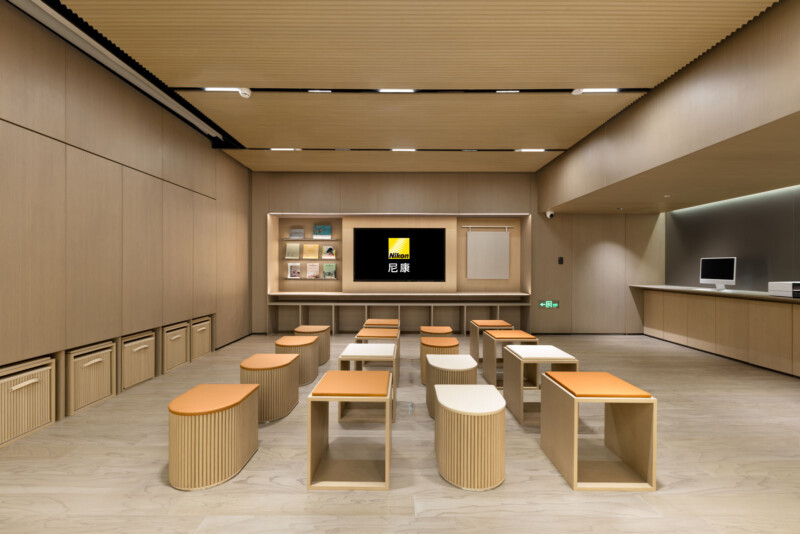 "Nikon's direct store has several compound functional areas, aiming to provide customers with a series of high-quality services from immersive experience, purchase to communication, learning interaction, etc. The overall design of the store combines a unique curved wall with outdoor materials to create an unrestrained and free photography atmosphere, inspired by aperture and film, all of which highlight Nikon's top optical technology and achievements," Nikon explains in a Chinese-language press release.
In its analysis of Nikon's latest retail space in Chengdu, Frame explains that Nikon's direct-sales locations in China buck typical trends and employ an unusual spacious, flowing design.
"The layered use of materials and lighting — and manipulation of the existing space — creates an environment that welcomingly departs from what one would expect in a setting populated by corporate retailers," Frame writes.
While a visitor may require architectural or design expertise to appreciate all aspects of Nikon's flagship stores in China, anyone can easily appreciate how visually striking and beautiful the stores are. They are certainly inviting places for any photography enthusiast, whether they intend to purchase a new camera or not.
---
Image credits: Nikon