The Leofoto 'Spider' is an Unusual Mini Tripod with Articulating Legs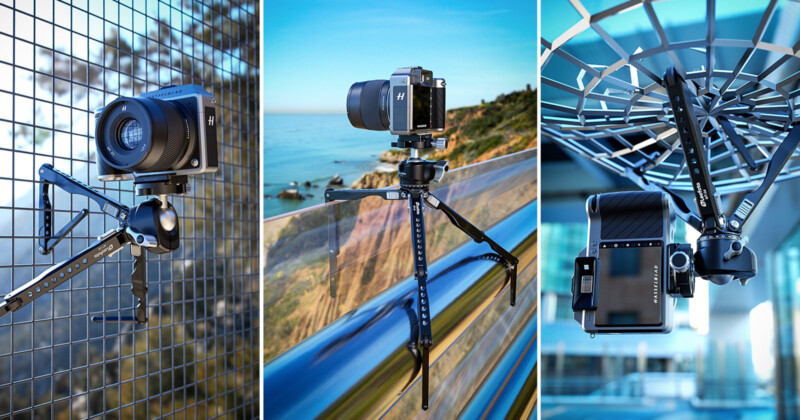 Leofoto is poised to release a rather unusual tabletop-sized tripod called the Spider. When folded up, it looks no different than most small tripods but when in "spider mode," its three multi-jointed legs make it able to adapt to various environments.
The company advertises a "brand new design" that allows the lower leg segments to be hidden via a folding action. When deployed though, the mini tabletop tripod gains the ability to hook or grab onto surfaces and allow a stable shooting platform where one may not have been typically present.
The design is available in two sizes: the MT-04 which has a minimum deployed height of 40mm (about 1.6 inches) via three total leg sections or MT-03 that is smaller at a 35mm (about 1.2 inches) minimum height with only two leg segments. Folded, the MT-03 measures 145mm long (about 5.7 inches) while the MT-04 is 170mm long (about 6.7 inches). Fully deployed, the MT-03 measures 186mm tall (about 7.3 inches) while the MT-04 is 290mm tall (about 11.4 inches).
The top portion of the three legs connect to the tripod head platform and can be locked there in three angled stops: 35-degree (tall), 55-degree (medium height), and 85-degree (almost flat to the ground) positions.
While Leofoto seems to indicate that the tripod can act almost like a Gorillapod, it's legs are more rigid and therefore easier to fully straighten. Additionally, the company has outfitted the top two segments on each leg with a row of 1/4-inch (on the MT-03) or 3/8-inch (on the MT-04) sockets that allow photographers or filmmakers to mount accessories to the Spider — such as lights or monitors — easily.
The smaller MT-03 model can support a maximum load of three kilograms (about 6.6 pounds) while the larger MT-04 can hold as much as five kilograms (about 11 pounds).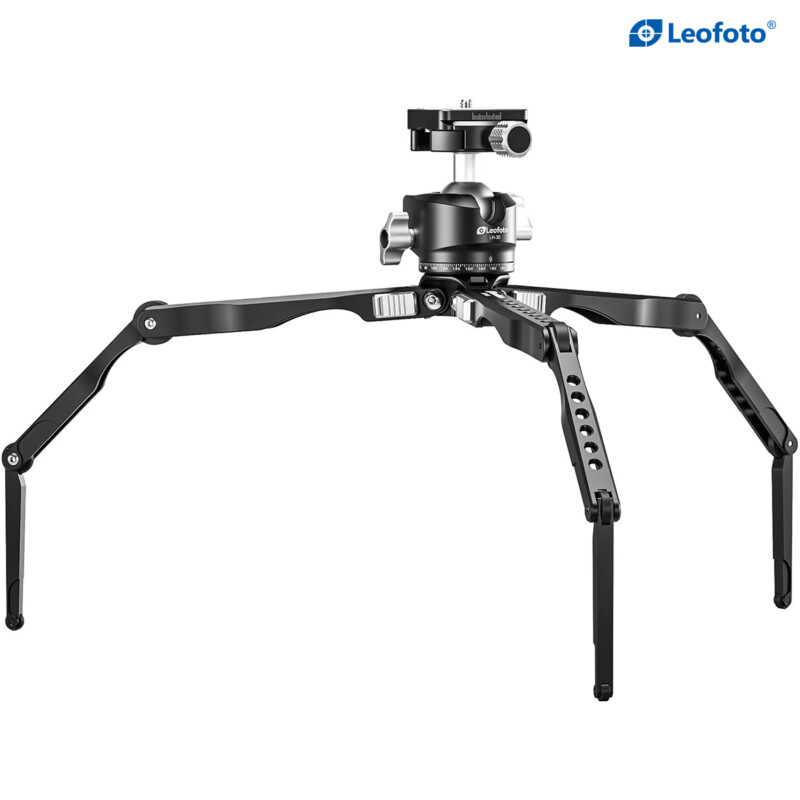 Leofoto does not list any pricing or availability for the Spider tripod on its website, but Asobinet reports that it will be available starting on July 31. The MT-04 without an included head will retail for 19,800 yen (about $142) while the addition of the LH-230 brings it to 35,640 yen (about $255). No information on when the tripod would come to North America was available at the time of publication.
---
Image credits: Leofoto