Vaonis Hestia is the First Smartphone Telescope for Astrophotography
Vaonis has announced the Hestia, what it calls the first-ever smartphone telescope for taking photos of the cosmos. It is outfitted with the tools to photograph the Sun, Moon, and stars without complex hardware or extensive knowledge of astronomy.
Vaonis is one of two major competitors in the smart telescope space next to Unistellar. Over the last couple of. years, Vaonis has released a series of smart telescopes that cover a range of prices, like the $45,000 61-megapixel Hyperia or the much more affordable $2,499 Vespera. Both of those systems were all-in-one that are commanded via a smartphone app, but this time with the Hestia, Vaonis is leveraging the camera everyone carries in their pocket as the actual capture system.
"Hestia is the telescope you always wanted but didn't exist… until now. Designed to bring the wonders of the Cosmos within everyone's reach," Vaonis says.
"Harnessing the power of your smartphone and our cutting-edge technology, Hestia enables you to capture the brilliance of the Sun, the enchanting beauty of the Moon, and the captivating depths of the Universe — without complex setups or extensive knowledge of astronomy. Simply place your smartphone on Hestia's ocular, align the device with the celestial object of your choice, let yourself be guided by our super user-friendly app, and unlock a whole new world of exploration."
Vaonis says that Hestia is designed for every type of celestial target and will work for solar photography during the day as well as moon and "deep sky" photography at night.
The design of the Hestia uses a patented six-lens in three groups optical design that features a 30mm (1.2 inch) objective and prisms to collect and focus light directly into a smartphone's camera. It has a 1.8-degree field of view, and through the Vaonis app, images can be captured as either JPEGs or TIFFs.
It uses a magnetic mount to assure that it can accommodate all present and future smartphone designs, and as smartphone cameras improve, so will what is able to be captured with Hestia.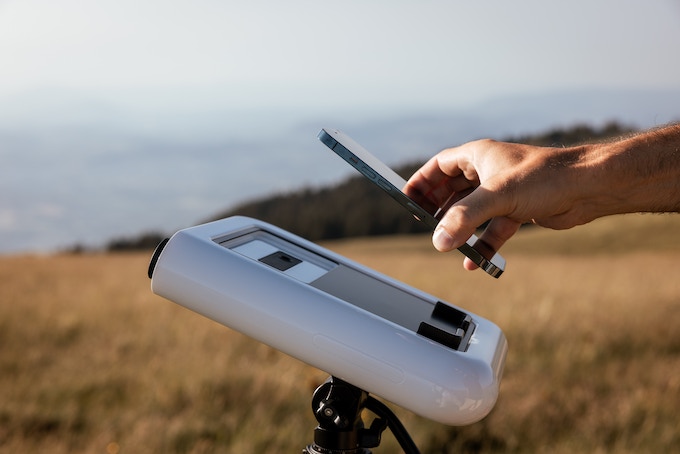 The Hestia is designed to be small and compact and measures 6.7 by 9.5 by 2.2 inches and weighs 1.1 pounds (500 grams). Vaonis says its compact smartphone telescope mount provides up to five times better sharpness and detail resolution of lunar craters and sunspots than a smartphone alone and up to 25 times better low light sensitivity.
The company is putting significant emphasis behind the Hestia's ability to photograph the solar eclipse that is scheduled to cross North America in 2024, the last time that such an event will take place before 2044. The company is guaranteeing to ship all Hestia units by April 8, 2024 so that those interested in photographing it won't miss the opportunity.
The Vaonis Hestia is available to back on Kickstarter for as little as $149, which is 40% off the $249 expected final retail price. That's significantly more affordable than anything Vaonis has produced in the past, likely due to the fact it relies mostly on a customer's smartphone to do the heavy lifting: it's basically a specialized scope that pairs with the company's app.
The concept has proven extremely popular. In just the first hour of the campaign, the Hestia has pulled in over $200,000 from more than 760 backers.
---
Disclaimer: Make sure you do your own research into any crowdfunding project you're considering backing. While we aim to only share legitimate and trustworthy campaigns, there's always a real chance that you can lose your money when backing any crowdfunded project.
---
Image credits: Vaonis