Aerial Photos of Glastonbury Captured by Specialized Phase One Camera
An aerial data company recently used a Phase One aerial camera system to capture highly detailed photos of the famous Glastonbury Festival in England, where more than 200,000 people gather for five days each summer to enjoy performing arts.
Alongside its traditional photography-oriented medium format cameras, Phase One also develops commercial equipment, including aerial cameras, as part of its Phase One Industrial operations.
While Phase One's aerial cameras are sometimes used for scientific research or agricultural monitoring, they are also used for marketing. DEA Aviation, a specialized aerial data acquisition service, used a Phase One PAS150 compact aerial camera system with an RS-50mm lens to capture its photo from 3,250 feet above sea level.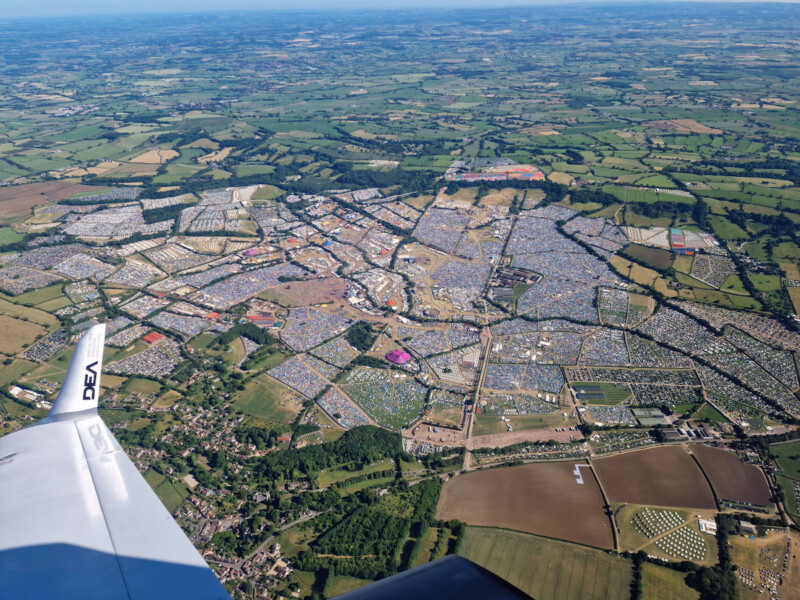 Glastonbury Festival organizers wanted aerial shots for multiple reasons, including to help them plan for future festivals across the festival's iconic greenfield area at Worthy Farm in Somerset. Aerial imagery allows organizers to review staging positions and identify logistical issues with the massive festival grounds.
While drones often capture aerial shots, UAV safety limitations prevented using uncrewed flying vehicles. Instead, DEA Aviation used a Diamond DA-42, a cost-effective, safe, and low carbon-emission aircraft.
"From start to finish, it took just one hour of image capture, covering a total area of approximately 30 km2 spread across the main festival site, and three smaller logistical targets. With a total system weight of 19 kilograms, this was easily captured in a single flight of the DA-42, including transit to and from DEA's base at Retford Gamston Airport," writes Phase One.
The aircraft and mounted Phase One aerial camera system captured 246 images with 60% forward overlap and 30% side overlap. The dataset was processed using Phase One's proprietary processing solution, iX-Process, and delivered to event organizers within a week. Using iX-Process, RAW images can be radiometrically and geometrically corrected and exported as TIFF files.
"With great support from Phase One, we completed a very successful flight over one of the world's iconic events. The camera technology of the PAS150 system delivered high-quality imagery, and because the PAS150 system is robust, compact, and lightweight we could fly using our fuel-efficient and low-carbon emission Diamond DA-42 aircraft," says Paul Evans, Senior Business Manager for DEA.
"The entire PAS150 kit has such flawless integration between its multiple pieces, and as a result, provides a full and effective package to easily perform what would otherwise be complicated tasks," adds Will Travis, DEA Task Specialist.
---
Image credits: DEA Aviation / Phase One