Portrait Series Emphasizes the Parallels Between Animals and Humans
Belgian photographer Vincent Lagrange has been around photography his entire life, having grown up in his father's photography studio. While Vincent has followed in his father's portraiture footsteps, including some stunning portraits of people, Vincent has garnered international attention for his portraits of animals.
Lagrange's animal portraiture is incredible and has landed his work on the cover of National Geographic. While that cover photo showed a domesticated cat, a Canadian Sphynx, in Lagrange's new series, "Between Us," he explores his deep-seated passion for portraying the raw beauty and power of wilder animals in a studio environment.
"Each photograph is a testament to the strong bond of trust I cultivate with my animal subjects, providing a platform for their distinct personalities and energy to emerge," Lagrange tells PetaPixel in an email.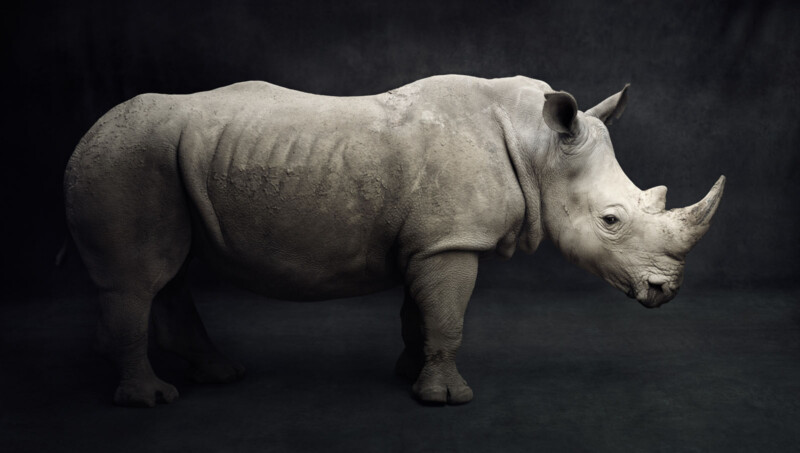 While Lagrange can sometimes bring animals into his studio, that is not always feasible, especially for some of his recent subjects. Instead, he uses meticulously crafted studio settings on location and puts hand-painted backdrops behind the animals. He hopes the scenes he builds deliver a "surreal world that highlights the animal, eliciting emotions in the viewer while minimizing external distractions."
Lagrange's mobile studio system involves modular systems designed for each individual animal. He painted pieces including backdrops, hinged panels, and even some massive 15-meter-long canvases. Each portrait was conducted in a "backstage" environment, where the animal could feel calm and in relatively familiar surroundings.
"My aim, through a minimalist yet emotive approach, is to emphasize the striking parallels between animals and humans, underscoring aspects like strong maternal bonds, youthful curiosity, and wisdom acquired with age," Lagrange explains to PetaPixel.
This approach works exceptionally well, with each animal easily relatable and full of personality and character. A large part of telling any story through portraiture, whether a photo of a person or a non-human animal, is lighting.
"Lighting plays a pivotal role in my work. By manipulating light, I can accentuate the depth and dimension of each portrait, focusing on the intricate details and expressions of the animals. This way, I'm able to invite viewers to engage emotionally, finding common ground between species," Lagrange says.
"The images for this series were captured using the Leica S3 medium format DSLR camera paired with prime lenses, which I find exceptional in terms of sharpness and quality. Achieving beautiful bokeh through wide apertures to mimic the feel of classical portraits is one of my artistic challenges, especially with dynamic subjects. But the success makes the process highly rewarding. My large prints (150 x 225 cm) reverse the perspective and underscore the majestic beauty of these animals," Lagrange explains.
Lagrange prints all his images personally. "I take great pride in printing all my work; it adds to the uniqueness and personal touch and quality of every piece I create," he tells PetaPixel.
Lagrange hopes his portraits will help give animals a voice and encourage people to be more aware of animals and their struggles. "I use my craft to give animals a voice, raising awareness for their causes. Through my continuous effort with The Human Animal Project, I aim to provide animals with a stage to tell their own stories and to encourage contributions to animal shelters and related causes."
Prints from Lagrange's "Between Us" series are available through Leonhard's Gallery on Artsy. Many more images from "Between Us" are available on Vincent Lagrange's website. His work is also available on Instagram.
---
Image credits: All images © Vincent Lagrange