The Mercury Stereo 12 is a Medium Format Stereoscopic Camera System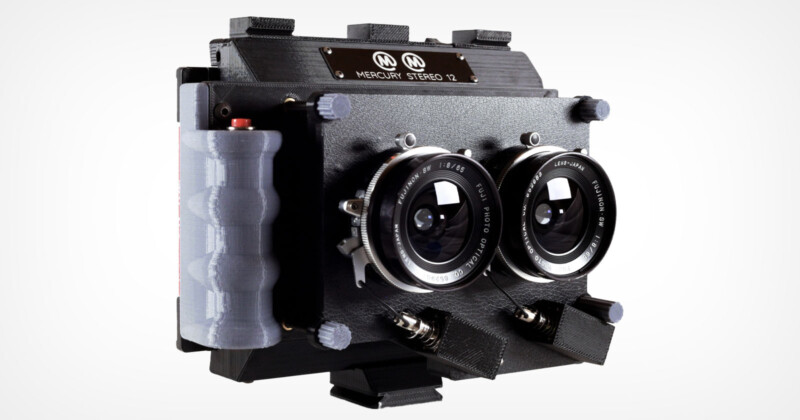 The Mercury Stereo 12 is a medium format stereoscopic camera designed to give professional photographers the ability to shoot high-quality 3D photos.
Designed by Mercury Works, the Stereo 12 has a native 6×6 format, just like a classic Hasselblad V system, but shoots two frames side-by side from slightly different perspectives that match the distance of human eyes.
It then uses what Mercury Works describes as an electronic actuation system to precisely sync — down to the millisecond — its two shutters to capture the same scene basically simultaneously. The company says that not only can it do this, but it does so while maintaining compatibility with a wide array of existing shutters and lenses.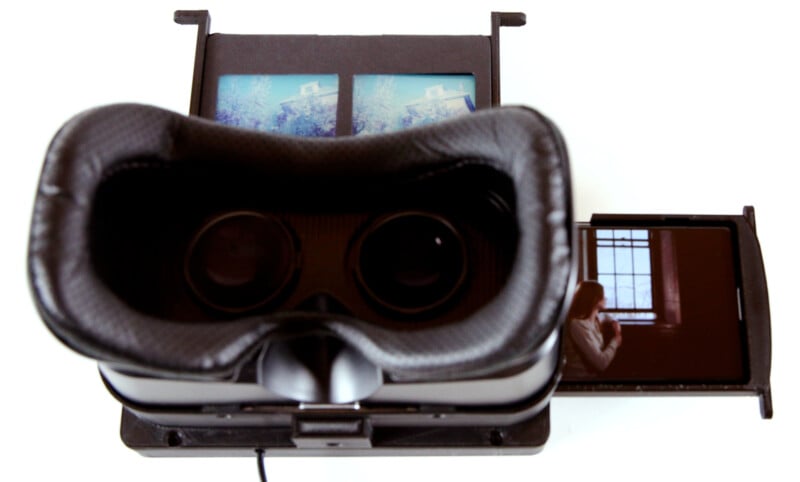 "The Stereo 12 system includes different electronic lensboards for popular leaf shutters, readily available from medium format and large format camera systems," Mercury Works says.
"It is compatible with hundreds of lenses. Some notable ones include the Mamiya TLR line of lenses (and shutters), the legendary Super Angulon 47mm, Rodenstock lenses including the classic Grandagon 65mm f/4.5 and Heligon 80mm f/2.8 and current high-end HR Digiron-W 70mm f/5.6, most APO-Digitar lenses, and countless more in-between, from all eras of photography."
The Stereo 12 might look unusual, but it operates similar to how a medium format photographer might expect. It features removable backs and is compatible with all Graflok/International 45 standard backs, as well as 4×5 sheet film holders.
"Compatible Graflok 45 backs include the Horseman 6×12 120 back, the DaYi 6×12 120 back, 3D printable 120 backs, the Grafmatic 45, 4×5 sheet film holders, and full frame instant backs," the company adds.
The Stereo 12 is thus currently compatible with 120 roll film, 70mm film, 135 film, 4×5 sheet film, and 4×5 instant film. It is also compatible with medium format digital backs, but not for instantaneous capture of moving subjects. The camera is fully manual as far as settings are concerned, but it has a fully electronic trigger that the company says allows for precise timing. The camera has a standard in-body trigger as well as a remote port that supports a variety of wired and wireless triggers.
The Studio 12 is being offered through a Kickstarter campaign along with a batch of re-engineered 70mm backs that Mercury Works says are capable of shooting the 70mm panorama format needed for the Stereo 12.
"This follows Mercury Works' 70mm initiative, launched earlier this year, which includes a pledge to release new film stocks in 70mm. Mercury Works has also developed a 135 extreme pano back to shoot 35mm film in a panoramic orientation with the Stereo 12."
The Stereo 12 features a ground glass back system that allows both the left and right views to be independently previewed for framing, edge evaluation, and the evaluation of stereoscopic deviation at various depth planes.
"This enables the stereographer to precisely compose in 3D, There are multiple ground glass backs available for different budgets, including a complete rail-mount system with various accessories such as a sliding magnifying viewer," the company says.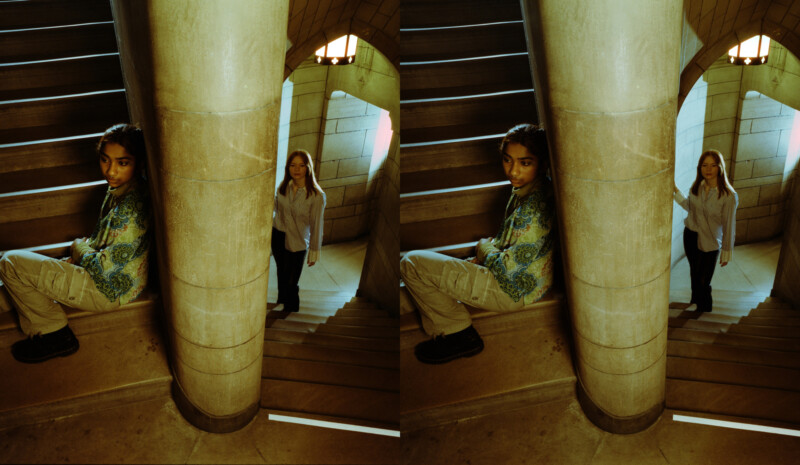 "As a fully modular system, the Stereo 12 can be configured to any need and any budget. It is the most versatile and feature-packed stereo camera ever released. Its modularity also enables many ergonomic benefits, such as a quick-removable left-hand grip, quick-release camera straps, four cold shoe mounts, a built-in Arca-Swiss style QR foot (with an additional standard tripod mount), and much more. We have been refining our cameras since 2015 for a worldwide clientele, and that design experience and feedback has been poured into this camera."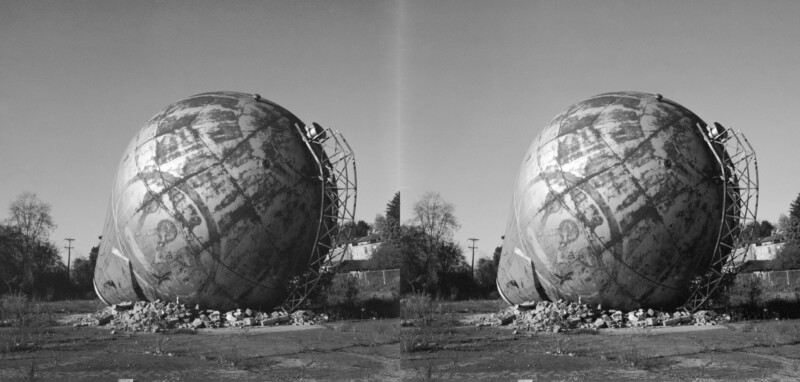 The Mercury Works Stereo 12 is available to back on Kickstarter starting at $500 which does not include any lenses or a film back. An additional discounted version is avaialble for makers who are comfortable 3D printing the camera's non-electronic accessories. At the other end, deluxe kits are avaialble that include Mercury Works' stereoscopes for high-end viewing of stereo images as both slides and digital, the company's 70mm back, and more.
"As a fully manual film camera that embraces stereography, the Mercury Stereo 12 champions photographic history, while as a fully modular, reconfigurable, professional camera, it leads the way into the future of stereography," Mercury Works says.
---
Image Credits: Mercury Works
---
Disclaimer: Make sure you do your own research into any crowdfunding project you're considering backing. While we aim to only share legitimate and trustworthy campaigns, there's always a real chance that you can lose your money when backing any crowdfunded project.