Wedding Photographers Share 'Warning Signs' That Couple Will Divorce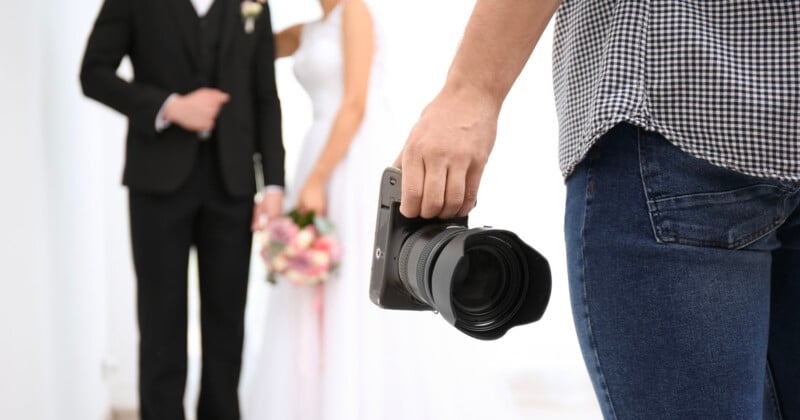 Wedding photographers have shared the warning signs that they have noticed during their careers that made them believe a couple's marriage will end in divorce.
In a viral Reddit thread last week, wedding photographers revealed the moment they knew that a couple's marriage was doomed as they were taking pictures of them on their big day.
Wedding photographers of Reddit, what was your "they're not gonna last long" moment?
by u/Arknight40 in AskReddit
On June 12, Reddit user u/Arknight posed the question: "Wedding photographers of Reddit, what was your 'they're not gonna last long' moment?"
The Reddit user's question received over 30,500 upvotes and 8,400 comments from other wedding photographers on the platform.
'It Left Me With a Bad Feeling in My Gut'
One photographer revealed that he knew a couple's marriage would not last when a groom avoided eye contact with his bride as they took pictures during their wedding day.
"So many photos where she is gazing lovingly at him, and he's just staring like 10 yards right over the top of her head," the photographer writes.
Another photographer recalled how a pair of newlyweds did not want to stand next to each other during their photo shoot, saying "it always left me with a bad feeling in my gut".
Meanwhile, a third photographer recalled how a couple ended up divorcing within a year after the groom was reluctant to take any pictures after they exchanged vows.
"The groom didn't want to participate in any wedding pictures after the ceremony," the wedding photographer writes.
"I believe he was more interested in drinking beers with his buddies. I don't think they lasted a year."
In a further example of a red flag, a wedding videographer recalled how he knew a couple's marriage would end in divorce when a groom called them after the big day with an unusual request.
The photographer says: "He wanted me to make sure I didn't include any footage of him checking out the women at the wedding."
'Most of The Time The Marriage Didn't Last Long!'
Another wedding photographer describe how a couple's reluctance to participate in public displays of affection (PDA) during a shoot is another red flag that rarely bodes well for their future together.
"I was a wedding photographer for about five years. I get being awkward on camera and not wanting to do any PDA," the photographer says of the warning sign.
"I'm very awkward myself! But when prompting couples for fun poses like whispering obscenities in each others' ear for a laughing shot or nuzzling close together, most couples eventually let their guard down and enjoyed holding each other.
"A few times though, I had couples that visibly didn't want to be near each other at all. Once the shot was done, they went back to standing a foot apart.
"They would complain about each other and make fun of each other in front of me. Most of the time the marriage didn't last long!"
Photoshop Drama
Interestingly, one former wedding photographer suggested that a bride's eagerness to make sure all her pictures were Photoshopped struck them as another ominous sign.
The one-time photographer described how a wedding shoot initially seemed to go well. However, after the photographer delivered the images to the bride, she began begging them to Photoshop the pictures to make her look "thinner."
The photographer said this particular wedding took place in 2010 and that Photoshop software was not as advanced as it is today.
The former photographer told the bride that they would only be able to edit the pictures to make her look slightly "slimmer" without the images looking obviously doctored.
However, the bride demanded that the photographer edit the images to make her look significantly thinner anyway. After delivering the requested Photoshopped images to the couple a few weeks later, the photographer received a furious call from the bride.
"A couple of weeks later when I thought it was all done and history [the bride] calls me and leaves me a voicemail of how I ruined her wedding, her new husband is upset at how she looks in the pics and keeps making remarks about her weight," the photographer recalls.
"So it didn't seem like they were in a great place from the get-go."
---
Image credits: Header photo licensed via Depositphotos.