BenQ's New SW272U and SW272Q Monitors Are Made for Photographers
BenQ has announced a pair of new 27-inch SW-series monitors aimed at photographers, including the SW272U and SW272Q. The new monitors share many features, although they differ in resolution and offer slightly different shading hoods.
Physical Design and Coating
Both new BenQ SW20-series monitors sport a brand-new fine-coated panel designed to reduce ambient glare and other disturbances, promising more precise color.
The new coating also provides better simulation of paper, which is perfect for BenQ's Paper Color Sync feature. Paper Color Sync is a proprietary software designed to simulate specific printer and paper combinations, allowing users to preview a hard copy of a photo without wasting paper and ink. BenQ believes this feature surpasses soft proofing, as it works in tandem with the monitor itself to offer a preview that promises to be as close to seeing a physical print as possible when using a backlit display.
In PetaPixel's SW271C review, DL Cade writes, "Paper Color Sync is a neat idea, and only available on the SW271C and its bigger sibling, the SW321C. It's sort of like hardware calibration for soft proofing your prints: using a companion app, you can select your photo's color gamut, your printer, and your photo paper, and Paper Color Sync will adjust the colors of the display at the monitor level so that you get the most accurate on-screen preview of the final printed image while you edit."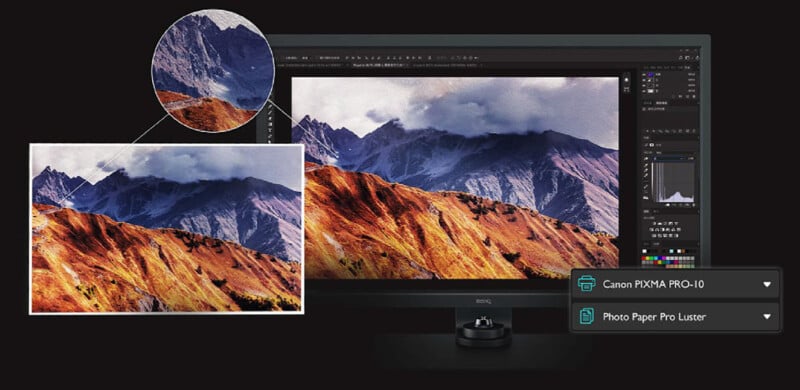 At that time, limited compatibility was a noted issue and one that BenQ tells PetaPixel it continually works to address.
The new SW20 monitors also feature an updated external design, including bottom-access SD card slot and USB ports, a new five-way key for controlling monitor settings, a new function key, and an information key. Concerning the USB-C slot, the port now offers 90W power delivery, whereas the prior displays, the SW10 series monitors, topped out at 60W power delivery.
The displays include a revised monitor handle and detachable back cover over the I/O ports. The front of the monitor's stand features a new base design, which includes a rubberized surface so users can keep items on the stand, including odds and ends like extra cables, memory cards, and calibrators.
The SW272U and SW272Q both come with shading hoods, although only the higher-end SW272U's hood works in landscape and portrait orientation, while the SW272Q's hood is only designed for landscape orientation.
Wireless G3 HotKey Puck
Both new SW20 monitors ship with a new BenQ G3 wireless HotKey Puck. The new wireless puck offers the same functionality as the G2 puck that shipped with SW10 series monitors, albeit with a revised wireless design.
The puck includes a rotating dial and numerous buttons to provide custom keys and shortcuts to users. An information key shows color parameters on the display. The built-in controls on the monitors and the HotKey Puck G3 work alongside BenQ's on-screen display. The OSD provides access to settings and shows monitor status and functions. BenQ says the OSD sports a more intuitive design and promises faster navigation.
BenQ SW272Q and 272U Display Technology
The two new SW20 monitors differ in terms of resolution, with the SW272U providing a 3840 x 2160 (4K) resolution. The SW272Q is a 2K panel with 2560 x 1440 resolution. Each display is a 16:9 ratio with HDR10 support. However, the SW272U also supports HLG.
This is an excellent place to bring up one of the SW271C's few shortcomings — maximum brightness. Like with the SW271C, BenQ claims that its new SW20 series monitors can be used to edit and display HDR content. That's technically true, but despite a max brightness increase from 300 to 400 nits, the SW272Q and SW272U barely meet the minimum standards for HDR content. Even then, calling them HDR monitors is a stretch in practical terms, at least on paper.
Unlike the SW10 series monitors, the SW20 monitors may achieve Display HDR 400 certification thanks to their increased brightness. However, they will still fail to earn higher-end HDR certification and remain lackluster choices for users intending to edit a lot of HDR content.
Like the SW10 series displays, the SW20 panels rely upon 8-bit + Frame Rate Control (FRC) technology. This means that while advertised as 10-bit panels, the SW20 monitors are not truly 10-bit. BenQ explains 8-bit versus 10-bit versus 8-bit + FRC on its website.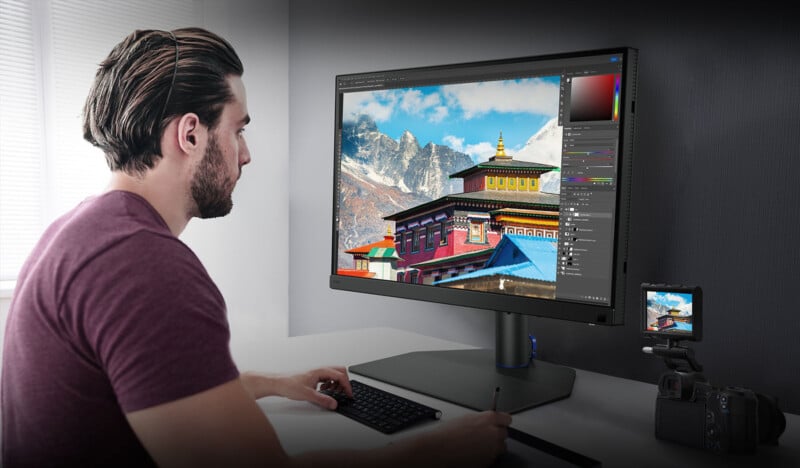 As for color performance, an area where their predecessors excelled, the new SW20 monitors continue to make lofty promises that PetaPixel expects will be met. The SW272U and SW272Q offer 100 percent sRGB and 99 percent AdobeRGB coverage. While BenQ didn't specifically mention DCI-P3, there's no reason to expect the prior 90 percent coverage to have changed.
BenQ notes that its PhotoVue monitors are accredited with Calman and Pantone validation. They arrive from the factory with hardware calibration, with a printout for the individual monitor included in the packaging.
BenQ has also updated its calibration software, introducing the new Palette Master Ultimate (PMU). The new software promises to cut calibration time in half and works with numerous third-party calibration hardware, including from DataColor and Calibrite.
Like their predecessors, the new BenQ monitors top out at 60Hz and include HDMI 2.0 technology. The monitors have a pair of HDMI ports, DPI.4, USB-C, USB-B, and USB 3.1 ports, alongside a headphone jack and an SD card slot.
Target Audience Remains Photographers
With the SW271C, BenQ heavily pushed video applications and hybrid photographers with its marketing material. This time, the emphasis appears to be heavily weighted toward photography, despite the increased brightness in the panels.
While the new SW272U and SW272Q can work for video editing, especially SDR video editing, which is the focus of many users, BenQ is marketing its new displays to photographers, and with good reason. There's a lot to like here, at least on paper.
PetaPixel plans to review the BenQ monitors soon to put them through their paces. However, given BenQ's track record and the reliance on similar display technology yet again, there's reason for optimism.
Pricing and Availability
While the SW271's $500 price hike was much maligned in 2021, BenQ has kept the price the same again with its new models this year, despite rampant inflation. The SW272U's $1,600 asking price feels more reasonable now than the SW271C's in 2021.
The 4K BenQ SW272U is available now.
The 2K BenQ SW272Q is priced at $800 and will begin shipping on July 3. For complete specifications for each new monitor, visit BenQ's website.
---
Image credits: BenQ