Almost All Photos Are Now Taken on Smartphones, According to Study
According to research carried out by a British photo store, 92.5 percent of all photos are now taken with smartphones.
Max Spielmann, a physical camera store found across the U.K., found that a whopping 1.8 trillion photos are taken every year which equates to five billion a day or 57,246 photos taken per second.
"Smartphones have made high-quality, almost professional–level photographs and instant social sharing accessible to all," writes the company on an infographic seen on Digital Camera World.
The survey goes on to say that up to 95 percent of young people have taken a selfie while 63 percent of 35 to 54-year-olds have taken one, and just 44 percent of over 55s have taken a self-portrait.
Instagram's Role in Picture Taking
Max Spielmann put the huge rise in photo-taking down to Instagram which it says has 1.3 billion images shared to the Meta-owned platform daily.
Of those 1.3 billion images, only 100 million are in posts and over one billion images are uploaded onto stories and DM messages.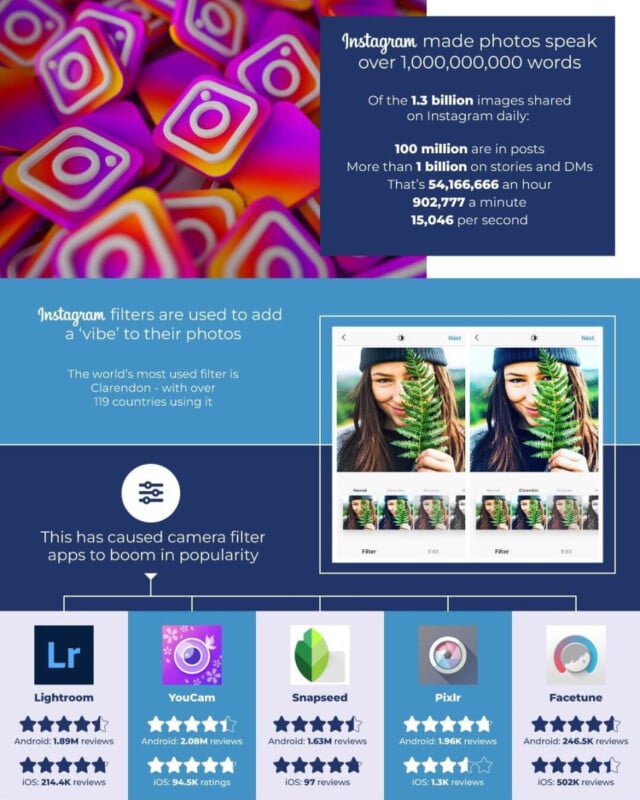 According to the study, the most popular filter on Instagram is the "Clarendon" filter, a light touch filter that mainly boosts contrast but is also the first filter that users see when posting.
However, Stories are where most of the photo-sharing action happens, and according to Max Spielmann, a huge 86.6 percent of Instagram's users post stories every day.
Changing Trends
Aside from the exponential growth of picture-taking on smartphones, Max Spielmann says that disposable cameras are also booming with Fujifilm seeing sales of their disposables doubling to 7.5 million since 2015. It points out that several apps are trying to replicate the disposable camera, including Dazz Cam, Huji Cam, 1998 Cam, and RetroCam.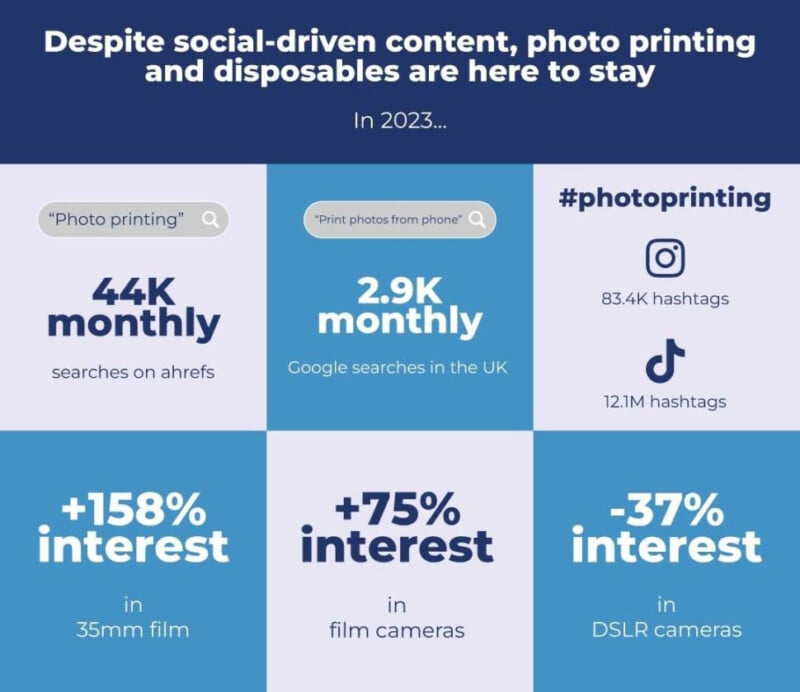 According to the infographic, in 2023, there is a minus 37 percent interest in DSLR cameras, a plus 75 percent interest in film cameras, and an even healthier plus 158 percent interest in 35mm film. There is no mention of mirrorless cameras which many professionals and amateurs have moved onto.
Back in 2011, PetaPixel reported that there were eight times are many picture takers worldwide as there was in 2001 — this coincided with the rise of personal smartphones. Back then, an estimated 1.2 trillion photos were taken per year compared with today's estimate of 1.8 trillion.
---
Image credits: Header photo licensed via Depositphotos.