Samsung's Galaxy S23 Smartphones Use Lightroom for RAW Photo Editing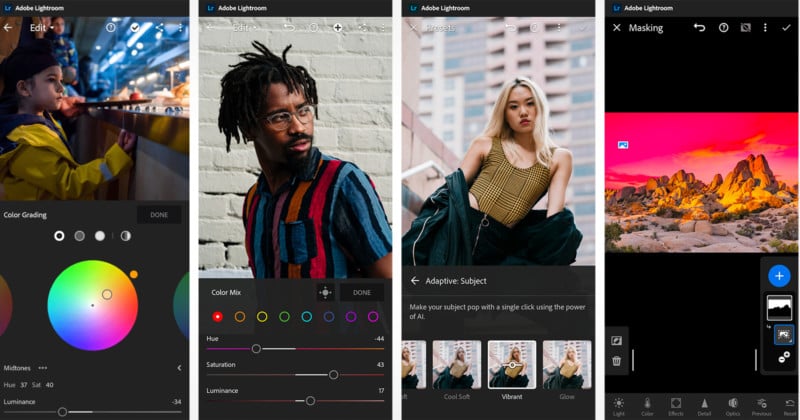 Samsung's new Galaxy S23 series smartphones now integrate Adobe Lightroom for RAW photo processing in the company's Expert RAW app as the default photo editor.
Through a partnership between the two companies, Samsung Galaxy S23 Devices — the Galaxy S23, Galaxy S23+, and Galaxy S23 Ultra — will use Adobe Lightroom as the "exclusive" default photo editor for RAW photos taken with the Expert RAW app. Expert RAW, which is detailed in PetaPixel's launch coverage for the smartphones, has moved out of the Galaxy Store and is now embedded in the camera app.
"As the only photo editor directly integrated with the Expert RAW app, Lightroom enables Galaxy S23 series users to start editing RAW photos with a tap," Adobe says.
The company says that its editor gives all levels of photographers, from hobbyists to advanced, access to its image processing, editing controls, and cloud storage so that users can send their RAW photos to the cloud,w which frees up device storage. The Cloud aspect also means that photos processed with Expert RAW are synced across all devices that use Adobe Lightroom. Samsung's latest PCs automatically transfer Expert RAW images from Galaxy mobile devices, allowing users to edit images on Adobe Lightroom across devices for "professional-level" results.
Lightroom is now the default — and only — photo editor embedded in Samsung's camera app.
"We're excited to see Samsung enhance the Expert RAW app as a native camera option, with Lightroom as the default and only photo editor," Scott Belsky, chief product officer and executive vice president with Creative Cloud at Adobe, says.
"The combination of Expert RAW with Lightroom's powerful yet accessible editing tools, presets and tutorials give anyone the ability to make professional-level enhancements to their images."
Expert RAW functions were heavily emphasized during PetaPixel's hands-on time with the new Galaxy S23 mobile devices this week. In addition to processing RAWs with Adobe Lightroom, Expert RAW now allows users to shoot and process 50-megapixel photos, which is a big leap over the previous 12-megapixel lit from the S22 Ultra. But while the new S23 Ultra smartphone features a brand new 200-megapixel sensor, it is not currently possible to shoot at that full resolution in RAW.
---
Image credits: Adobe, Samsung