Nikon Fights Back Against AI Images, Touts 'Natural Intelligence'
As AI image generators continue to rock visual industries such as photography and illustration, Nikon is taking a stand against AI and on behalf of humans, cameras, and "natural intelligence."

Little Black Book reports
that Nikon Peru recently partnered with the ad agency Circus Grey Peru on
a new "Natural Intelligence" ad campaign
.
Even though AI can now generate photorealistic images with just a simple text prompt, Nikon wants to remind everyone that the real world is full of incredible scenes that are best captured with a camera rather than imagined with AI.
"We are living in the age of Artificial Intelligence," Nikon Peru says in the 2-minute video embedded above. "All over the world, millions of people are obsessed with creating incredible surreal images of anything they can imagine just by entering a few keywords.
"This obsession with the artificial is making us forget that our world is full of amazing natural places that are often stranger than fiction.
"We created a campaign with real unbelievable natural images taken with our cameras, with keywords like those used with Artificial Intelligence."
Each of the photos in the ad campaign is accompanied by a humorous sentence showing the bizarre type of prompt it might take to get an AI image generator to produce something similar.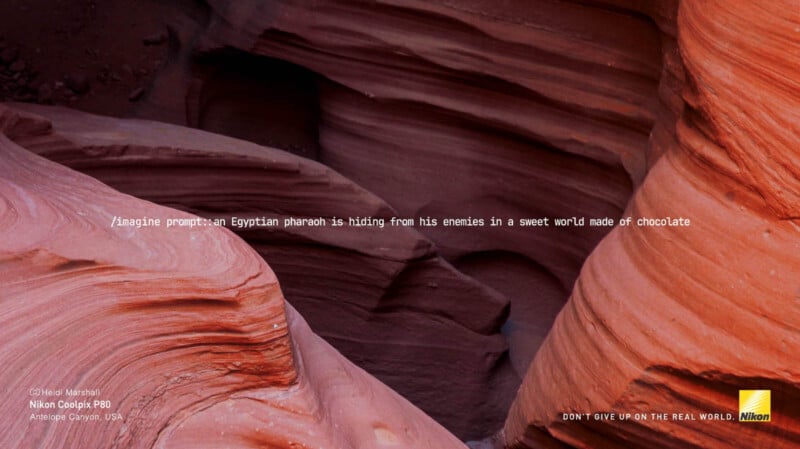 AI has already begun doing real damage to photographers and the photography industry as certain types of images are much cheaper and faster to produce artificially now compared to hiring a living, breathing human.
"Millions of people around the world are generating surreal images just by entering a few keywords on a website, which is directly affecting photographers, especially in places with fewer resources," Little Black Book writes. "In Latin America, for example, editorial and advertising photographers are called increasingly less by brands, and they are slowly losing space, work, and profits."
Through this ad campaign, Nikon is standing up for the value of photographers and the work they produce.
"Nikon has an important commitment to all the photographers in the world, who, with their talent and art, allowed us to enjoy the most beautiful and amazing images, which is why it was so important for us to take the initiative and support what has always given us a purpose as a brand, photography," Circus Grey Peru CCO Charlie Tolmos tells Little Black Book.
Nikon Peru spread its "Natural Intelligence" images far and wide through a national ad campaign in Peru, printing it across both print magazines as well as giant billboards.
"The reactions were incredible," the company says. "99% positive sentiment. 95% brand recognition. And inspired hundreds of people to go outside with their cameras.
"Don't give up on the real world."
---
Image credits: All images by Nikon Peru / Circus Grey Peru