Photographer Loses Part of Finger After Tripod Snaps Shut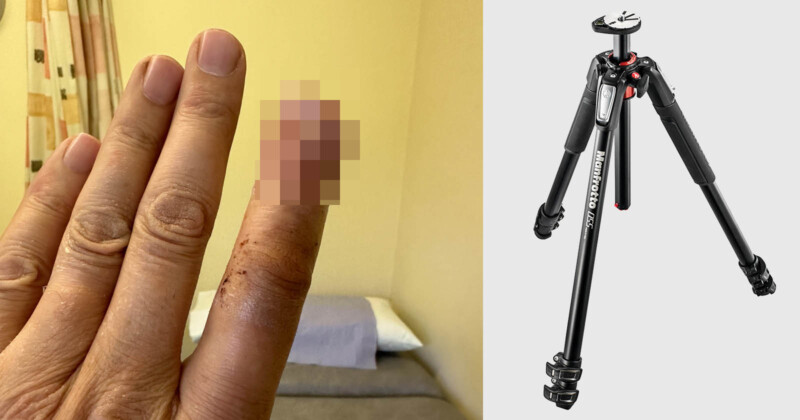 A wildlife photographer suffered a horrific injury after his heavy-duty tripod snapped shut on his finger, causing a significant amount of permanent damage.
Andrew Fusek Peters tells PetaPixel he was photographing a wren's nest in his neighbor's garden. During the project, he had been frequently climbing their shared fence to capture the tiny birds.
"As I was climbing back over the fence with my Manfroto 055, I was clutching it with one hand and I was stepping on my wife's planter," he explains.
"There was a bit I was stepping on that wasn't stable and I started falling backward."
Like all photographers, Fusek Peters first thought was to save his camera — in this case his $2,000 OM System OM-1. But as he did so, the tripod closed "in a pincer movement" and took off the section of his left index finger, leaving the bone exposed.
"I looked down and I could see this bloody stump. It was really quite dramatic and I was screaming and we got it in a bag of ice," he says.
Fusek Peters's wife drove him to the hospital in Shropshire, England where they live and he had emergency surgery the following morning.
"The reason they did that is the bone was sticking out and the finger will never heal if the bone is sticking out so they had to clip the bone back — I was conscious while they did that," he says.
"I heard them clip it back and it was probably one of the most horrendous experiences I've ever had in my life."
Aftermath
The injury has meant Fusek Peters, whose work regularly appears in newspapers and magazines, has been unable to travel as his finger is still very painful as it heals — cutting off opportunities and revenue streams.
"I'm an OM-system brand ambassador and I've been going out round the world for them. I was supposed to be doing one of their big German conferences on Monday, I've just had to cancel that," he says.
"In that sense, it's been quite humbling really. It makes you think about things."
However, it has not all been bad for the nature photographer. Fusek Peters says since the accident he's taken some of the best photos of his career.
"Even to the point of this butterfly called the large heath which has never been photographed in the world in flight before and I got that a couple of days ago."
He also captured a beautiful photo of a wild kingfisher emerging from a river which he stresses was observed in nature with no tank or hide.
"My role as a photographer is to keep following my creativity and not just copy what other people do," he adds.
"With wildlife and nature, there is always something new out there, there's always a new story to tell."
Fusek Peters is expected to recover fully from his injury and is grateful that it wasn't the index finger on his right hand, which would have made picture-taking more difficult.
More of Fusek Peters's work can be found on his website, Instagram, and Facebook.
---
Update on 6/13/23: The uncensored versions of the injury photos have been removed from this article at the request of the photographer.
---
Image credits: All photos by Andrew Fusek Peters.