The $15 PhotoOrganista App Organizes Photos on Mac and iPad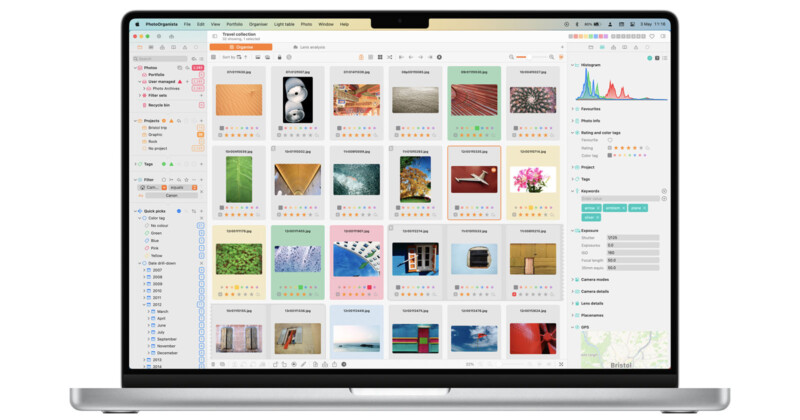 PhotoOrganista is an app designed to help photographers manage large photo portfolios. Developed by Bristol Bay Code Factory, PhotoOrganista works with over 650 image formats, including RAW images from most major cameras.
Available for macOS and iPadOS, PhotoOrganista allows photographers to organize and view their portfolios across Mac computers and iPad tablets.
On the desktop version, users can point the app to their images in source folders or "sit back and let PhotoOrganista do the archiving," which will save images in the app's Portfolio or within a user's connected iCloud storage. Portfolios can be viewed on iPad using a special connected app.
PhotoOrganista's key features are organization, search and explore, and view and update. For organization, users can create stacks of photos using drag-and-drop, rate and color tag images with shortcuts, and assign projects and add user tags, which can be organized into hierarchies.
For searching and exploring an archive, the app provides powerful search tools that use any combination of projects, tags, filters, "quickpicks," snap filters, and text search. Users can construct any search term they want using different metadata properties.
Speaking of metadata, this falls under the "view and update" feature. Users can access over 85 photo properties, and the app includes metadata editing tools that enable bulk metadata editing. Notably, the original file metadata can be preserved. For photographers that use analog cameras, the app also has dedicated entries designed to help photographers label and identify "metadata" for film scans.
For photographers curious about their most-used lens, favorite aperture, go-to shutter speed, or other trends, PhotoOrganista includes visualization tools, including bar charts and pivot tables, to group images with similar metadata and help photographers study shooting patterns.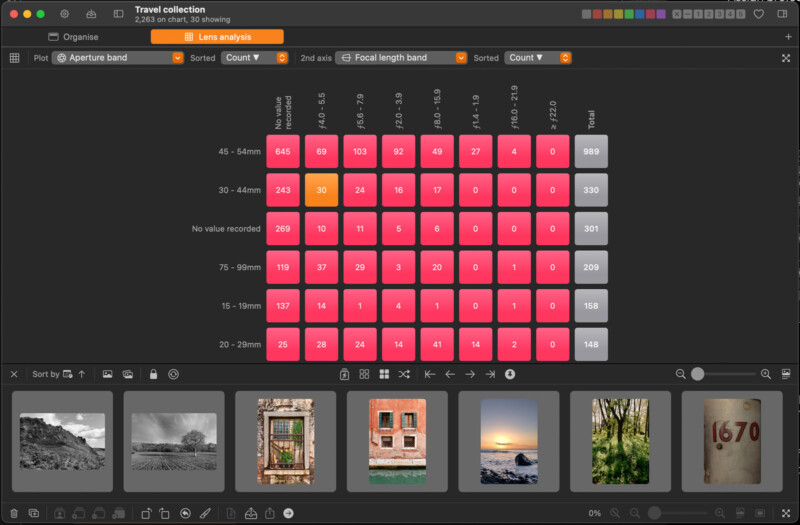 This functionality is similar, albeit less extensive, than Bristol Bay Code Factory's other Mac app, PhotoStatistica, an app that lets photographers examine full EXIF data in bulk.
PhotoOrganista promises varied customization and personalization options, including a changeable color and layout, adjustable keyboard shortcuts, custom "quickpick" menus, and much more. The custom "quickpick" menus allow users to filter out specific images they have selected based on designated tags.
Additional features include full-screen viewing, image comparison tools using reference images, and the ability to zoom up to 3,200 percent on photos.
Bristol Bay Code Factory describes its app as "a fast, flexible, and affordable digital asset manager." PhotoOrganista is available on the App Store for $14.99 and the app purchase includes both Mac and iPad versions.
---
Image credits: PhotoOrganista by Bristol Bay Code Factory