Stockcam is a Camera Cage That Takes 'Shooting' Pretty Literally
A new gun-shaped camera cage called Stockcam is designed for photographers who love shooting of all kinds.
PetaPixel first saw Stockcam on Sony Alpha Rumors.
"Freeze the moment, focus on the action, or record it all with ease. Don't miss a shot — take control with our versatile camera cage," says the company behind Stockcam.
Inspired by Prior Rifle Stocks for Cameras
Rifle stocks for cameras are nothing new. Over the years, numerous companies have built stocks to help photographers keep their cameras stable, especially over long periods. Sometimes they've even been highly-valued collector's items, like a $350,000 Leica Gun Rifle Prototype.
Perhaps the most famous gun-inspired camera accessory is the Zenit Fotosniper, a Soviet-era camera rig designed to look and feel like shooting a firearm, complete with a typical gun trigger mechanism.
More Gun Than Camera
Stockcam channels the spirit of the Fotosniper, including a gun trigger to control a camera's shutter. Much like a military-issue firearm, the Stockcam also has a "fire mode" switch that allows the user to switch between a safety mode, so a photographer doesn't accidentally "shoot," a focus mode, and a fast mode for shooting video. The focus switch lets a photographer control focus and AF-L by pulling the trigger at different distances.
With different remote cable plugs, Stockcam works with a wide range of cameras from major manufacturers, including Canon, Fujifilm, Nikon, Panasonic, Pentax, and Sony. Compatible camera models include a wide range of DSLR and mirrorless bodies. A complete list of compatible cameras with special remarks is available on Stockcam's website.
Attach Accessories and Lenses
The Stockcam's shape is reminiscent of the Kriss Vector family of rifles, submachine guns, and pistols, and like a real firearm, the Stockcam has rails to accept accessories. With its 360-degree 20mm Picatinny rails, users can attach grips and bipods to the Stockcam. Users can also easily connect lights and audio equipment to Stockcam.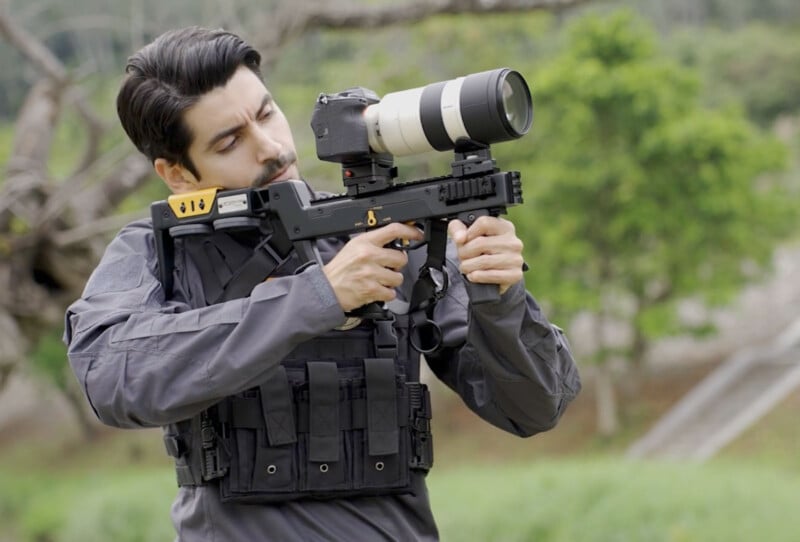 Users can attach extra lenses to the Stockcam's extendable rifle stock, allowing for quick-swapping of optics, like changing a gun's magazine on the fly. The Stockcam also includes a detachable strap buckle so photographers can sling their camera over their shoulders. The Stockcam has an adjustable cheek rest and rail height and can be attached directly to the top of a tripod.
Stockcam Promises to Increase Stability
Stockcam's ergonomically designed with a "comfortable grip, adjustable cheek rest, and buttstock" to provide the "ultimate user experience while reducing arm and hand fatigue." Stockcam bears much of a camera kit's weight, making it easier for photographers to capture stable images over a longer period.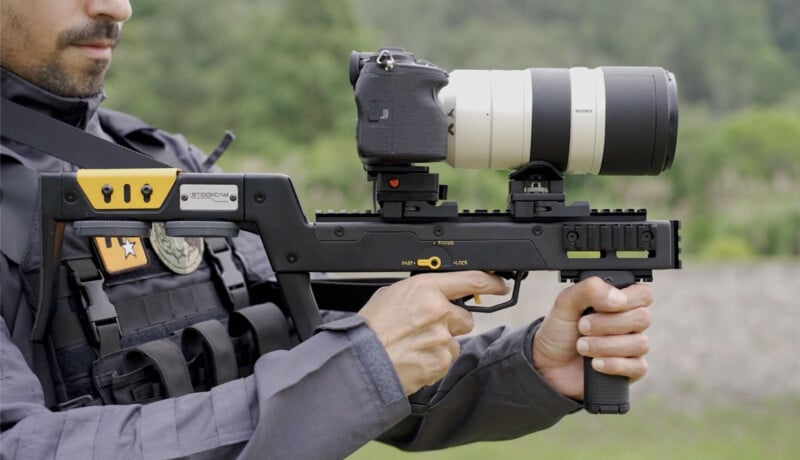 Based on the company's marketing material, Stockcam is also designed to be a "fun" and "engaging" way to capture photos, with the entertainment value seemingly derived by Stockcam's gun-like design and features.
Is the Stockcam's Gun-like Appearance Risky?
In 2017, a photographer tried to take a rifle-like camera stock through security at LaGuardia airport in New York City. Unsurprisingly, its gun-like appearance caused issues.
A rifle stock attachment for a camera can also attract unwanted attention in the field. A photographer in Asia went viral for capturing photos with the aid of a rifle stock.
Photographers should also be wary of using a gun-inspired camera cage around law enforcement, as the situation can quickly turn fatal.
Risks aside, there's no doubt that a gun stock-style camera cage can make it easier to handhold heavy equipment, especially when trying to capture photos of wildlife with a long lens.
Pricing and Availability
Stockcam is not yet available, although an Indiegogo campaign will start shortly. Pricing isn't disclosed, although it appears that there will be a 50 percent early bird discount when the campaign launches.
---
Disclaimer: Make sure you do your own research into any crowdfunding project you're considering backing. While we aim to only share legitimate and trustworthy campaigns, there's always a real chance that you can lose your money when backing any crowdfunded project.
---
Image credits: Stockcam