Wacky Lens Creates Hilarious Reverse Perspective Portraits
Using a massive Fresnel element and relying upon the physics of light, photographer Christopher Getschmann built a "hypercentric camera" that makes objects that are further away from the camera appear larger than what's closer.
On his blog, volzo, Getschmann showcased the reverse perspective lens project:. Before getting to the hypercentric camera, Getschmann discusses more typical lenses and how different focal lengths affect the perspective. Using portraits as an example, people often use focal lengths that offer a field of view similar to natural human vision, such as 35mm, 50mm, and even 85mm lenses.
Moving a camera closer to and further away from a subject to maintain similar framing at different focal lengths changes the perspective, making different parts of a person's face appear smaller or larger. When using a wide-angle lens, which requires the camera to be close to a person, the parts of the face nearest to the camera, often the nose, appear unnaturally large.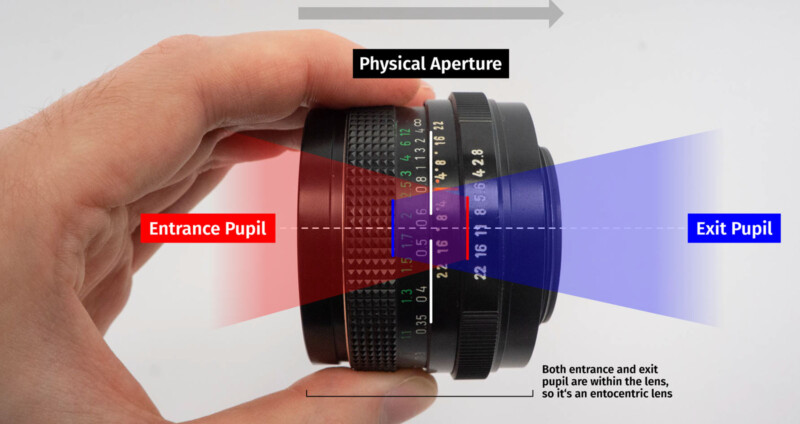 It's often an unflattering look, something Getschmann has taken to extreme lengths with his hypercentric lens. His reverse perspective portraits make a person's eyes, nose, and mouth appear small while the person's overall skull and ears get comedically enlarged.
Getschmann explains that he's not the first to build a reverse perspective lens. A Flickr group exists solely for people to share photos of their faces behind a Fresnel lens. The YouTube channel Applied Science made a video about hypercentric optics. The YouTube channel Curious Marc also has a video about the topic. Getschmann also gives a shoutout to Japanese maker Yuji Hayashi, who built a "big face box" that people can wear.
On volzo, Getschmann explains how a reverse perspective camera works in greater detail. Consider an entocentric camera, which is like how the human eye or a traditional camera and lens setup operates. If an object is further away, the light reflected off that object is focused on a smaller area of the retina (sensor), so two objects of the same height that are located at different distances from the eye (sensor) will appear to be different heights, with the further object appearing smaller.
There's also a telecentric lens. This lens allows only specific rays to pass through an aperture and reach an image sensor. The result is an image without any perspective distortion. Objects of the same size appear identical, no matter their distance from the camera. A video by Edmund Optics explains how a telecentric lens works in more detail. An important takeaway is that telecentric lenses can only "see" objects that are smaller than themselves.
Next up is the star of Getschmann's project, a hypercentric lens. "If we place the iris very close to the imaging plane and add a lens, the imaginary entrance pupil is located in front of the first glass element. If we now place something in between the entrance pupil and the glass, the magic happens. The iris picks only the rays that depict the objects larger that are closer to the back because that's where the entrance pupil is," Getschmann explains.
"The most important part of a hypercentric lens is the diameter of the entrance pupil. So, our first lens must be larger than whatever we want to take an image of and if we want to take portraits, well, your lens better be much bigger than a head," Getschmann says.
In need of a giant lens to use as the front element, Getschmann turned to Fresnel glass.
"It's pretty much impossible to buy a conventional lens larger than a human head," he explains. A Fresnel lens is cheaper and easier to make because the surface is split into many smaller segments.
Real-world examples of Fresnel lenses include certain studio light fixtures and, famously, the enclosures for the large lights inside lighthouses.
"The lens has a focal length of 700mm, and the enclosure has a length of 1500mm," says Getschmann.
The results look great with his camera about "two focal lengths" from the large Fresnel front lens element. Well, not "great" in a traditional sense as the Fresnel lens doesn't have anti-reflective coating and isn't designed for high-end imaging performance, but they deliver the desired effect.
Getschmann also built a gantry and a camera slider controlled by a Raspberry Pi to move his camera back and forth to achieve the correct focal length and focus through the Fresnel element. He added a ring light to the front, which is an LED strip inside a Hula Hoop that acts as a diffuser. He also used a variety of 3D-printed parts and a stepper motor.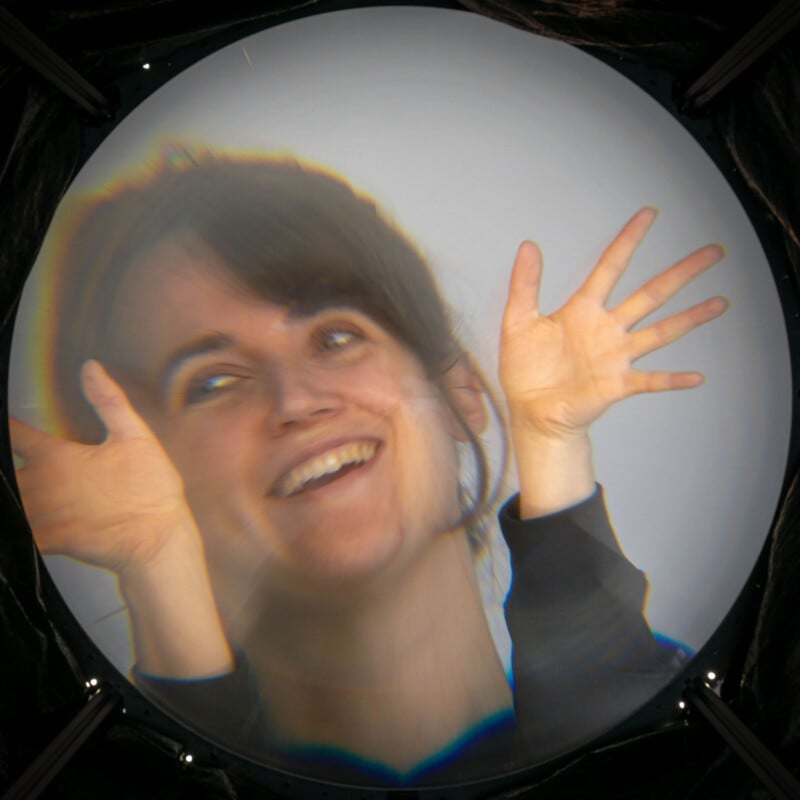 Getschmann's parts list is on his blog. Unsurprisingly, one of the most expensive parts is the 700mm Fresnel lens, which costs over $200 on AliExpress. For what it's worth, Getschmann isn't happy with the lens, as it came with fingerprints and has some optical defects.
There are many ways for photographers to use wacky and weird lenses to distort people's faces. Beyond the hypercentric lens projects that Getschmann cited as inspiration, he also points out the website Strange Lenses. Created by Robb Godshaw and Max Hawkins, Strange Lenses has many funky optics, including a "many eyes lens" and a "mouth as eyes lens."
Photographers wanting to follow in Getschmann's footsteps should refer to his blog post to learn about all the required parts and the optics behind the reverse perspective lens. For photographers on a tighter budget, crafting something similar using smaller glass elements is possible. However, it's important to remember that the front element must be larger than the subject.
PetaPixel has featured another of Getschmann's photography projects before, including a guide he wrote to help photographers built a digital toy camera.
---
Image credits: Christopher Getschmann / volzo