Mom Enraged After Bride Photoshops Daughter's White Dress to Blue
A bride has described her sister-in-law's anger after she got her wedding photographer to edit her niece's "inappropriate" white dress to look light blue in the photos.
A Reddit user named u/DesignedBasic shared the story on Monday in a post that received over 2,600 comments.
In the post, the Reddit user describes how she had just celebrated her "dream wedding" and her big day had gone off "without a hitch" except for the fact that her 16-year-old niece had decided to wear white to the ceremony.
The Reddit user claims that her niece had worn a white lacy dress to her wedding — going against the age-old tradition that only the bride can wear white on her big day.
According to traditional wedding dress codes, it is often frowned upon that any other guest but the bride wear white at the ceremony.
The Reddit user described her niece's dress as not only being white, but also extremely bridal in appearance.
She claims: "It was a white, lacy, knee-length dress. She even wore lace elbow-length gloves! Honestly, it looked just like a wedding dress."
The bride chose to ignore her niece's white dress on the day of her wedding. However, when she received the first pictures from her wedding photographer, she was devastated by her niece's outfit in the images.
"I didn't say anything to her or her parents (my brother and sister-in-law) in the moment, and I tried my best to ignore it," the Reddit user explains.
"But when I got the first drafts back from our photographer, I couldn't stand when I saw her in her white dress standing next to me."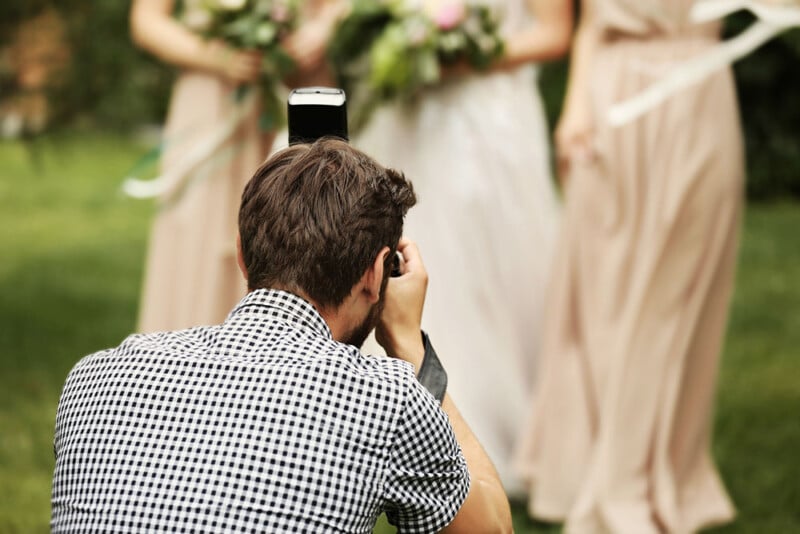 When her husband saw how distressed his wife was, the couple decided to pay extra to get their wedding photographer to edit her niece's dress to look a light blue color instead. And the Reddit user says she was thrilled with the Photoshopped wedding photos.
"My husband saw how upset I was, and suggested that we pay extra to get my niece's dress Photoshopped to a light blue. We thought it through, and since we had some budget left, we went for it," she explains.
"Well, last week, we got the final photos back and they looked great! I could hardly even tell that my niece was originally wearing white, and she still looked really nice."
Accused of 'Body Shaming' Her Niece
However, when the bride posted some of the final wedding photos on social media, her sister-in-law — who was the niece's mother — was furious with the editing decision to Photoshop her daughter's white dress without the parent's consent.
"I posted some of the photos on social media, and my sister-in-law messaged me and was angry that I Photoshopped my niece without checking with her (my sister-in-law) first," the Reddit user says.
"She accused me of thinking my niece was ugly and of body shaming her. To be clear, I did not have her body Photoshopped, only the color of her dress and gloves."
'I Don't Think I'm in The Wrong'
The bride then asked Reddit users if she had acted badly with her Photoshop request and whether she deserved the backlash from her sister-in-law.
She says: "I don't think I'm in the wrong, but this situation has been stressing me out."
Reddit users overwhelmingly supported the bride's editing decision and understood her desire for no other guests to wear white in her wedding photographs.
"If she [the sister-in-law] didn't want the dress to be photoshopped, she shouldn't have let her daughter attend a wedding in a lacy white dress! The nerve of that woman," one individual comments.
Other Reddit users said that the bride has the right to edit anything she wants in her wedding photos: "It's not her [sister-in-law's] pictures and not her call on the Photoshopping."
Other Reddit users said that they would have expected their wedding photographer to edit a guest's white dress as a matter of course: "Would any self-respecting wedding photographer put a 16-year-old in a white dress next to the bride?"
The ethics of Photoshopping images of other people has become a much-discussed topic. PetaPixel previously reported on whether it was ethical to edit a guest's pink hair out of wedding photos.
---
Image credits: Photos licensed via Depositphotos.