TikToker Notices Something Strange About Her Face in the App's Camera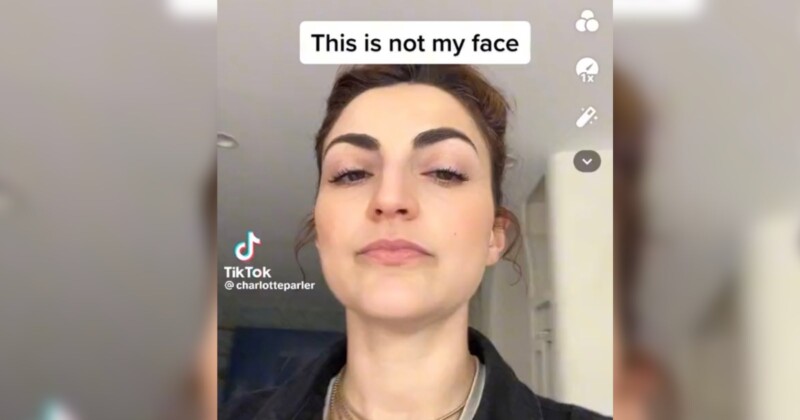 A TikTok creator noticed there was something troublingly "off" about her face when she filmed a video using the app's front-facing camera.
In a video posted on Wednesday, beauty founder and content creator Charlotte Palermino describes how strange her face looked as she tried to record a clip in TikTok's camera.
According to In The Know, Palermino had not added any TikTok filters to her video and had recently updated the app.
However, her face still did not look like herself in TikTok's front-facing camera.
"I knew my face looked off because it's not my face," Palermino explains in the video.
Upon looking deeper and browsing the retouch section in the app's camera, Palermino says that TikTok had added certain filters to her face automatically — without her consent.
Automatically Retouched
TikTok had automatically removed Palermino's dark circles, smoothed and retouched her face by 30 percent, whitened her teeth by 20 percent, and even changed the "degree" of her nose.
Palermino says it was even more concerning that TikTok did not even give her the option to see whether the filter had been added on or not.
"What is most troubling about this [automatic filter] is that it is the default," Palermino explains.
"I am not opting in and I feel like we need to be drawing the line at consenting to altering one's face on a platform."
In the caption of the video, the content creator says that she never uses filters in her videos as she sells beauty products.
'I Don't Want Face Dysmorphia'
Palermino says that she managed to remove the automatic face filters from the default settings in the app. However, she pointed out TikTok's automatic retouching heightened the unrealistic beauty standards of social media.
"[Beauty] standards feel unrealistic enough without adding smoothing and blurring and augmenting," Palermino writes in her TikTok caption. "I don't want face dysmorphia."
In The Know says that TikTok did not respond to its request for comment.
This is not the first time TikTok has been accused of altering people's faces. According to a report by MIT Technology, multiple users have accused the app of changing their faces without their consent.
Several TikTok users noticed that their camera image had been run through a beauty filter that they had not requested — and which they were unable to switch off.
---
Image credits: Header photo via TikTok/@charlotteparler.