Researchers Can Now Explain Jupiter's Mysterious Shifting 'Stripes'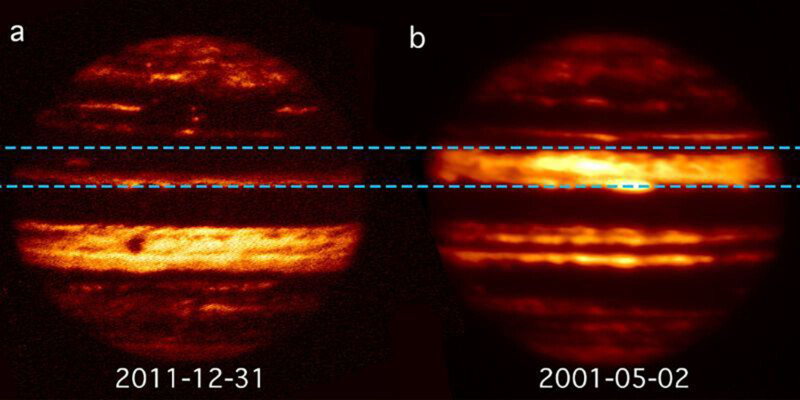 Much to the chagrin of tigers everywhere, Jupiter can change its stripes, although an explanation of how the gas giant changes its colors and famous "stripes" has long evaded scientists. Researchers at the University of Leeds in England believe they've found the answer and can explain why the bands on Jupiter move and change.
Jupiter is characterized by its bands of color and its famous Great Red Spot. Since the earliest known photo of Jupiter was captured in 1879 by astronomer Agnes Mary Clerke, Jupiter's appearance has changed.
The earliest image ever taken of Jupiter in 1879 vs. the most recent composite image of Jupiter taken by JWST: pic.twitter.com/we2HRTe49S

— Jasmine 🌌🔭 (@astro_jaz) August 27, 2022
Shifting patterns have been shown over short periods. Time and again, observations have reflected these frequent changes. However, the mechanics of these changes have been a longstanding mystery in astronomy.
"The colors of the belts can change, and sometimes the whole weather pattern goes slightly crazy, and it has been a mystery as to why that happens," says Professor Chris Jones, University of Leeds School of Maths.
"Every four or five years, things change. The colors of the belts can change, and sometimes you see global upheavals when the whole weather pattern goes slightly crazy for a bit, and it has been a mystery as to why that happens," Jones explains.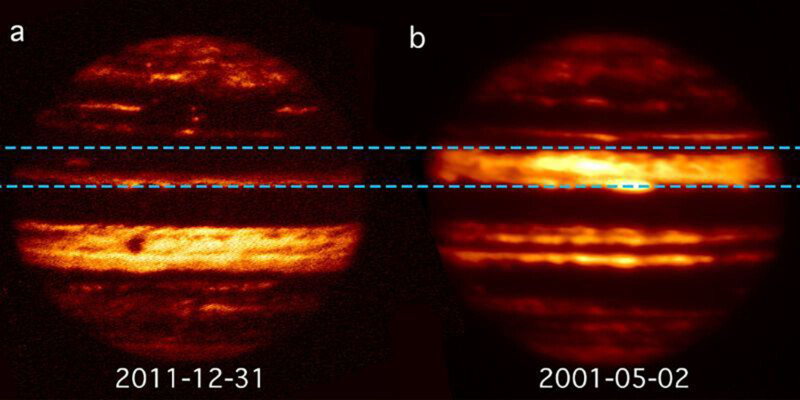 Scientists have known for a while that Jupiter's changing appearance is somehow linked to infrared variations about 50 kilometers (31 miles) below Jupiter's surface, but that's as far as the understanding has gone.
As seen on Space, using data gathered by NASA's Juno mission, Professor Jones and Dr. Kumiko Hori, also from the University of Leeds' School of Maths, believe they can explain this mysterious link.
The researchers monitored and calculated changes in Jupiter's magnetic field and found that shifting magnetic fields correspond to infrared variations.
"By looking at the magnetic field over several years, they have been able to track its waves and oscillations and have even been able to follow a specific spot of magnetic field on Jupiter called the Great Blue Spot. This spot has been moving eastwards, but the latest data shows that movement is slowing – leading the Juno team to believe this is the beginning of an oscillation, with the movement slowing before it reverses and starts going westwards," explains the University of Leeds in its press release.
The researchers have uncovered the "missing link" between the two primary areas of Jovian study — investigations into the planet's weather and its changing surface and what's happening in its deep interior.
"There remain uncertainties and questions, particularly how exactly the torsional oscillation produces the observed infrared variation, which likely reflects the complex dynamics and cloud/aerosol reactions. Those need more research. Nonetheless, I hope our paper could also open a window to probe the hidden deep interior of Jupiter, just like seismology does for the Earth and helioseismology does for the Sun," says Dr. Hori.
The "torsional oscillation" that Dr. Hori refers to are wavelike motions in Jupiter's planetary magnetic field.
"I am incredibly pleased that NASA finally managed to get to see Jupiter's magnetic field in detail. I have been studying Jupiter for an exceptionally long time and I got interested in what lies below the surface of Jupiter when I was a child — it has been a 60-year progression," Professor Jones remarks.
While Professor Jones and Dr. Hori led the research, additional work was performed by Professor Steve Tobias at Leeds, Professor Leigh Fletcher at the University of Leicester, and Dr. Arrate Antuñano at the Universidad del País Vasco in Spain. The research has been published in Nature Astronomy.