Unistellar's New Smart Solar Filter Lets Its Telescopes Photograph the Sun
Unistellar has announced a new Smart Solar Filter for use with its smart telescopes, allowing them to be able to photograph the sun and observe sunspots in real-time.
The company, which bills itself as the creator of the world's most powerful and easiest-to-operate smart telescopes and of which Nikon is a major investor and produces its optics, says its new solar filter allows for "safe and effortless solar observations" in under two minutes when paired with a Unistellar telescope.
"Experience the beauty of the Sun's ever-changing activity and observe its striking sunspots and faculae — temporary phenomena on the Sun's photosphere, created by intense magnetic field flux," the company says.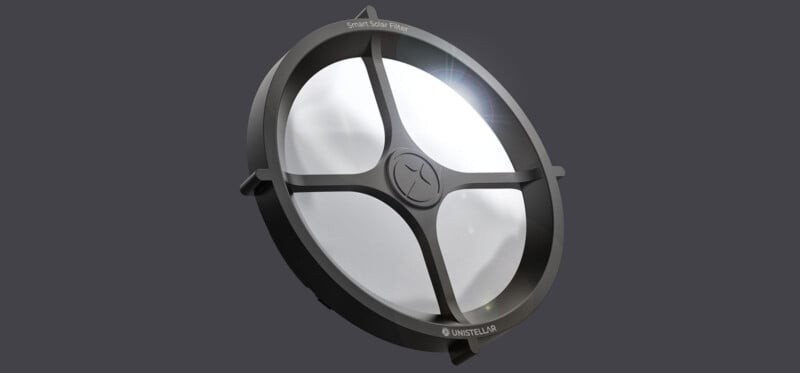 "With the Unistellar Smart Solar Filter and Solar mode in the Unistellar App, you can easily track the Sun and monitor the fluctuating Sunspot number, which ranges in size from 16 kilometers to 160,000 kilometers and can last from a few days to several months."
Below are two example photos shot on a Unistellar telescope (such as the eVscope 2) using the new Smart Solar Filter.
The company says that the combination of this new filter and its telescopes allows Sun observations to be easier, faster, and safer than previous options. In order to support the new Sun-watching capability, Unistellar has updated its app with a "GoTo Sun capability that effectively does all the heavy lifting associated with observations.
"The success of Unistellar's smart telescopes, which have allowed space lovers to explore galaxies and nebulae in the middle of the city, inspired us to reinvent the experience of examining the sun," explains Laurent Marfisi, CEO, and co-founder of Unistellar. "Our star is at its most active, now is the time to explore its secrets."
The Unistellar Smart Solar Filter is available to pre-order starting today for $249 with guaranteed delivery in September, which is plenty of time to prepare for two upcoming solar eclipses: the "Ring of Fire" annular in October, and the "Diamond Ring" total solar eclipse in April 2024. The map that paths both of these upcoming eclipses can be found on NASA's website.
---
Image credits: Unistellar