Socotra: Hidden Gem in the Arabian Sea is a Photographer's Paradise
The small island of Socotra is a relatively unknown but incredible destination for adventure-seekers and nature photographers. One such photographer, Benjamin Barakat, recently visited Socotra and returned home to Switzerland with many stunning photos, including spectacular night sky images.
Socotra is a Hidden Gem in the Arabian Sea
"If you're unfamiliar with the island of Socotra, let me briefly introduce its location and how I stumbled upon this hidden paradise," Barakat tells PetaPixel.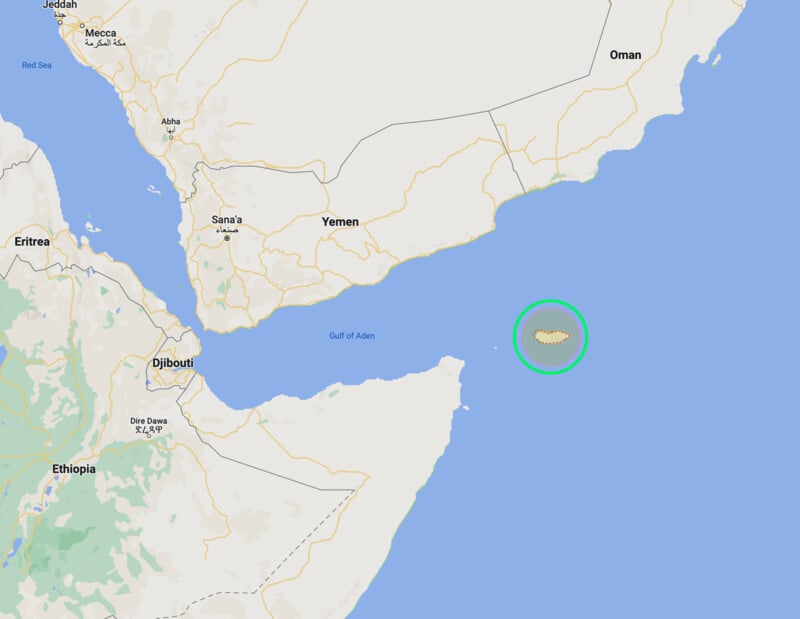 "Nestled in the depths of the Arabian Sea lies an archipelago unlike any other — Socotra. This group of islands belongs to Yemen and is shrouded in a veil of mystery. Located approximately 240 kilometers (150 miles) east of the Horn of Africa and 380 kilometers (240 miles) south of the Arabian Peninsula, Socotra is home to the largest island in the archipelago — Socotra Island," Barakat explains.
A UNESCO World Heritage Site, Socotra is home to diverse flora and fauna.
"But what makes this archipelago so alluring is not just its natural beauty, but also the secrets that lay hidden within its rugged terrain," Barakat says.
"The locals believe that Socotra was once a part of the fabled land of Atlantis, lost to the ages. Others believe the island holds ancient relics and mysterious artifacts that date back to a long-forgotten time."
Dark Skies Drew Barakat to Socotra
However, it wasn't Socotra's biodiversity or rich history that attracted Barakat to its shores; it was its remote location and very dark skies.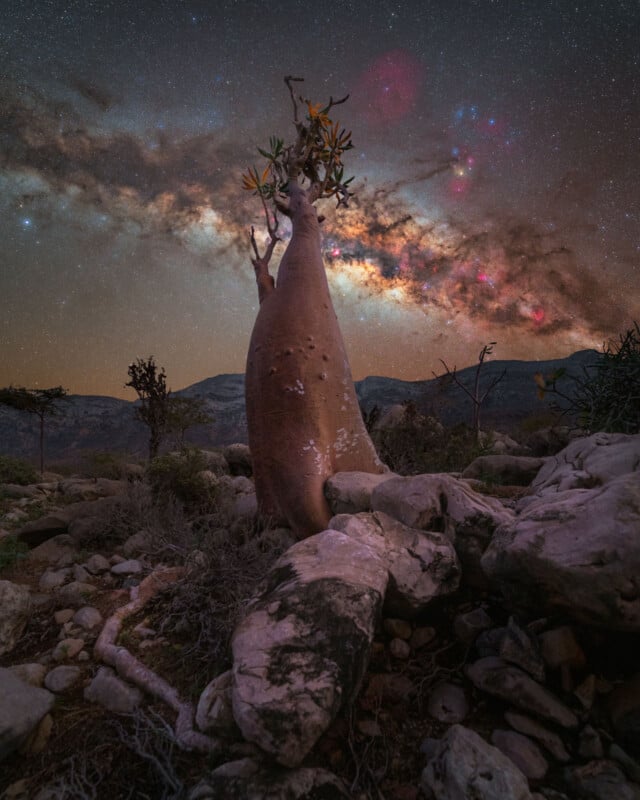 "As an avid enthusiast of the night sky and astrophotography, I'm constantly looking for the darkest skies, searching for beautiful locations that offer stunning compositions with the starry night far away from civilization and city lights," Barakat explains.
He frequently uses light pollution maps to scout and identify potential places to do night sky photography and host workshops. While browsing the light pollution map of the world, Barakat noticed Socotra, a tiny island between eastern Africa and western Asia. He looked up the island, realizing it is home to unique flora, and Socotra rocketed to the top of his list of destinations to visit.
Safety in Socotra
"Not only is Socotra an exceptional location for photography, but its beaches are some of the cleanest I've ever witnessed. The crystal-clear blue sea, white sand, and dolphins swimming within meters of the shore make it a true paradise," Barakat says.
"This hidden gem is truly a marvel, with its alien-looking botanical life and pristine natural surroundings. It's only a matter of time before Socotra will capture the imaginations of adventurers, nature enthusiasts, and photographers alike," he adds.
If Socotra is as amazing as it looks and sounds, why does it receive only about 3,000 visitors annually? Since Yemen controls Socotra, the country's ongoing war makes the island appear dangerous to tourists.
However, Barakat says that the island is generally considered safe for tourists. The island itself has no history of war, and it has low crime rates.
"Overall, based on my personal experience on the island and the feedback from those who joined me on my first expedition, I can confidently say that I have never met such friendly and welcoming people," assures Barakat. "The hospitality was outstanding, and I felt safe at all times. The locals were open-minded and accommodating to our photography trip, which consisted of sunset, sunrise, and night photography."
Even though relatively safe, Socotra requires a lot of work to visit. Visitors must have a tourist visa, of which only about 800 are issued annually, and travel agencies must negotiate with the Yemeni government. Due to various conflicts, Iranian and Israeli citizens are prohibited from entering Yemen. Even passports with stamps from Iran or Israel may be refused entry.
Barakat also notes that people with American passports should consider the risk of visiting Yemen, as the country is on the US State Department's "Do Not Travel" list and the only American embassy in Yemen suspended operations in 2015.
Once travel has been arranged, there's only one flight to Socotra each week. Even people who jump through the requisite hoops may be unable to secure a seat on the chartered flight and will consequently be out of luck.
Foreigners are not allowed to drive on Socotra, so private transportation is required. Further, Barakat says the hotels are impractical, meaning most visitors camp on the island. Tour agencies provide the necessary camping equipment.
Socotra: Where Photography Meets Paradise
"I don't even know where to begin with Socotra. The island is a photographer's paradise! I was amazed by the sheer number of plant species that I had never seen before in any of my travels. The bioluminescence was also a highlight, which I was unaware of before visiting the island," Barakat says.
"And let's not forget about the vultures," he adds. "I even had one perched on my shoulder while enjoying lunch."
Great photography requires good light, even with a beautiful landscape. Fortunately, Barakat was treated to "insane clouds and beautiful colors during every sunrise and sunset."
And at night, the skies cleared up, providing an incredible view of the night sky that drew Barakat to Socotra in the first place.
Where Stars are Born: The Dark and Wondrous Sky of Socotra
"I have had the privilege of traveling to some of the darkest skies around the world, including Wadi Rum in Jordan, the White Desert in Egypt, Lut Desert in Iran, La Palma in the Canary Islands, the Atacama Desert in Chile, and the Altiplano in Bolivia," says Barakat.
However, Barakat says that none of these fantastic locations prepared him for the night sky experience on Socotra.
"It truly is a remarkable sight that will leave you feeling like you've been transported to another planet. The unique landscape only adds to the surreal experience. In fact, I measured the light pollution with my SQM reader, and the reading of 21.88 was the highest I've ever recorded," Barakat says.
An SQM reader, or sky quality meter reader, is an instrument that measures the luminance of the night sky. An SQM reader's scale goes from 16 (brightest) to 22 (darkest), so a reading of 21.88 means Socotra is extremely dark.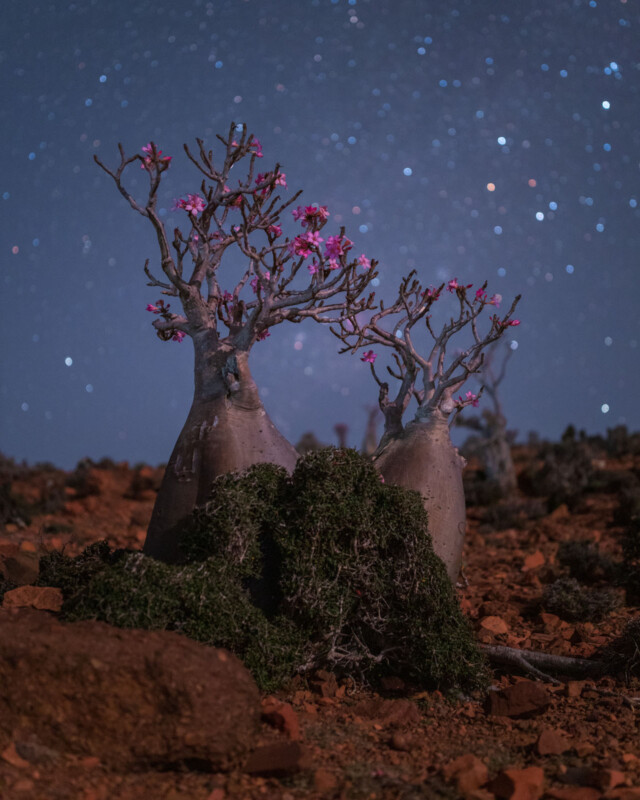 "If you're a stargazer or astrophotographer, Socotra is an absolute must-visit destination," Barakat says. "As a photography teacher who loves to take other photographers to unique and beautiful locations across the globe, I can confidently say that Socotra should be on everyone's bucket list."
Summarizing Socotra: A Hidden Gem
Socotra left Barakat and his fellow photographers "awestruck." He was so impressed with his first visit to Socotra that he's made it one of his signature workshop destinations and plans to lead photographers there a few times yearly.
"The hidden gem is hard to imagine; it has so much natural beauty on one small island. Imagine swimming with hundreds of dolphins just meters away from the beach or being escorted by them to the magnificent Firham Forest, where thousands of dragon trees still stand tall as endangered plant life," says Barakat.
"Every moment on Socotra is a unique experience that will take your breath away. Socotra truly has everything to offer, whether you're a photographer or not," Barakat explains.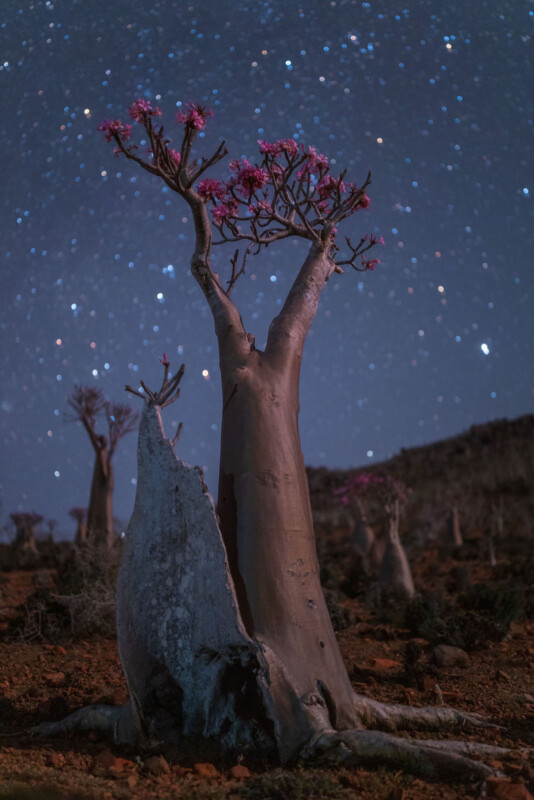 Barakat's Workshops
More of Benjamin Barakat's beautiful photography is available on his website and Instagram. Information concerning Barakat's workshops and tours is also available on his website. The next trip to Socotra is scheduled for March 2024, although he'll be leading tours in Jordan, Egypt, and Iceland this year.
---
Image credits: All images © Benjamin Barakat